Murderous deeds have inspired artists like Caravaggio, Jacques-Louis David and Paul Cézanne to produce some of their best-known works. But has there ever been a case of an artwork helping solve a real-life murder mystery?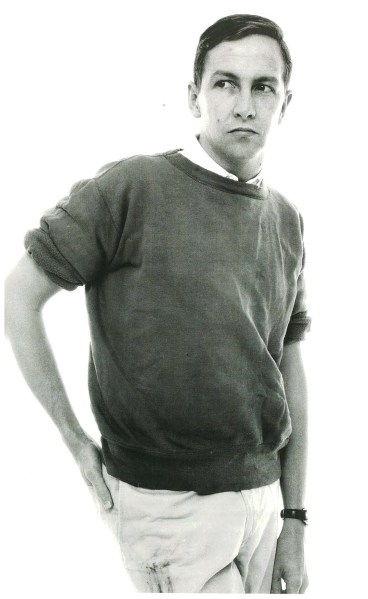 Sixty years ago this month, on August 16, 1954, four Jewish teenagers dubbed the Kill-for-Thrills gang were accused of slaying black factory worker Willard Menter under the Williamsburg Bridge. According to police accounts, Brooklyn youths Jack Koslow, 18, Melvin Mittman, 17, Jerome Lieberman, 17, and Robert Trachtenberg, 15, confessed to beating and kicking their victim, burning his feet with lit cigarettes, and then dragging him to the end of South Fifth Street where he was beaten again to the point of unconsciousness, thrown in the river and left to drown.
In their confession statements, the four boys admitted to a litany of other offenses and unsolved crimes that had panicked their neighborhood over the summer: punching and kicking to death a second man, Reinhold Ulrickson, on a Brooklyn street corner 10 days earlier; pouring gasoline over a third man and setting him alight; horsewhipping two young women in a public park late at night; and assaulting numerous others who had the misfortune to encounter them. Prosecutors expressed shock and bewilderment. "I can't understand what would make boys do such terrible things," said the Kings County District Attorney. "They apparently had no reason except the thrill they got."
The so-called "Nights of Horror" crime spree and the story of four good boys gone bad shattered the complacency of an American summer. Overnight, Koslow, Mr. Mittman, Lieberman and Trachtenberg earned notoriety as the human face of juvenile delinquency. Articles on the boys and their exploits appeared in mainstream news publications like Time, Newsweek, Look and The New York Times, which splashed the case on its front page. So great was the media frenzy that by the end of the year Hollywood gossip queen Hedda Hopper suggested the boys were the inspiration for James Dean in Rebel Without a Cause.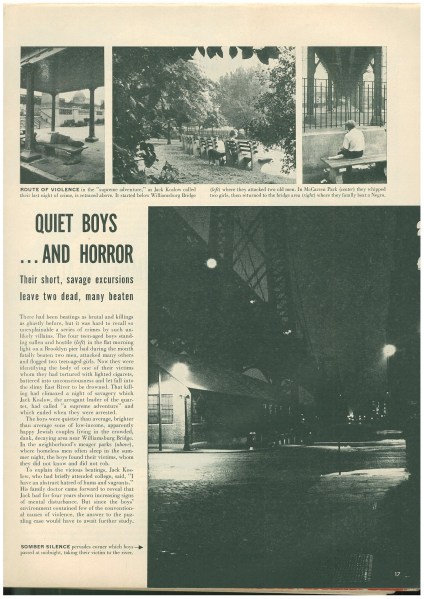 Everyone had an opinion on what made the boys do it, with nationally renowned psychiatrists blaming the explosion of violence on the boys' sexual demons. "These boys appear to me to be bound together in a kinship of pathological dedications," declared Dr. Robert Hoffman. "They are probably homosexual … [They] should be eliminated from society."
Prosecutors assured the public that the case against the boys was watertight, although charges were dismissed against the two youngest defendants mid-trial. However, jurors found Jack Koslow and Melvin Mittman guilty of first-degree murder, and in January 1955 they were sentenced to life in prison with hard labor.
Yet questions lingered about the boys and their "crimes." Their trial had taken place in an atmosphere of hysteria. They had not testified in their own defense, and prosecutors had presented no evidence to support the allegations of torture and homosexuality. The boys had been publicly accused of not one but two murders, yet charges were never brought against them in the death of Reinhold Ulrickson. Nor had they been charged with the other serious allegations, such as setting a man on fire or assaulting young girls. Few substantive details were known about them.
More than half a century would pass before these questions could be answered, and only after a seven-year investigation that began in the San Francisco Museum of Modern Art and ended in a cheap motel room in the bedroom community of Sunrise, outside Fort Lauderdale. It was in Sunrise that I finally came face to face with the person I had always suspected knew what happened under the Williamsburg Bridge on August 16, 1954. He had, almost in a literal sense, stepped out of a canvas.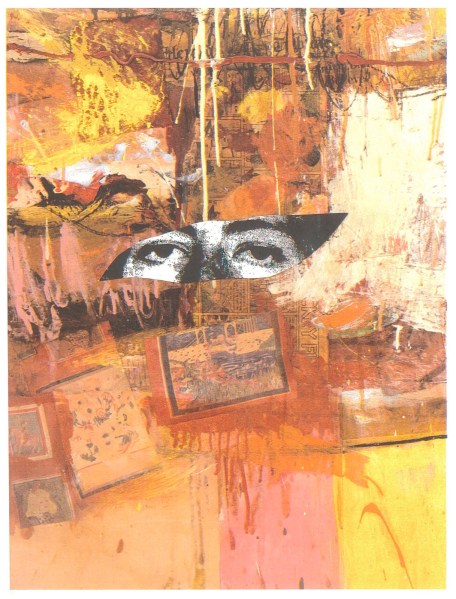 On a cool spring morning in 1998 I stood face to face with the work of art that would dominate my thoughts for the next seven years. I had recently moved to San Francisco and offered my research skills to Jonathan D. Katz, an art scholar who was studying the works of Robert Rauschenberg and Jasper Johns, the two lions of the cold war New York art scene who had been in a relationship in the mid-to-late 1950s. Katz believed they had used their works to secretly communicate with each other as well as other closeted artists at a time when gay men in America were subjected to discrimination, blacklists and even arrest.
Katz was especially interested in one piece, Rauschenberg's Collection (1954/1955), and wondered if it had a story to tell. The canvas was a riot of color panels in red, blue and yellow, but if you looked closely enough, you could see barely visible fragments of newspaper articles, photographs and cartoons. The canvas was also embedded with three-dimensional items such as a tiny mirror, pieces of silk and scraps of wood.
I knew almost nothing about modern art, still less about Rauschenberg, but accepted the challenge of trying to identify and decipher as much of the canvas as possible. Collection was displayed on the second-floor gallery of the San Francisco Museum of Modern Art (SFMOMA). With a poster-size reproduction of the painting in hand and with the aid of a magnifying glass, I took the print home and for the next six months studied it, trying to discern the meaning of its imagery.
In the 1950s, said Newsweek, Texas-born Robert Rauschenberg was "the enfant terrible of American modernism." His fabled early works, called "combines," were produced in a $35-a-month loft he rented on Manhattan's Lower East Side. Combines were three-dimensional works of varying sizes and shapes whose canvases incorporated everything from bits of trash he picked up off the street to personal letters, newspaper clippings, magazine advertisements and cartoon strips. Some of the artist's more extreme works included a baseball, an umbrella, the preserved corpse of a sheep and in one celebrated instance, an entire bed doused with red paint.
Collection, produced in 1954, the high tide of the McCarthy era, was one of Rauschenberg's best-known "combines." The artist had always denied that his works held deeper meaning, but after only several weeks spent peering at the canvas I begged to differ. My own view was that Collection was a riff on the urban malaise of the early 1950s, when "pink panic" crested with thousands of suspected homosexuals arrested in police sweeps.
My magnifying glass picked out a tiny scrap of barely legible and very faded newspaper print in the center of the canvas, with the date "August 22, 1954." Although the newspaper it came from could not be identified, clearly that date had aroused the artist's interest. A front-page headline in The New York Times for August 20, 1954, "Teen-Age Killers Identify Body," suggested one possibility—it was rare at the time for the Times to give local crime stories much play and certainly not on the front page.
The story of the four Brooklyn thrill killers seemed to bring together Collection's basic themes. According to the Times' version of events, over the summer of 1954 New York City was terrorized by a band of teenage homosexual neo-Nazi Jewish thrill-killers who attended a local high school, where a number of teachers had been expelled for holding leftist political views. The problem was that nothing appeared to link the boys with Collection, and in the fall of 1998 my volunteer stint as an art research assistant came to an end.
Two and a half years later, in January 2001, I decided to take another look at the case of the Kill-for-Thrills gang. It seemed like a good way to test my skills as a researcher while moving into a new career as a historian. I also wondered about the police version of events and whether the boys really had committed these dastardly deeds. How did four good boys from stable immigrant homes wind up on the front page of The New York Times accused of committing one of the crimes of the century?
For the next six months I petitioned New York state and city agencies to release all surviving records about the case. The breakthrough, when it finally came, was like something out of a Raymond Chandler potboiler. On June 11, I was at my desk overlooking San Francisco's Market Street when the call came through from Ellen Borakove, spokesperson for the New York City Office of Chief Medical Examiner. She had located the autopsy reports for Willard Menter and Reinhold Ulrickson—only there was a problem. The coroner's reports did not match the official police version of events: they showed that neither of the "murder victims" had actually been murdered.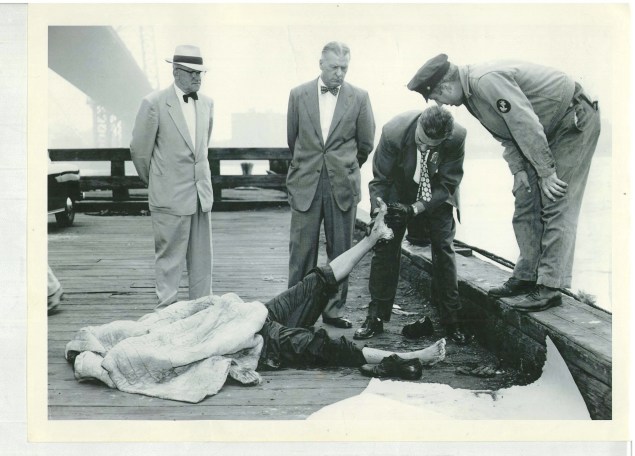 There was more. Years earlier, said Ms. Borakove, someone had tampered with Menter's certificate, placing a strip of white tape over the cause of death. "We've never seen anything like it before," she told me. "This is very strange."
Five weeks later, on a sweltering July day, I walked into Ms. Borakove's Manhattan office. Willard Menter's autopsy report showed that he had drowned following an "alleged assault," though there was no evidence of "laceration, contusion or abrasion of the head." There were also no injuries to his hands indicating a struggle. Remarkably, his feet too were unmarked. "There is no evidence of laceration, abrasion or burn," said the report.
By February 2005 I was back in New YORK AND had compiled boxes of documents about the boys' case, convinced they were innocent and victims of a police cover-up. That same month I flew down to Fort Lauderdale to interview Melvin Mittman, who had responded to a written interview request.
Life had not been good to Melvin Mittman. He was overweight, diabetic and still deeply scarred by his treatment at the hands of the police half a century earlier. Now 67, his stained shirt was too small for his bulky frame, and one of his toes sported an open wound, a precursor of the gangrene that would soon claim his leg. He chain-smoked and couldn't look me in the eye. But he was ready to talk, and the story he told me over the next two days was compelling. It supported the documents in my possession suggesting the four boys had been framed by overzealous detectives and the Brooklyn District Attorney's office.
Mr. Mittman explained that he had spent the first few weeks of the summer of 1954 in the company of his friend, Jack Koslow, a smart kid but one with a neighborhood reputation for pulling cruel pranks and getting into trouble. Koslow read comic books, saw himself as a crime-fighting hero and admired New York City Police Commissioner Francis Adams' ongoing crackdown in Manhattan against "social undesirables," the McCarthy era's euphemism for homosexuals, juvenile delinquents and vagrants. As the summer of 1954 wore on, and the crackdown intensified, gay men, many of them homeless and alcoholic, began drifting over the Williamsburg Bridge to the comparative safety of Brooklyn. They found refuge along the Brooklyn waterfront and set up encampments.
Koslow decided to start a street cleansing operation of his own to restore "law and order" to Williamsburg, using shock tactics against the newcomers. "Clean the streets of bums," said Mr. Mittman. "Get them so scared they stay sober. That was the thought." Koslow did not see himself as breaking the law but instead helping the police do their job to end the "crime wave."
Mr. Mittman was bored, and with nothing else to do over the summer, joined Koslow on his nocturnal wanderings through the back streets of Williamsburg. The two passed themselves off as undercover police officers, issued threats and got into the odd scuffle. But on the night of August 6, a scuffle involving Mr. Mittman and Reinhold Ulrickson, a homeless alcoholic, ended in tragedy when the older man fell and knocked his head on the side of a curb, losing consciousness and dying from his injuries several days later.
Willard Menter perished in similar circumstances 10 days later when he slipped off the river pier beneath the bridge during an altercation with Koslow as Mr. Mittman looked on. Jerome Lieberman and Robert Trachtenberg had been in the company of the two older boys earlier in the evening, but weren't on the scene and never witnessed Menter drown. The boys were feckless bullies, but they were not members of a gang, let alone hardened "thrill killers."
During the 40 hours he was held in police custody, Melvin Mittman said he was refused a telephone call or access to legal counsel, and made to sit hour after hour under bright lights. Denied food and deprived of sleep, he became disoriented: "I was softened up pretty good. And the others too, I guess." If detectives were unhappy with his explanation, they raised their fists as if to strike him. He was threatened "plenty of times. A beating I wasn't afraid of. They got me by wearing me out. And of course they got me by taking turns on me. And then they were coming in and telling me what [Jack] told them, I'm ratted on, I'm getting set up for the whole thing, I'm the fall guy."
Assistant District Attorney Lewis Cohen, a handsome, young rising star in New York political circles, led the questioning. According to Mr. Mittman, Cohen brought his own stenographer to the interview room and pressured him to confess to crimes he knew nothing about, then doctored his statements to admit his culpability. If Cohen didn't like the answer to a question, he told his stenographer, "Erase that."
"That happened a lot," recalled Mr. Mittman. "That's why I call him a creep. I didn't forget that." Cohen told the stenographer, "Take that off the record! Take it out! Take it out!" "Finally, [the detectives] called me in. And the cop started asking questions, he's telling me I did this, I did that. That's how they do it."
The most serious offense they tried to pin on him was the rape of a teenage boy on a railway in Long Island City. "I was asked about a lot of crimes," he said. "I admitted to a lot of stuff I never did. But there was one particular case that that they were trying to pin on me. It was a guy getting a homosexual kid on a railway track, beat the crap out of him, and then forcing a blow job on him. Now, I didn't know nothing, but they kept pressing and I denied it, denied, denied, and finally they let it go. Supposed to have happened in Long Island City. Never went to Long Island City … They tried to pin it on us real bad."
Later, when he was doing time in Sing Sing, Mel met a prisoner who boasted of raping a child on the Long Island Railroad.
Back in New York, I took another look at the poster reproduction of Collection. Perhaps because I had not looked at it close up for several years, my gaze was drawn to three letters spelling out "Her" in the font of the New York Herald Tribune. "Her" stood for the first half of the word Herald and directly beneath it was the word "Plot." Rauschenberg had drizzled a thin line of black paint over the second word, but it was still visible to the naked eye. Was he trying to tell the world something about this crime?
Flicking through a newspaper clip book for August 1954, I saw that the word "Plot" matched the front-page of the New York Herald Tribune for August 20, 1954, whose top left-hand corner contained the partially obscured headline "…Extortion Plot Nibbed." Opposite and to the right was an article on Senator McCarthy and the Red Scare.
But my attention was riveted by the article they framed. "Slain Man Taken From River," it read. "Forced to View Victim, Thrill Killers Break.
"Brooklyn's four teen-age killers, who murdered and tortured for fun, flinched yesterday when they were confronted with the body of one of their two known murder victims. Three of the hoodlums cried out in terror when they viewed the bruised face of the man they beat up and pushed into the East River last Monday night."
Rauschenberg had obviously placed the Front page of the New York Herald Tribune, with its story on the four boys, in the center of his canvas, then obscured it with paint, photographs, news clippings, pictures and cartoons. The word "Plot" held the clue to unlocking the meaning of Collection, and in a sense the case of the four boys.
Collection will be on display from August 13 until October 26, 2015, at Stanford University's Cantor Arts Center, which is hosting a special exhibition called "Pop Art from the Anderson Collection" at SFMOMA.
Andrew Scott Cooper is the author of The Oil Kings and is currently writing a new book on the fall of the Shah of Iran. The New York Times, The Economist and Washington Post have published articles on his investigative research.