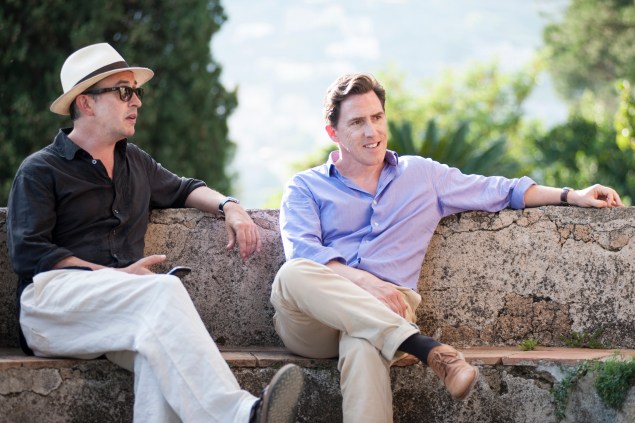 Steve Coogan and Rob Brydon have reunited for The Trip to Italy, Michael Winterbottom's hilarious follow-up to 2010's British road comedy The Trip, based on the BBC series of the same name.
---

THE TRIP TO ITALY ★★★
(3/4 stars)

Written and directed by: Michael Winterbottom
Starring: Steve Coogan, Rob Brydon and Rosie Fellner
Running time: 108 min.

---
The premise of this installment is almost exactly the same as the first. Mr. Coogan and Mr. Brydon, playing themselves, are now coasting through the Italian countryside in a Mini Cooper—a tongue-in-cheek nod to The Italian Job—on a second restaurant reviewing assignment for London's Observer newspaper. They stop along the way to eat mouthwatering meals as they improvise Godfather impressions, rock out to Alanis Morissette and quote Byron and Shelley.
It's Sideways meets My Dinner With Andre—a low-key, sensual affair punctuated by off-the-cuff moments of brilliant wit and wordplay—and the result is delectable, in spite of Mr. Coogan's self-conscious misgivings—meta-commentary on the film itself, one imagines—about repeating the trip.
"It's like trying to do a sequel, isn't it?" Mr. Coogan, whose star turn in last year's Philomena has no doubt endeared him to American audiences, says at the film's first meal, in which he and Mr. Brydon vow not to do impressions but quickly—and thankfully—break their oath. "It's never going to be as good as the first time."
In this case, it is and it isn't. The Trip was a charmingly mellow and meandering film set amid Britain's rainy, rolling farmland. But it wasn't all clever mealtime repartee, even though Messrs. Coogan and Brydon may be the funniest comedic duo in Britain. The film had a dreary undercurrent tied to Mr. Coogan's loneliness and self-doubt—about being a middling celebrity and maintaining a connection to his son. The contrast between the funniest Michael Caine impression you'll ever hear and Mr. Coogan's darker side may have made for some dissonance, but it also added necessary depth to an otherwise breezy film.
The Trip to Italy, which takes place over the period of a week, is a bit breezier, and the impressions are even more plentiful than the wine drunk at almost every meal. Mr. Brydon's man-in-a-box routine gets some deserved attention when he engages in conversation with a fossilized corpse on Mount Vesuvius, and his Al Pacino is priceless, as is his take on Tom Hardy as Bane in The Dark Knight Rises. Mr. Coogan, whose graying hair is cut shorter than it was in the original film, does a marvelous Pierce Brosnan.
Mr. Brydon is still the jolly foil to Mr. Coogan, an acerbic wit whose competitive nature often gets the best of him, but this time around, Mr. Brydon is the introspective one, at least when he's alone. His wife is distant, and he's about to break into the American film market, which puts him in an awkward position with his family, as he will have to spend weeks away from them in Hollywood.
Eventually, Mr. Brydon's impressions become overbearing and begin to drag, and the punch lines, largely improvised, test your patience. The movie, you feel, goes on a bit too long, like a dinner guest who's overstayed.
These are, however, minor complaints. The real delight of The Trip to Italy is in the simple, satisfying pleasure of watching this pair, at every meal—and there are oh so many—eat and talk and argue and make jokes, and eat and talk and argue and make jokes, and eat and talk and …