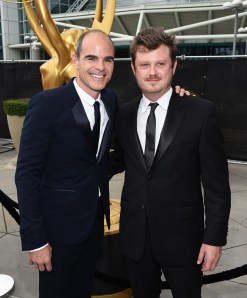 There were so many red dresses on the red carpet at the Emmy's last night one could have easily mistaken it for an American Heart Association event. I stopped counting once I hit 20. It became too exhausting.
Other notable happenings: I witnessed Aaron Paul photo-bombing several different media outlets during the pre-show carpet festivities. From a distance, I mistook Gwen Stefani for Donatella Versace. The red-carpet winner was Sarah Silverman, who had what appeared to be a vaporizer that quite possibly (ed. note: more than possibly) contained marijuana. Also winning—for her work on American Horror Story—Kathy Bates dazzled the crowd in a flattering black and white kimono type dress. In attempting to wrangle my way down the carpet, I was able to get an interview with mastermind director, Beau Willimon, the man behind the Netflix hit House of Cards. 
Originally it was a mystery where House of Cards would end up. Mr. Willimon wrestled with the script with David Fincher for almost a year before the digital network expressed an interest. Luckily, Kevin Spacey and Robin Wright were already on board. It was just a matter of where the show would land.
"We were excited about the unknown," said Mr. Willimon, who exclusively spoke to the Observer about Netflix's generous offer, and the fact that the network immediately guaranteed a second season.
"We all recognized that if Netflix could pull us off that it could have a very big influence on where the industry was heading. We had no idea they were interested in original programming. It was something we were excited about, so we leapt at the opportunity."
A frequent question Mr. Willimon gets, "Is this like the original British version?"
"Some of the archetypes are similar, but it's not that we're using the original as a template. I did not want to make this an adaptation, that's not what I intended on ever doing. What you see with Francis Underwood is a variety of evolutions that are in the novel,"  Mr. Willimon says, referring to the book by Michael Dobbs. "We have also already exceeded the number of episodes that the original version had."
Other frequently asked questions? Why was Zoe Barnes (played by Kate Mara) killed off immediately in the second season?
"I knew I'd kill her off before I started writing the first season. It was important to show what measures Frank would be willing to go to, to achieve power.  Miss Mara knew from the beginning about this," Mr. Willimon told me. "Just like with Pete Russo. Mr. Underwood knew it was only a matter of time before Representative Russo would fall apart. He looked at the death of Russo as a mercy killing, he just sped the process along."
Of course I wanted to ask Mr. Willimon about the sex scene between Frank, his wife, and their bodyguard but alas, I could not bring myself to it. Some things are just not meant to be known.
The decision to proceed with Netflix proved to be a wise one for Mr. Willimon and his team. The digital network scored 31 top Emmy nominations between House of Cards and Orange is the New Black. Unfortunately, AMC's giant Breaking Bad practically did a clean sweep of each category it was nominated in. But with Breaking Bad completed, perhaps it is a sign that digital programming is the wave of the future.
Until then, he recognizes the accomplishments of the shows he so often shares a category with. "Breaking Bad is a bar we all aspire to," he said.
Mr. Willimon also spoke highly about Mad Men, and in an odd twist of fate revealed he actually attended the same high school as actor Jon Hamm. "We performed in a play together, then Jon was faculty my senior year, and my drama teacher."
Other favorites? "I'm not a huge fantasy guy, but Game of Thrones has done an amazing job of speaking to a lot of people who may not be into that genre," Mr. Willimon indulged.
As for "binge-watching," Mr. Willimon likes the fact that Netflix provides a full season all at once."I do binge watch when I have the time to. It's tough when in production. I do like to savor shows and space them out … it's like reading a great novel in one sitting. Netflix gives you the freedom to watch it how you want."
When can we expect season three to air?  He revealed on Twitter that they are currently in production, but when asked, he responded to me in a way that could only make Francis Underwood proud: "I could tell you, but I'd have to kill you."