Where tvDownload's Drew and Vinnie discuss their picks for this year's Emmys!

Supporting Actors
Josh Charles, The Good Wife
Peter Dinklage, Game of Thrones
Mandy Patinkin, Homeland
Aaron Paul, Breaking Bad
Jon Voight, Ray Donovan
Supporting Actresses
Joanna Froggatt, Downton Abbey
Maggie Smith, Downton Abbey
Lena Headey, Game of Thrones
Christine Baranski, The Good Wife
Drew: For the last several years Dinklage and Paul have been handing it back and forth, which is their right, but makes it less likely that they're just going to walk away with it. I mean, and argument can be made for Aaron Paul, since it was his last year, but can't we say the same thing about Josh Charles, as his SPOILER ALERT was the big SPOILER ALERT of The Good Wife's season. (Just kidding, CBS doesn't get spoiler alerts because the only people who watch their programs still haven't figured out how to use computers/ have died with the television still on, their hungry cats devouring their faces.) Sarah Devlin likes The Good Wife, but we all know she's dead inside, which still counts.
So what about Mandy Patinkin vs Jon Voight? Both heavy contenders, though maybe Patinkin less so than Voight on
Ray Donovan
, since Saul Berenson has
never communicated with a goddamn dolphin before
. Also, it's totally unclear what's going to happen on Homeland this season…will it be a whole new show with a different cast, or will Saul make an appearance? That's gotta figure in to the game. I also didn't really enjoy Saul much this season–ever since F. Murray Abraham started showing up, he's outshined Patinkin in every scene– so I'm putting my money on…fuck it. Dinklage. Dinklage wins. I mean, come on.
DINKLAGE FREAKING OUT DURING TRIAL>
Vinnie: Homeland is one of those dark holes in my TV watching schedule where I tell everyone "I knowww I totally need to watch that," but I'm not going to. Nope. But I do have a secret, undying passion for the Princess Bride, so maybe Patinkin solely based on that?
Fine, I'll go by performances I ACTUALLY WATCHED. Lame. My gut wants to say Aaron Paul, because god he was just perfect for five straight seasons. But this last season his performance basically called for different shades of "NOOOOO." I mean, he did an AMAZING job at portraying total despair, but just sadness an Emmy does not get (did that make sense?). But there was that amazing last second of elation during the finale. You know, this one?
But then there's Dinklage, who should win based literally on that trial speech alone. Ohhh, this is a hard one *writes in ballot for talking dolphin from Ray Donovan.*
Now Best Supporting Actress? Joanna Froggatt and Professor McGonagall Maggie Smith are out in my book, mostly because I am so anti-Downton Abbey and how dare they get two chances to win.
I actually think the most hated abused housewife in the world, Anna Gunn, stands a good chance for the repeat. That
Breaking Bad
final season boost is strong, people. And Anna Gunn is a fantastic actress. I know this because apparently she is super nice in real life, but god did I hate Skyler White
like everybody else
.
But wouldn't it be sweet if Lena Headey won with her first nomination? Yeah, yeah I think that's what I want. (yes, I know that's two posts in a row where I only talked seriously about Breaking Bad and Game of Thrones. I'm a 22 year old male. Learn your demographics.)
Drew: Lena Headey and Gunn, FTW. Gunn because of that New York TImes' op-ed last summer, which has now turned into a rallying cry around the "likability" of women on television conversation. (Rallying cry around a conversation? Yes. I like my metaphors like I like my men…poor.)
But what about Headey? If anything, Cersei was LESS the worst this season! Aaaaand, let's not forget,
GOT
went off-book with that Jaime rape scene
, which was also a huge inflection point in this year's cultural conversation, both on Tumblr and the world at large. But im not sure if Cersei being more sympathetic, at least compared to her shitty dad or Jaime "It's not rape if we're related, because that's just regular incest" Lannister, is more or less likely to get Headey the vote. This is a Gunn year, I bet. Because if this was chess, a dame beats a whatever-Froggatt-is, and a queen beats a dame, but Anna Gunn's essay is going to carry her through to
Breaking Bad
's last year. Plus, didn't Skyler get way more badass? YES SHE DID.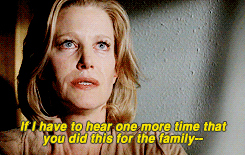 Vinnie: Christine Baranski did the voice for a Homeless Woman on American Dad one time in 2006. Sorry, I thought we should say at least one thing about her.
Also, is there any way that Anna Gunn and Lena Headey can get fully into character and just sort of verbally duke it out over the Emmy? Like Headey's just crazy drunk off wine and real bitter and eventually has Walter Jr. pushed out a tower window, then Gunn is just like "I fucked Jaime" and the credits roll.
Man, my Emmys would be awesome.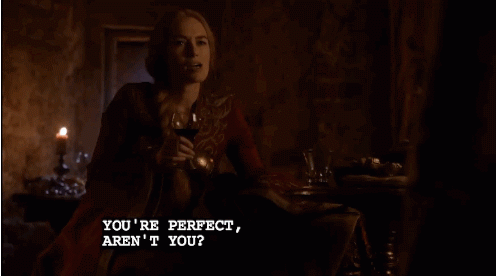 Drew
: Christine Baranski is amaze-balls in everything, obviously, but mostly Bowfinger.
[youtube https://www.youtube.com/watch?v=E6yFlIQxp8g]
Also Addams Family Values:
[youtube https://www.youtube.com/watch?v=-A3PWPERD7w]
Wait but for real, is she nominated for American Dad? *Checks Internet*
THANKS FOR THE LIES, VINNIE! Also I got you something:

IN CLOSING! I almost want to say Barinski, because I imagine her entire demographic is people who love The Good Wife: i.e., women who all look and act exactly like Christine Barinski characters. A veritable Baranski army!