Where tvDownload opens up the floor to discuss the picks for this year's Emmys!
Outstanding Drama Series
Breaking Bad
Game of Thrones
True Detective
Downton Abbey
House of Cards
Mad Men
Outstanding Comedy Series
Louie
Modern Family
Orange is the New Black
Silicon Valley
The Big Bang Theory
Veep
Vinnie: For Comedy, I'm hoping Veep will win because that show is actually funny. Orange is the New Black and Louie are both shows whose best moments come at serious times, Modern Family wins too much and Silicon Valley is too new. The Big Bang Theory is so abhorrently, offensively bad that it makes me regret that the ACTUAL Big Bang happened, because it created a universe in which The Big Bang Theory exists.
Oh and for Drama, Breaking Bad is going to win, because all other categories aside that show as a whole is just better than everything else, and I'll miss it.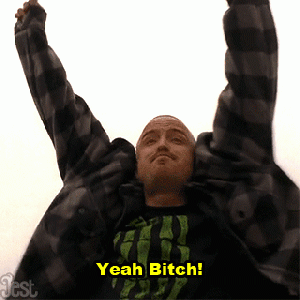 Molly:  For comedy, I think you are 1000% right about everything, Vinnie. (Not just because I still feel bad for the male virgin screenwriter comment).
As for drama, Mad Men is my favorite thing ever, not just TV but all things. Really, I would rather watch Mad Men than do almost anything else. Still, I accept that Breaking Bad will probably win because this was its last season. I'm really not even mad! I'm feeling really zen about the fact that Mad Men might not win anything this year because I think they'll probably sweep the Emmys next year after they close up shop forever and ever. Really guys I'm totally fine and not bothered by it at all.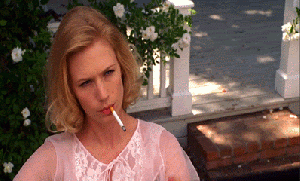 *chugs 9 old-fashioneds, smears red lipstick all over face, passes out, wakes up as Fat Betty*
Jack: For Comedy, give it to Silicon Valley. I'm biased from doing recaps, but T.J. Miller's character is the neckbeard satire our world needs, now more than ever.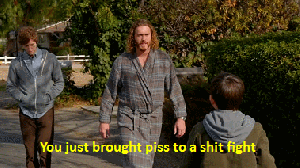 Mad Men should take Drama. House of Cards was compelling, Downton Abbey is a triumph of public television, yada yada. But the dissolve of Draper's bicoastal marriage and Ginsberg's computer crisis? They'll take the award. Sure, splitting the final season between this year and next is a crime against reason, but we'll forgive them, just so long as this is how they accept their inevitable trophy:
Matt: I think Breaking Bad should win for drama, because it is the third best television show ever, after The Wire and The Sopranos. (I can't decide whether The Wire goes before or after The Sopranos, but that's a discussion for another time.)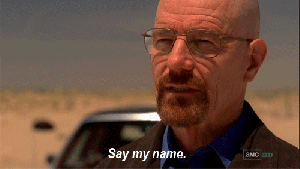 As for comedy, I nominate The Walking Dead. It is funnier than people think.
Chris:  Let's just eliminate the obvious right away. Big Bang Theory is a social experiment of the effectiveness of laugh tracks over actual jokes. Laugh track is winning. Modern Family is still on? Is Manny still precocious? OITNB is funny for a drama but not for a comedy. None of those are in the running. Louie this past season was an artistic vision that wasn't going for laughs all the time. Is there an Emmy for that? Still love the show but it's not winning.Veep is a hilarious show with a great cast. Each season has been strong but when Selina became president it sort of felt like when Tony kissed Angela on Who's The Boss.
The Emmy goes to Silicon Valley. It's the funniest show. Amazing cast and the storyline was compelling and paid off. It was even funny despite the fact people had to keep talking about how the actor who played Peter Gregory died before the show premiered. What a bummer that there will be no more Peter Gregory. RIP Christopher Evan Welch, amazing performance.
Sarah: Again, I didn't watch Breaking Bad but I accept that it is by all accounts deserving of the Emmy, as much as I would like to see Mad Men get it (because like Molly, I adore and relate way too hard to Mad Men. EVERYONE WAS BEING SO UNFAIR TO PEGGY LAST SEASON).
However, I will say that no other show has given me as much pure zeitgeisty joy this year as Game of Thrones.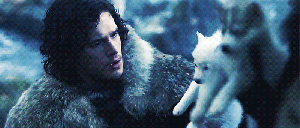 As for comedy, Veep should take it, but since the Emmy voters are creatures of habit it might be Modern Family again. I BLAME THE SOFIA VERGARA/JOE MANGANIELLO SHOWMANCE.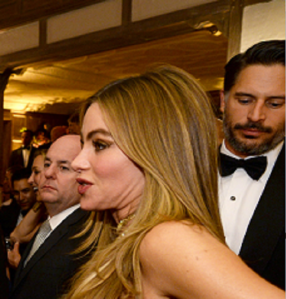 Nicole: Well I was going to say Veep should win for Best Comedy but now I'm rooting for The Big Bang Theory just to see Vinnie's head explode.
However if Game of Thrones wins my head is going to explode because I am fundamentally opposed to both incest and dragons. I've heard good things about Downton Abbey but four minutes into every show I begin Googling "Inexpensive Fascinators" and forget to pay attention. My money is on House of Cards because it not only taught me the difference between money and power, but it bolsters sneaking suspicions I have long since grown tired of hiding such as "Every kitten grows up to be a cat" and my personal favorite "Nobody's a Boy Scout. Not even a Boy Scout."
[youtube https://www.youtube.com/watch?v=a5Ha3IWeXOo%5D
Drew: Nicole is fundamentally right on this, especially the part about the Fascinators. I must be the worst person ever because I'm getting married in two days and just Googled the word "Fascinator" because I didn't know what that was. ( Vinnie, you with me on this? Jack, I assume, actually owns a couple.)
The problem is that although we're talking AROUND it, True Detective will probably win because it was the most buzzy, least "offensive" show this year. Like no one was outraged by the child rape on True Detective, because  it happened off-screen and was just used as plot momentum. Despite it's proactive wrapper, TD's hoary philosophical jumbo actually contains no real substance to take up arms against. Combined with that fact that everyone discussed it as nauseum this year, I don't see how any other show COULD win. Sure it was the end of Breaking Bad, but the Emmys aren't just about giving Lifetime Achievement Awards.
Also: Big Bang.
Vinnie: Googled Fascinator, got "a style of millinery." Googled "Millinery," got "the trade or business of a milliner." Where does this end?
Drew: 
Molly: Fascinators are a flat circle.