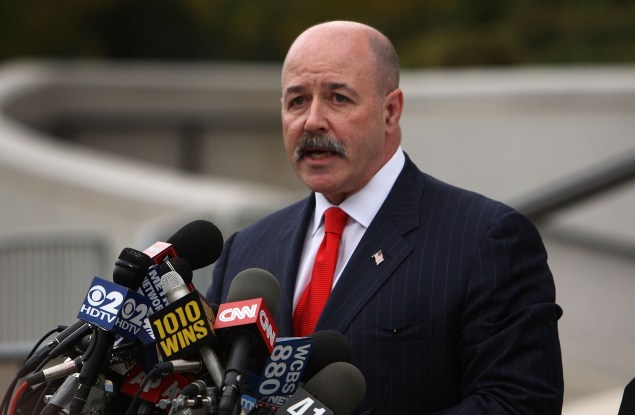 Former Police Commissioner Bernard Kerik tore into Mayor Bill de Blasio over his handling of the Eric Garner controversy, claiming that he has sided with Rev. Al Sharpton against the police force and his own police commissioner, Bill Bratton.
Mr. Kerik, who–like Mr. Bratton–served as head of the NYPD under Mayor Rudolph Giuliani, claimed that Mr. de Blasio has let Mr. Sharpton walk all over New York's Finest following Mr. Garner's fatal encounter with cops last month.
"These men and women go out every day and put their lives on the line for the people of this city," Mr. Kerik told listeners of the Geraldo Rivera radio program. "They're getting crucified here and thrown under the bus by the de Blasio Administration for one instance."
Mr. Kerik, once heralded as "America's Cop" after his service during the September 11 attacks, had a precipitous fall from grace.  He was recently released from prison after serving three years for tax fraud and lying to the federal government when he was being considered for the job of Director of Homeland Security.
The former police and corrections commissioner, who appeared on the show just after his old boss, echoed comments made yesterday by Sergeant's Benevolent Association president Edward Mullins that the mayor's actions would leave the force in constant fear of legal reprisals from suspects.
"If they're going to be crucified by the mayor's office, if the mayor's going to kowtow to Sharpton, or anyone else for that matter, you can't blame them for being afraid to do their job," he said.
Mr. Kerik singled out a roundtable discussion, part of which was open to the press, that the mayor convened with Mr. Bratton and Mr. Sharpton to discuss Mr. Garner's death last month. The civil rights leader blasted Mr. Bratton and his "broken windows" police policy while sitting just feet away from him.
"If I was Bratton, I would be furious I had to sit at a table with him and discuss police policy. He's an instigator and an opportunist when it comes to this," the ex-commissioner said. "You don't need Al Sharpton to create policy or procedures or training."
Mr. Kerik conceded that Mr. Sharpton had made gains for the black community, but he argued that the controversial activist is badly off the mark in criticizing the NYPD, saying minorities have benefited the most from stronger, stricter enforcement resulting in fewer homicides and property crimes.
"He's completely wrong when he says that the police department is hurting the minority community," Mr. Kerik said. "He should be praising the police dept. for crime reduction."
Mr. Kerik also said that the reverend should be denied access to the Verrazano Bridge, which links Brooklyn to Mr. Garner's native Staten Island, for a protest planned on August 23.
"It's a disruption to the people of the city," Mr. Kerik said. "If he wants to protest, there's plenty of places he can protest without causing a disruption."
The mayor's office declined to comment. Mr. Sharpton did not immediately respond to requests for comment.