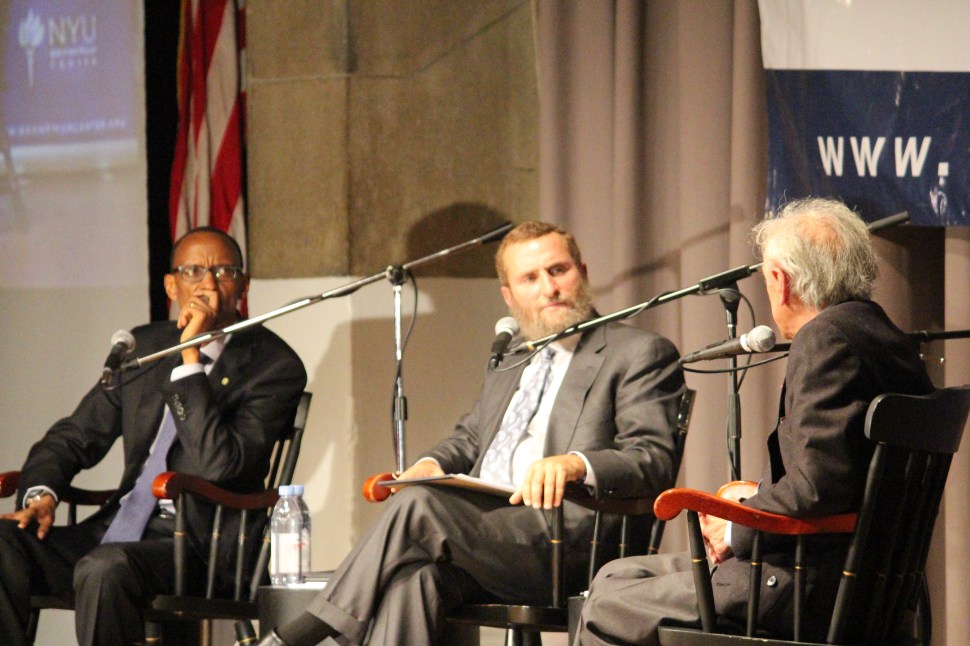 Rabbi Shmuley Boteach, known as "America's Rabbi" and the founder of This World: The Values Network, has been running a paid advertising campaign featuring Nobel prize winner Elie Wiesel opposing Hamas' use of child sacrifice.
This ad has appeared in the New York Times, New York Observer, Washington Post and the Wall Street Journal without a hitch.
Until today.
The Observer has learned that The London Times refused to run Rabbi Shmuley's ad.
A representative of The Times wrote to the Rabbi's ad-buying firm saying, "In brief, [The Times] [feels] that the opinion being expressed is too strong and too forcefully made and will cause concern amongst a significant number of Times readers."
Rabbi Shmuley, who was named London Times Preacher of the Year in 2000, is "appalled."
In a statement, he told the Observer, "At a time when Israel is fighting for its very existence against the genocidal terrorists of Hamas, the British media, already infamously skewed against Israel, refuses a paid ad that every major American outlet – including The New York Times, The Washington Post, and The Times sister publication The Wall Street Journal  – was proud to run as a full page ad."
The rabbi's This World advertisement calls upon world leaders and "true Muslims" to "condemn Hamas' use of children as human shields." The advertisement was co-written by Elie Wiesel and Rabbi Shmuley.
The Observer has also exclusively learned from a political source with knowledge of the President's schedule that President Obama himself has seen this ad. According to the source, "Elie Wiesel had lunch with President Obama on Friday and presented the ad into his hand." This meeting was apparently not listed on the president's schedule. The source continued, "The president literally read it in front of Elie Wiesel's face."
The advertisement also points out key beliefs and principles shared by Jews, Muslims and lovers of peace.
Rabbi Shmuley has not yet given up hope. Although in his conversation with The Times, the rabbi's offer to revise the pre-published advertisement to satisfy the publication was simply dismissed, he is determined to voice his message to The Times' readers.
"Elie Wiesel is one of the most respected human beings alive, a Nobel Peace Laureate, and is the living face of the [H]olocaust. No greater expert on genocide exists in the whole world. His call for the end of child sacrifice by Hamas who use children as human shields and a stop to their genocidal charter which calls for the murder of Jews everywhere could only offend the sensibilities of the most die-hard anti-Israel haters and anti-Semites," Rabbi Shmuley stated."I am shocked that The Times would engage in censorship of the worst kind to cater to such bigotry."