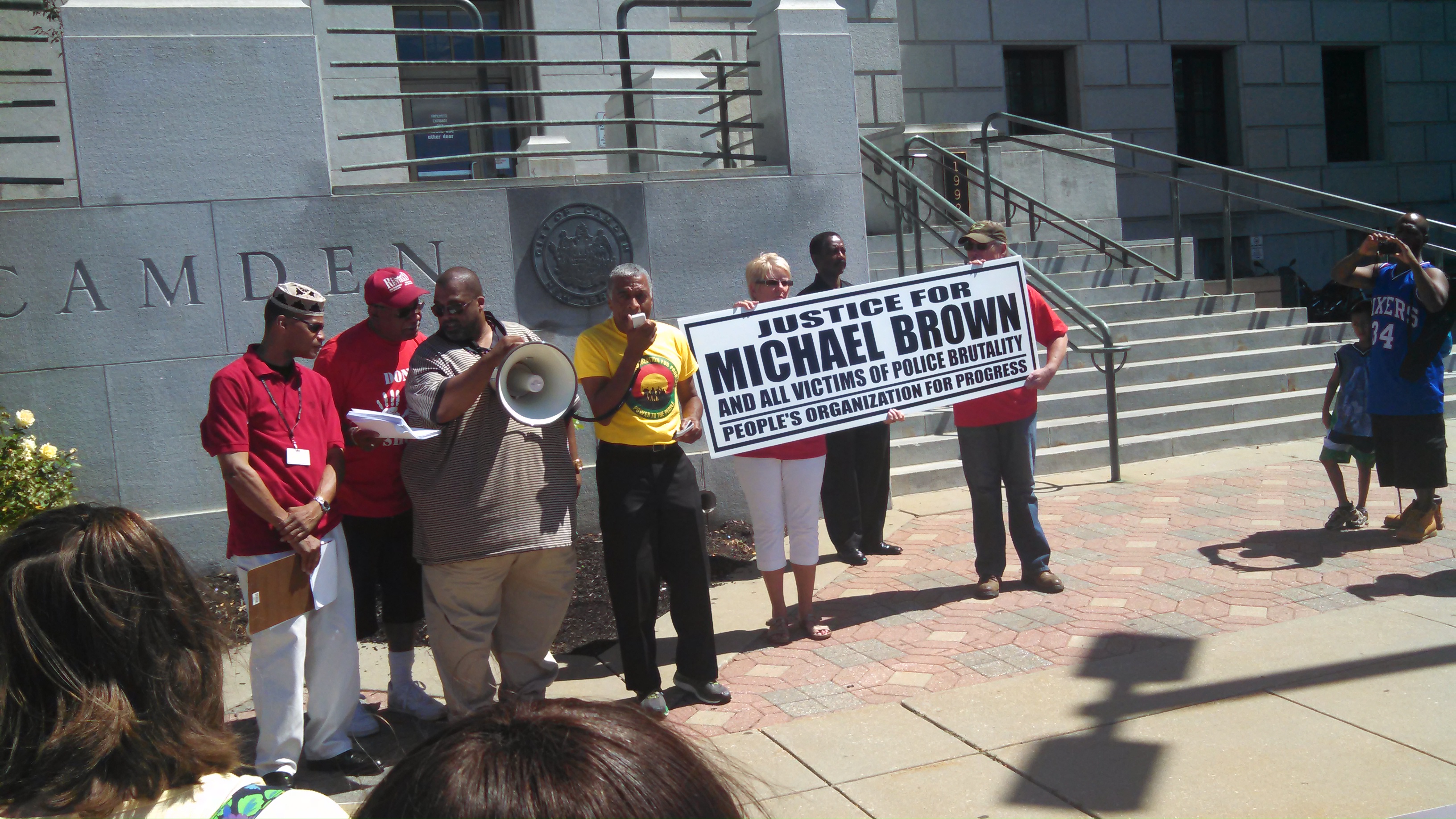 CAMDEN – The protests in Ferguson, MO, may have dissipated as national outrage over the killing of an unarmed black teen slowly fades to a whisper, but that hasn't stopped justice-seeking activist in New Jersey from continuing to embrace the cause: justice for Michael Brown.
"I stop by today to tell you that there is hope in hopeless times," said Pastor Rosalyn Parker, of Taste of Heavens Ministries, and one of several residents, faith and labor leaders, and civil rights activists who gathered here today to call on state and federal authorities to bring justice to the situation in Ferguson. "These things are happening year after year after year. We have to ask ourselves — what must be done?"
The situation in Ferguson made national headlines earlier this month after Brown, an 19-year-old resident, was fatally shot by a white police officer who claimed the teen attacked him in his patrol car. The small St. Louis suburb was wracked with protests over the last two weeks, including violence between residents and law enforcement responders, who've been criticized for using military-like tactics, including tear gas and riot gear, to quell the turmoil — though things have since smoothed out in lieu of a federal investigation.
On the steps of city hall here today, however, dozens of protesters joined in solidarity with the residents of Ferguson, chanting "No justice, no peace!" and demanding that action be taken to bring justice to the teen's death. Some held signs that read "We Stand With Michael Brown," while many wore red t-shirts, handed out for free by members of New Jersey's Communications Workers of America beforehand, with the words "Don't Shoot" printed in bold lettering.
"It seems like no matter what gets to the TV, nothing changes," said George Jackson, President of Camden's CWA local 1084. "It happens again and again and again. We need to get some legislation out there — we need a next step."
One after the other, a chain of faith, labor, and civil rights leaders — from organizations like the NAACP New Jersey Conference to NJ Working Families Alliance to NJ United Students — took to the microphone to decry the response from police and public officials to the incident, and urged attendees to continue to fight against perceived racial inequalities and injustices in American communities.
"Our country is in the midst of a crisis. This is not just a Ferguson or a St. Louis problem," Phyllis Salowe-Kaye, Executive Director of New Jersey Citizen Action, told the crowd. "What happened to Michael Brown is an American problem that reminds us that racial justice is a core issue for all who care about inequality and justice."
Other speakers, like Larry Hamm, president of the People's Organization for Progress, took a less measured approach, calling for the direct "arrest and imprisonment" of Darren Wilson, the officer who shot Brown.
"There's got to be one standard of justice for everyone in the USA," Hamm shouted. "I say to the people of Ferguson — don't sit down, don't be quiet, keep fighting, because the longer you fight, the stronger our movement grows."
Hamm said he sees parallels between the situation in Ferguson and those in other racially and economically-fragmented cities across the country, such as Camden, which suffers from one of the highest homicide rates in the state, and Newark, New Jersey's largest city. Like Ferguson, both have histories of racial tension and police-on-resident violence.
Hamm drew attention to a recent federal investigation into Newark's police force which found that it had violated the rights of citizens, especially black citizens, there. The U.S. Justice Department has since announced that it will send a federal monitor to watch over the city's municipal police force.
"The federal government should come in and investigate all the Michael Brown's in America," Hamm said, making a passing reference to the recent shooting of another black teen, Trayvon Martin, in Florida last year. "If they find enough reason to take over Newark, then the federal government needs to go to Ferguson and take over the police force there."
"Where ever black people are, that's where Ferguson is in America," Hamm added.
The CWA, one of New Jersey's largest labor unions, hosted the protest, in part to show that the issue is "not just about Michael Brown, but about young black men and victims of injustice everywhere," Jackson told PolitickerNJ before the event.
"People think the [CWA] is a union, and only does union stuff. But we partake in a lot of other issues," Jackson said. "We're for education, for children, we're for communities. So that's why we're out here today."