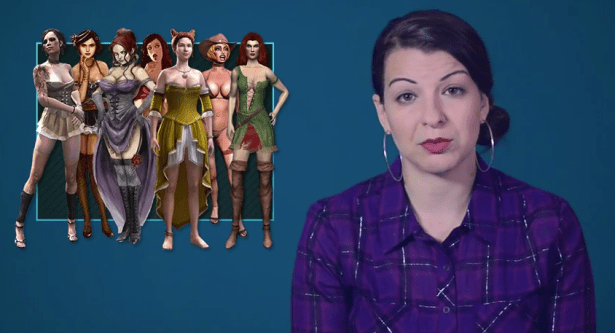 It's hard to take seriously the online cesspools where men's rights activists and not-all-men apologists congregate. But as ridiculous as they seem, a lot of these guys are dead serious, and capable of causing very real havoc.
Anita Sarkeesian, a feminist blogger and popular video game critic, said via Twitter yesterday that she had left her home and was staying with friends while authorities investigate the latest slew of violet threats against her and, now, her family.
Ms. Sarkeesian publishes a webseries called 'Tropes vs Women in Video Games' as part of her Feminist Frequency YouTube channel. The series is a definitive catalogue of the way women are portrayed in video games, with thesis-length explorations of the many cringe-worthy ways that blockbuster game titles portray women as sexual playthings, hollow plot devices and damsels in distress.
[youtube https://www.youtube.com/watch?v=5i_RPr9DwMA?list=UU7Edgk9RxP7Fm7vjQ1d-cDA]
For as long as Ms. Sarkeesian has been exposing the endemic misogyny of the game design world, male gamers have waged a well-documented war on her personal and intellectual integrity. Her critics run the gamut from neckbeards who try to legitimize their arguments by affecting a faux-academic, mansplainy tone, to the unabashedly violent and threatening.
This horrific history of harassment, which has culminated in a woman being driven from her home, comes on the heels of better news: that women are now the largest demographic in gaming. That announcement was treated by some sites that ran the report with bleary-eyed optimism — a penultimate victory against the barbarism girl gamers endure every day. At last, the war is won!
Make no mistake. We have a long, long way to go.
We can practically hear the trolls' reactions to Ms. Sarkeesian already: "If she can't take the heat, get out of the oven," "It was just some anonymous twitter troll, she's overracting," and other such she's-asking-for-it nonsense. And while Ms. Sarkeesian is safe now, the whole point of anonymous threats are that you never know which threats are simply meant to terrorize or manipulate and which are the rare confessionals of the disturbed. In the meantime, Ms. Sarkeesian is tweeting words of encouragement: