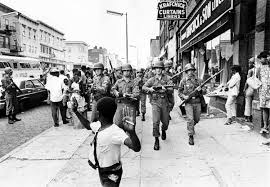 NEWARK – The images of exploding Molotov cocktails lighting up the brutal, after-dark duel between protesters and police in the streets of Ferguson, Missouri earlier this month served to spur memories of the days that ripped apart Newark's soul in 1967.
In Ferguson, after an unarmed 18-year-old African-American male was fatally shot by a white Ferguson police officer on August 9, the streets of the Saint Louis suburb erupted. After almost two weeks of furious demonstrations and the introduction of the National Guard, Ferguson has simmered down as federal investigations ensue.
In Newark, the July 1967 arrest of a Newark taxi driver by two white police officers opened up the gates of Hell. Six days of shooting, looting, death and destruction left 26 people dead, a situation many observers and historians say was made worse by the presence of the National Guard. Federal and state investigations tried to the get to the core of the problems that led to what some called a riot, others a rebellion. Meanwhile, Newark went into an economic and population tail spin from which it took decades to significantly recover.
One dark thread of discord unites Newark in 1967 and Ferguson in 2014 – the under-representation of minorities in the city government and police department. Seven members out of the nine-member Newark City Council were white when the 1967 civil disturbances began, and few of the faces on the police force were black, at the moment when the majority of the city's population had shifted in favor of African-Americans.
Ferguson's story is very similar, and even worse statistically. Five out of six city councilmen are white in a city whose population is close to 70 percent black. The mayor is also white. Only three officers in the 53-member police department are black, and the city's police chef is white.
When PolitickerNJ conducted a series of interviews trying to examine the parallels and parting points between the unrest in Ferguson this months and Newark 47 years ago, one prominent New Jerseyan pointed his finger firmly in one direction.
"We had [former Newark Mayor] Hugh Addonizio involved in the situation, and he was bad," said former New Jersey Governor Brendan Byrne, who was the Essex County Prosecutor in July 1967. "He was a focal point for the disturbance."
"Addonizio was by his own admission corrupt," added Byrne, a nod to Addonizio's famous reported quote that he left his Congressional seat so he could "make a million bucks" as Newark's mayor. "There was no question that the city was for sale. And his police director [Dominick Spina] was bad, too."
Ken Gibson would defeat Addonizio in the 1970 Newark mayoral election to become the city's first black mayor. Addonizio, who would later be convicted on federal corruption charges, is Newark's last white mayor to date. Newark's current mayor, Ras Baraka, is the son of the late poet Amiri Baraka, a key black leader in 1967, and the council now has five black members, three Latino members, and one Portuguese-American member.
But according to longtime civil rights activist Lawrence Hamm, the New Jersey state chairman and founder of the People's Organization for Progress, a grassroots, community organization based in Newark, without a more integrated, transparent police force, political progress is not enough.
"Ferguson is now in a militarized, apartheid state," Hamm said. "It's clear in these situations, you need civilian oversight of the police. The police are an extension of the legislative and policy-making bodies of a geographic area. The police go as far as their legislative and policy-making bodies permit them to. The cops are getting blamed [in Ferguson], and they should, but it's also the policy makers who have to answer for this. And in many communities, the police are an instrument of racial, not just social, control. What happened in Newark in 1967 and Ferguson in 2014 is not just a parallel – it's a continuum. But when the power structure reflects the racial composition of the population, it does have an ameliorating effect. But the potential for an uprising is still there."
While the Newark Police Department's personnel is now approximately 33 percent black, according to department officials, New Jersey's largest municipal police department is still experiencing institutional problems.
A joint three-year investigation by the U.S. Attorney's Office for the District of New Jersey and the Justice Department's Civil Rights Division revealed significant civil rights violations by the Newark Police Department. The joint report revealed widespread violations of the Fourth Amendment, noting that up to 75 percent of stop-and-frisk pedestrian stops in Newark were unconstitutional. It also showed that while African-American residents comprise 54 percent of Newark's population, they constitute nearly 80 percent of police stop-and frisks. The report also demonstrated a pattern and practice of excessive use of force by police officers.
A consent agreement between federal authorities and the city police department expected to be finalized next month will install a federal monitor to oversee Newark's police force. But when examining the roots of civic unrest, Udi Ofer, the executive director of the American Civil Liberties Union [ACLU] of New Jersey, looked beyond the agreement.
"When you look back to the early 1960s in Newark, there was already a real conversation happening about police brutality and police abuses," said Ofer, whose organization issued a highly critical report of the Newark Police Department helped to spark the federal investigation. "In 1965, Newark residents were calling for a civilian review board to provide oversight of the police. We are having the same conversation today, and this is part of a conversation that because no one was taking it seriously was one of the reasons behind the 1967 clashes. There has been no agreement yet for a civilian review board on paper. It's not guaranteed. This is a once-in-a-lifetime chance to do this. And what we do has to outlast any federal monitor."
"So far, we think that when it comes to protest activity, the Newark Police Department is doing a good job," Ofer added, noting a protest in downtown Newark last week against police brutality that was without incident. "People were allowed to express their opinion. What happened in Ferguson was the exact opposite. The reason we are having national conversation about Ferguson is not only about the horrible shooting of an unarmed black man, but also because of the way the police responded to the protests – by cracking down on it with armored vehicles meant for the streets of a war zone, not the streets of a city. We have to create a culture of accountability."
Robert Curvin is a senior policy fellow at the Edward J. Bloustein School of Planning and Public Policy at Rutgers University, an erstwhile New York Times editorial writer and a longtime Newark resident who was on the ground as a civil rights leader in July 1967.
Curvin's new book, "Inside Newark: Decline, Rebellion, and the Search for Transformation," looks at the circumstances that led to the civil unrest, as well as where the city is going nearly 50 years after the last bullet rang out.
"Riots occur in a context of abuse and neglect, and in that sense, the situation in Ferguson as I've read about it is virtually parallel to the situation in Newark in 1967," Curvin told PolitickerNJ. "If you've got a very imbalanced situation [in city government], invariably you'll find there are issues in the police department in terms of representation and abuse. A lot of people believe that Newark's decline was created by the riot in 1967 itself. But as I point out and others point out as well, the decline began long before then."
While Newark has changed, Curvin said that for the city to avoid Ferguson's fate in 2014, or a revival of its own dark moment of 1967, it must act not as if the whole world is watching. Instead, Newark must watch itself.
"The city's budget is broken, the state's budget is broken, and the federal government's budget is broken," Curvin said. "We've got a very difficult situation in Newark. It sounds a little romantic, but leadership does matter. Civic engagement does matter. People need to expect more, and demand more, from their leaders. When there is wrongdoing in government, it hurts the whole political system. It hurts the whole community. But those are things that can be fixed. Those are things that are within the grasp of local political leadership."