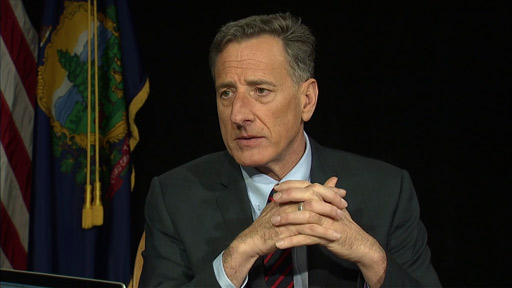 Republican Governors Association Chairman Chris Christie versus Democratic Governors Association Chairman Peter Shumlin.
It was hard to escape the optics: Christie zooming down to Arkansas for another campaign event, while Shumlin soaked up victory in his own low-key, low-turnout primary election.
The Combatants
Chris Christie
He won re-election last year with over 60% of the vote, got mangled by Bridgegate and now appears unwilling to let the scandal inhibit his brand as he ravenously campaigns countrywide. Chair of the Republican Governors Association (RGA) and a prospective 2016 presidential contender, Christie's breakneck pace through the summer months has taken him to places like Colorado, Illinois, Connecticut, New Hampshire, Iowa, and (today) Arkansas. Occasionally he comes back to New Jersey to stick a boardwalk landing.
Peter Shumlin
For those who don't know him he's the governor of Vermont, which, for people who don't know, is a state located north of New Jersey in the United States, which is the country where both New Jersey and Vermont are located, which gives them something in common. A political animal (by Vermont's standards), Shumlin was in Montpelier yesterday to celebrate his Democratic Primary win in the Vermont Governor's race, but says he does not intend to begin campaigning until after Labor Day. Considered pretty moderate by Vermont standards, he is definitely more moderate than the four Democrats he faced in his first primary- a pro-gun, pro-business guy who picked a big fight with the unions over overtime during Hurricane Irene, according to a Dem source. He's leading the charge to move Vermont to single-payer health care through an Obamacare waiver.
What's at Stake
Bragging rights over map domination of governors' seats. You can already see where this headed if the operative verb is bragging. Even before he's got the wins, Christie will be on the phone to Matt Katz between interviews with Hannity and Cavuto, demanding a chapter on the subject heavy on Napoleonic quotes, while Shumlin – if the Democrats get the win – may find time between testing the weight of his croquet clubs to salute Christie in a sporting post-campaign gesture.
Key Dynamics
According to this week's Crystal Ball by the University of Virginia's Larry Sabato, in a size-up of 36 gubernatorial contests nationwide, Republicans are leaning toward picking up one net seat – but this has fluctuated all summer-long.
The whole cycle's a toss-up.
Sabato right now sees the following as toss-up contests: Connecticut (incumbent Democrat Gov. Dannell Malloy versus Republican challenger Tom Foley); Florida (incumbent Republican Gov. Rick Scott versus Democratic challenger Charlie Crist); Hawaii (Democrat David Ige against Republican Duke Aiona); Kansas (Republican Sam Brownback versus Democrat Paul Davis).
A few other states creep in and out of the toss-up category.
Illinois has trended toss-up through most of the summer and now leans R, according to Sabato. Leaning D at the start of the season, the GOP has forced Hawaii into the toss-up category. A toss-up through much of the summer, Arkansas (where Christie campaigns today) leans R heading into Labor Day, according to Sabato. On the plus side for D's, John Hickenlooper in Colorado has consistently moved the needle to 'leans D' in his state (and that's after Christie visited Colorado , prompting an uptick in Bridgegate-themed associative ads to bully Hickenlooper's Republican challenger), while ex-Revenue Secretary Tom Wolf has incumbent Republican Gov. Tom Corbett covering up in the 'leans D' category in Pennsylvania.
The Democratic Governors Association just this week pumped $1.25 million into a PAC backing Malloy in Connecticut. Earlier in August, the DGA brought its total donated to Crist in Florida to $1.5 million. Priorities USA, a PAC with close ties to likely 2016 Democratic presidential contender Hillary Clinton, is hoping to trip up Christie and make Dems shine; just last week they gave $250,000 to Shumlin's outfit.
Whatever his governmental and or statewide political advantages (he apparently can try to make the argument that he's governing, as opposed to hobnobbing around the country while his state burns), the sedate (by comparison to Christie) Shumlin also has an obvious two-fold political encumbrance: he is running in his own re-election this November, and apparently has no designs on the presidency in 2016.
To the former liability first. Vermont's a safe D state for Shumlin, so despite his promise to be seen on the trail post Labor Day, he doesn't have to worry. He can turn out the lights right now on that campaign.
The other point is conceivably more hazardous for Democrats.
Voracious self-interest drives people in this game. Christie wants to be president. He wants to be able to prove that in spite of getting scuffed up by the George Washington Bridge scandal, his name still counts for something toward the overall reengineering of a scatter-brained Republican Party in time for the 2016 presidential contest.
He wanted this political job in this cycle to power a presidential run.
Shumlin?
If he loses a seat or two in places like Arkansas and Kansas and avoids a Dean Scream on his way to a net loss, he can always blame President Barack Obama and timing – and he gets to retreat to arguably the most beautiful state in the country while celebrating his own re-election victory.
Outcome
With more political capital riding on the populist Christie, it's his to lose. But if the in-your-face governor of New Jersey loses to the mild-mannered Shumlin after all the travel time and trash-talking and money pumping ($60 million in the RGA bank and counting during his watch), he will not exactly be radiating a post-Election Day Godzilla-like vibe. If Democrats win key battlegrounds in part by doing what they did in Colorado to protect Hickenlooper – namely, make Christie and his association to whatever Republican he's promoting the issue – that's downright trouble for the bombastic NJ governor.