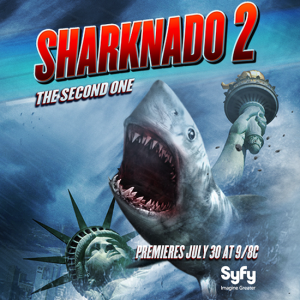 If the headline of this article was simply "piece of shit," the featured image merely a picture of a piece of shit or the entire presentation marketed nothing more than the fact that what you were about to read was a "piece of shit," would you click on it? Would millions click on it? Would billions talk about it?
This is a question that probably wouldn't have even crossed my mind, if it wasn't for Sharknado 2.
The sequel to Syfy's Sharknado (which is also very much a part of this conversation) Sharknado 2: The Second One is not a good movie. It isn't even supposed to be a good movie. It, like many Syfy original movies, is one of those "purposefully bad" movies that is never supposed to do anything but entertain through pure ridiculousness. That is how it was made and marketed — as a "good" "bad movie."
At least, that was my impression before the movie debuted. After? Well, apparently movies that hype ridiculousness over quality is what America wants, and they want it bad. Sharknado 2 raked in 3.9 million viewers with its debut showing, instantly becoming the highest rated Syfy movie of all time. This is almost triple the number of the first Sharknado, and it beat out shows like CBS's Extant. You know, the one starring Halle Berry and produced by Stephen-freaking-Spielberg.
But in the grand scheme of things, 3.9 million viewers isn't revolutionary in any sense of the word. Compared to some, it isn't even that impressive. But that's where Sharknado is different. It isn't revolutionary because of the size of its ratings, but because of the importance of its ratings. As RogerEbert.com's Brian Tallerico puts it, "It's not creatively brilliant. It's not well-staged or well-acted or well-anything really. But it's one of the first times I can remember watching something that feels entirely and completely designed to provoke a response on social media."
That is where Sharknado 2 hit a home run the likes which has never been seen before on television — the internet. For what it is worth, the movie generated what looks like 67.2 million Twitter impressions, with Syfy saying it is up to a billion. At one point, Sharknado 2 held all ten trending topics in the United States. (For those keeping score at home, it also beat out former record holders Miley Cyrus' VMA performane and the Kimye Wedding for most mentions).
A fair question would be, "so what"? Today's brilliant shows like Game of Thrones, Mad Men and True Detective are certainly aware of social media, but not what they strive for. And I agree. Touting Twitter figures seems like an empty boast to me. But type the words "social movie" into Google, and every review you see is about Sharknado 2. Without the social factor, would anyone talk about Sharknado? Would there have even been a second movie? Where are the sequels for Robocroc, Arachnoquake and Piranhaconda?
Is there a point to all this? I think so, and it has me worried about television and the way we watch it. Like it or not, Twitter mentions and impressions are factors of a show's success. So, going forward, would it be a surprise for series to up the Twitter worthiness, even while sacrificing quality? Would it be shocking if TV studios saw the success of Sharknado (already with a third movie greenlit, by the way),  and were attracted by the conversation factor and publicity, not the artistic integrity?
I mean after all, what value does artistic integrity have when you can just get a billion people to talk about a piece of shit?