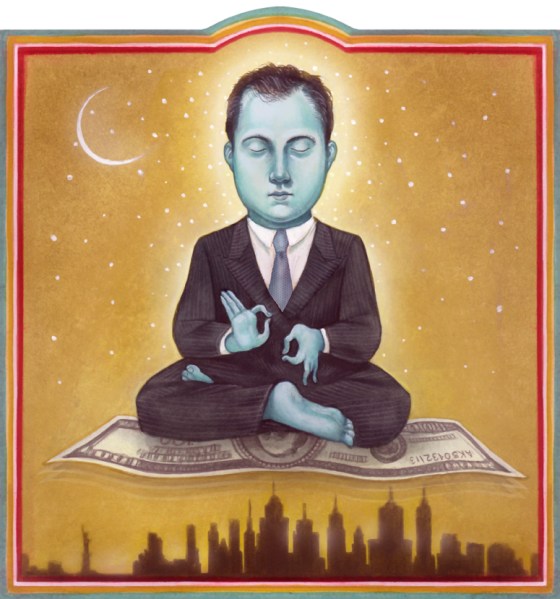 In a city where money is a mantra, a surprising new trend is keeping Wall Street titans grounded, even as markets fluctuate.
Some of New York's most successful finance and business leaders—including billionaire hedge funder Dan Loeb and Bridgewater Associates founder Ray Dalio—have adopted the daily practice of transcendental meditation.
Transcendental meditation (known as TM) entered Western pop culture via the Beatles, in their porn-stache and Nehru jacket phase. Their guru was Maharishi Mahesh Yogi, a controversial Indian teacher who was accused of  peddling TM to get rich. Others ridiculed TM's eyebrow-raising claims of being able to bring about world peace, or that its practitioners could literally fly.
In the 1980s, a spate of lawsuits filed by former adherents against Maharishi and his organization made claims ranging from fraud to manipulation and emotional distress. Damaged by negative publicity and dismissed by the mainstream as a hippie affectation, TM's moment seemed to be over.
But with a resurgence of interest from Hollywood to Wall Street, the movement has enjoyed a comeback in the years since Maharishi died in 2008.
"He didn't seek the Beatles out, they came to him," says Bob Roth, a TM educator of 42 years who worked closely with Maharishi. "He said, 'I love those boys, but they set my work back 30 years.' That's because it became a fad, rather than being seen as a medical process that has profound health benefits."
Mr. Roth is executive director of the David Lynch Foundation, a non-profit founded by the Hollywood filmmaker to fund TM education. Much of the movement's recent success can be credited to his skill at navigating the salons of the super-rich and famous, many of whom he teaches personally.
Silvered, well-spoken and handsome, with a nice selection of trim suits, he is the opposite of a robe-wearing swami. Mr. Roth's large office is decorated sparsely but tastefully, the décor suggesting a Park Avenue divorce attorney who has a sideline in interior design. The man knows his scatter cushions.
"I never want to teach anyone who doesn't want to learn," Mr. Roth insists. "If it interests you, fine. If it doesn't interest you, fine."
Yet he smoothly suggests how easy it is to start meditating: "almost as simple as taking a nap or walking."
A session does not require assuming the lotus position or adopting any other ephemera. One merely sits quietly for 20 minutes, twice a day. Practitioners meditate silently, with their eyes closed. They can be in groups or alone, sitting anywhere from at their desk to on a bus.
Mr. Roth, who became involved in the practice in 1969 when he was a student at UC Berkeley, describes himself as a skeptic. He has a winning way of referring to New Age-y cities like Berkeley and Los Angeles as "woo-woo-ville." He stresses that TM doesn't come with any associated belief system or ongoing financial obligation.
"The misunderstandings of meditation are that it's a philosophy, it's a religion, it's a lifestyle, you have to eat tofu, sit in a strange position and clear your thoughts," he says. "None of that is true."
Adherents focus silently on a sound, or "mantra," provided to them by their teacher. The goal is to transcend conscious thought and experience what Mr. Roth describes as "an unbounded level of the mind that is the source of creativity and energy and intelligence  within."
Testimonials from health professionals ranging from NYU School of Medicine neurologist Gary Kaplan, M.D., to the television personality, Dr. Mehmet Oz, attest to TM benefits including reduced blood pressure and stress hormones, as well as improved cognitive focus and creativity.
To learn TM, those who can afford it are charged $960 for a four-day, eight-hour course. Some of it goes to free programs to bring TM to military veterans with PTSD, prison inmates, and at-risk high school students.
"Our work with veterans caught the attention of business leaders," Mr. Roth explained one recent Saturday morning at the foundation's east Midtown headquarters. The only other person on the floor at that hour seemed to be Robin Roberts, the ABC news anchor, sitting quietly by herself in the waiting area.
"Some business people were meditating and they came to our fundraising galas," says Mr. Roth. "It spread by word-of-mouth. What interested them was three things: handling stress, the idea of more focus and creativity, but also work-life balance. When they're home with their kids, they want to be home with their kids. And they appreciate that they sleep better at night."
One prominent evangelist has been Mr. Dalio. With an estimated net worth of $15.2 billion, Forbes lists him as the 30th-richest person in America. A meditator for 42 years—he heard about TM during the Beatles phase—he offers to pay half the course fee for everyone in his firm.
"I feel a lot less anxiety since I've ben meditating. I feel like a ninja in a fight," Mr. Dalio said in February, on a panel devoted to extoling the virtues of TM to business leaders. "Now, when something comes at me, it seems like it comes in slow-motion."
Mr. Dalio has introduced several associates to the practice, including leading philanthropist and wealth manager, Mark Axelowitz.
"It's some time I enjoy doing every day, it's like two 20-minute vacations," Mr. Axelowitz wrote to the Observer in an email.
"One of the biggest benefits I believe is I think clearer and make better business and personal decisions. I am in better moods, calmer, happier. It gives me more energy to do things. Which I need, because I am up 18 hours every day doing many different things."
But the practice can sometimes raise an eyebrow.
"Sometimes I'll sit in my living room and meditate, and my wife thinks the whole thing is crazy," admitted financial journalist and Too Big to Fail author, Andrew Ross Sorkin, during the panel in February.
Those who have gone on record recommending TM include chef Mario Batali, social dragonfly Arianna Huffington, Cy Young Award-winning MLB pitcher Barry Zito, and celebrities like Jerry Seinfeld, Russell Brand and Lena Dunham. Paul McCartney and Ringo Starr have been supporters since the Beatles famously met Maharishi in 1967.
And one retired Coast Guard rear admiral, Richard Schneider, whom Mr. Roth describes as a "fundamentalist Christian," believes TM is so powerful in overcoming military PTSD that it should be incorporated into basic training.
Of course, it also has its detractors.
"It's very close to being a cult. It certainly has some cult-like features," says Lynn Parramore, who holds a doctorate in cultural theory and is a senior editor of the progressive web site, AlterNet.org. She is also a former TM student who is still smarting at having paid what was then a $2,500 course fee.
Dr. Parramore cited allegations made in the 1980s lawsuits, including that adherents were told they could have their physical aging reversed. And she faults Maharishi as a "charismatic guru-founder, demanding excessive devotion from followers."
"They make all kinds of grand claims about how meditation can somehow lead to global peace," Dr. Parramore says. "It's ridiculous. Really, a bunch of baloney."
It's true that the president of the David Lynch Foundation, particle physicist and Harvard Ph.D John Hagelin, does claims TM can bring about world peace.
For the layman, his logic is not easy to follow. But in videos and writing available online, he posits the calming effect of meditating groups in war zones reduces violence—even when the combatants themselves are not meditating—through "a radiated influence of peace" that can "affect the behavior of peace throughout society."
His explanation of the physics of this phenomenon is available on the TM.org web site under the title, "World peace from the quantum level."
Mr. Roth and Dr. Hagelin are very different kinds of ambassadors for their practice. Mr. Roth effectively articulates the attainable and verifiable benefits of TM for individuals. He is also very persuasive.
Dr. Hagelin comes across as … less so.
He ran for president three times, as the candidate for the Natural Law Party, whose platform is based on TM teachings. He didn't win. But he does use the title "President of the US Peace Government," as well as "Raja of Invincible America," an appointment bestowed upon him by Maharishi.
Dr. Hagelin also appears in a segment, filmed for National Geographic and available on YouTube, on "yogic flying." This is the belief that through TM people can literally and physically fly.
"The first stage of yogic flying, the body can't hold still and it starts to spring and hop, it tries to fly," he explains, as adherents, with their legs folded in the lotus position, bounce behind him. "The second stage is when the body actually hovers in the air for a short while. And the third stage is mastery of the sky, when the body can fly."
Mr. Roth—who practices yogic flying himself—acknowledges that nobody has ever observed the successful attainment of stages two or three. But for critics, the notion of physical flight through TM is a credibility-buster.
"Yogic flying is just a grandiose term for bouncing up and down on your duff," scoffs Dr. Parramore. "It's one of the most ridiculous-looking New Age practices out there, and that's saying something."
Unimpressed with TM as she is, Dr. Parramore doesn't question the effectiveness of meditation.
"It's not that it didn't work," she admits. "There just isn't any reason to pay the large amounts of money."
That's where the David Lynch Foundation comes in. With so many industry leaders vouching for the benefits of TM—plus testimonials from veterans, students and other regular folk—the foundation is at minimum an effective tool for allowing the wealthy to pay for others to try it out.
And if the city's billionaire hedge funders can achieve "mastery of the sky" along with their good deeds, that's just a bonus.