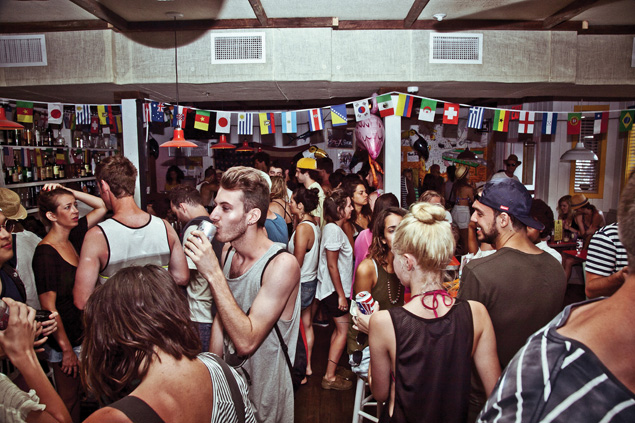 Rockaways native Michael Kololyan has been selling surf lessons from his spot on the sands of his local beach since 2012. A bear of a man with a baked-in, all-year tan, the lifeguard and surfing fanatic says his students are "mainly locals and the occasional guys from Wall Street"—but this summer he can add the well-heeled clientele of the W Hotel, Union Square to his roster.
W launched its Surf & Stay package earlier this month—offering a car service to and from Rockaway Beach for a surf lesson with Locals Surf School and a weekend stay. But wait a minute, isn't the Hamptons more W's style?  "To me the Rockaways are a hidden gem," says W insider, Tanya De Costa. "Sure the Hamptons are fun, but perhaps the Rockaways are the real deal if you're after a true New York experience with the locals."
ROCKAWAYS HOT SPOTS

Locals Surf School
localssurfschool.com
Beach 67th Street
(on the beach)
Rockaway Beach
(347) 752 -2728

Playland Motel
playlandmotel.com
97-20 Rockaway Beach Boulevard
Rockaway Beach
347-954-9063

Rockaway Beach Surf Club
rockawaybeachsurfclub.com
302 Beach 87th Street
Far Rockaway

End of the A: The Rockaway Beach Mobile Boutique
endofthea.com
Click "find the truck" for daily locations.

Rockaway Taco
rockawaytaco.com
95-19 Rockaway Beach Boulevard
Rockaway Beach
(347) 213-7466
And actually, overrun as it is with the socially desperate, forget Montauk this summer. The Rockaways, the beach at the end of the A train, is the place to find fun without having to work too hard  for it and  an easy, grass-roots vibe.
The place to be in the early 1900s, they used to call Rockaway Beach, "The One Day Holiday." If a phalanx of gourmet concession stands on the boardwalk at 96th Street caused a flurry of media attention when they opened in 2011, when Sandy hit the following year it felt like back to square one for a beach community that's struggled to relive its century-old heyday.
But a slew of new openings in the wake of the storm—not to mention the blessing of MoMa PS1 Director Klaus Biesenbach, whose Rockaway! public arts festival officially opened the 2014 season with live performances from James Franco and local resident Patti Smith on June 29—and the buzz is back.
The Playland Motel is at the epicenter of the new scene—hosting a regular Sunday afternoon dance party sponsored by British fast fashion store Topshop. "They're helping bring some great musical talent to the space," says owner Robin Scott, also one of the partners in Williamsburg's Output nightclub.
With its faded, South Beach Art Deco mood and serving a killer cucumber Mojito, the crowd here is straight out of Bushwick—with a few rather bemused-looking international tourists in the mix. Mr. Scott, himself a part-time Rockaways resident, says he likes the idea of providing city slickers "a bit of a breather out of the urban jungle." But open all year, he's quick to stress; "We're here for the locals, too. We tried not to be the guys who come in, open up for the summer and then disappear."
The other hot spot coming into its own this year is the Rockaway Beach Surf Club. The sprawling, indoor-outdoor venue was previously home to local creatives looking for cheap studio space, "but when the storm came the people sharing the rent were hit hard and could not afford to return," says owner Brandon D'Leo, who hires out lockers to the local surf community.
Mr. D'Leo, who also used the space to host outdoor cinema screenings and surf workshops, scored his liquor license at the end of the summer season last year; "and finally we started generating an income," he says. With food by Williamsburg outlet Urban Rustic and a regular schedule of movie screenings and live music events, here the crowd is Brooklyn-hipster-meets-salt-of-the-earth-local—and everyone in between.
And if the 60-minute-plus subway ride is still off-putting for some, then the all-new private bus service from OvRide is a mere 45-minute hop direct from McCarren Park (with a cooler of Bud lights on board to get the party started). "We were going to launch last year, but we ended up using the busses to run cleanup volunteers out here instead," says Dan Stonier, who also runs snowboarding trips to Vermont in the winter months.
Originally hailing from the Bronx, Mr. Stonier currently lives in Greenpoint—an area he predicts "will be all high rise condos in five years." For him, the appeal of the Rockaways lies in the fact "it's still almost entirely occupied by New York natives, which is very rare—it's like an isolated little microcosm of the City. One day this will be our Venice Beach," he adds.
And if relatively cheap rent is also attracting an influx of new residents including jeweler Max Goodman, who describes herself as having been "priced out" of Bushwick, Mr. D'Leo names the harsh winters as the "leveller" that will keep the area from gentrifying at the rate of its Brooklyn counterparts. "It's not like California—it takes a certain mentality to chose to live by the ocean in a seasonal state year-round."
A dedicated surfer, Mr. D'Leo moved to the area six years ago in search of the close-knit community feel he grew up with in Long Beach, and says the locals prefer the idea of attracting day-trippers rather than people looking for a cheap alternative to the Hamptons' summer rentals. "There are a lot of families here that go back generations, and they're really conscious of who their neighbors are. They don't want somebody renting a place and loaning it out to 20 of their closest friends throughout the summer."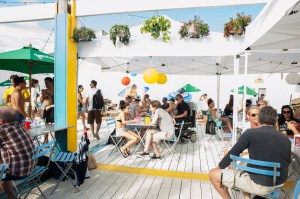 But with brands like W and Topshop as well commercial investors eyeing the burgeoning scene—Mr. Stonier cites "millions of dollars is being spent on rebuilding the boardwalk in the empty zone, with retail chains opening up all along the waterfront"—then those summers are only likely to get bigger.
But hopefully there's still an opportunity for local entrepreneurs to get in there first and carry on the bohemian vibe that makes the Rockaways unique—people like Kent Johnson, who got tongues wagging with his Kickstarter campaign to fund the initial stages of a project he's calling Camp Rockaway.
Inspired by the Rockaway "tent colonies" of the early 1900s, the idea is for an upscale campsite, offering an alternative option for an overnight stay—"with the chance to get into the water right off the bat." With his $50,000 campaign successfully funded in June, he's currently in talks with the local Department of Planning to work out the "funky" red tape surrounding his proposal, the aim being to launch for Memorial Day 2015—"but that may be optimistic," he admits.
Connecticut migrant and surfer Mr. Johnson runs design/build firm milktrout out of New York City. "I'm not particularly urban, and the Rockaways have been pretty good to me since I moved here eight years ago," he says of his decision to bring his project here versus a perhaps more obvious beach location on Long island. 
"I don't know if 'give back' are the right words," he says of his project, "but I've met so many cool people out here, and for everybody who lives here the Rockaways are really special."
A hidden gem being polished up, though most are hoping not quite to perfection.