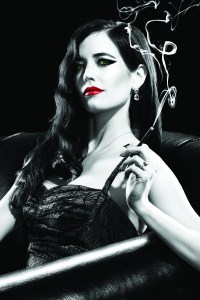 Last week, Frank Miller was sitting shadowed under a wide-brimmed hat, sunk down in an overstuffed chair at the Crosby Street Hotel. At 57 he still smokes, so his voice had a rasp, and we couldn't help but notice that he seemed a bit frail, and maybe his hands shook a bit when he picks up the coffee cup—but he told us he's still drawing every day. He's still one of the most visionary guy in comics, making darkly stylized worlds on the page that prove irresistible to big-screen action auteurs.
So much so that Robert Rodriguez asked Mr. Miller to share his director's chair for the second time in a decade.
"Most of the time, I'm not allowed to go near the movie versions of my books," said the infamous writer and illustrator, on working with Mr. Rodriguez's Sin City: A Dame to Kill For, based on his influential graphic novel. "I've got a very mixed reaction because I mostly don't go to the stuff that I've worked on, you know, because my ideas get so fixed. Anything that's different from what I did, I get angry, and I'm no fun."
For the uninitiated: the cantankerous Mr. Miller is generally understood to be originator of the gritty and super-serious vibe that permeates the Batman reboots of Tim Burton, Christopher Nolan and Zack Snyder (well, at least the few promo peeks at Batman vs. Superman make it look pretty bleak). In each case, the filmmakers owe a certain debt to Mr. Miller's game-changing comic The Dark Knight Returns, released in 1986, in which a middle-aged, broken Bruce Wayne must train a female Robin to fight in a dystopian New York.
"DC was asking me—especially Dick Giordano, who was a manager there—they wanted me to do Batman for a long time, but I was too intimidated," he said, still slunk deep in the hotel lobby chair, still rough-voiced and tiny. "I was just, 'He was too big for me, he's just too big a character.' And then finally Dick talked me into it and I said, 'Okay, here's what I want to do.' And it was him as an older guy, sort of like Clint Eastwood at that end. He said go for it, and so I did. And after that I let the chips fall where they may."
As for moviemaking, not all studios are cavalier enough to let Mr. Miller take the wheel. When asked about his lack of direct involvement in Mr. Nolan's hugely successful Dark Knight series, his response was curt: "Well, they haven't invited me."
One can understand. This is the guy who wrote off Occupy Wall Street as "nothing but a pack of louts, thieves and rapists." He's been called fascist, sexist and a host of other dirty names. But Mr. Miller, who lives in Hell's Kitchen, basically invented the modern comic book, so who cares if he's a crank and a curmudgeon and a little bit of a throwback.
The auteur doesn't really care for compromise—like with his comics, he pretty much always sticks to black and white. "Well, partly it's a personal attack," Mr. Miller said when I ask him about the feminist critiques of his work—they don't like the rampant appearances of prostitutes, guns and girls in skin-tight clothing. "We tend to compose stories around things we like to draw. I mean, in my case, it was beautiful women, guys in trench coats and antique cars. And so it's a pleasure to draw one. I mean, I'm not gonna [draw her] in a burka."
And there certainly is no burka on Jessica Alba in those revealing subway ads.
The first Sin City was notable for its art direction, which kept close to the comic book's mostly monochromatic vision: a splash of drippy yellow to signify the Yellow Bastard, the shocking blue of an Old Town resident's eyes. Dame to Kill For is another beast entirely. The entire thing, every moving image, is in 3D: the blizzarding snow, the grey coins spilling out of a slot machine, a chair, a cigarette, a gun.
Mr. Miller was, at first, dubious.
"Robert wanted to go 3D from the beginning, and at the time I was like, 3D? That means a bunch of dinosaurs and a bunch of cockroaches and a bunch of aliens and all that stuff? And he said, 'No, no, no. I want to use your style.' "
And it clicked—Mr. Miller said working with Mr. Rodriguez again was "as if two brothers had parted and came back together."
"I've worked with many, many, many, many people in movies and he's the only one I can remember who hasn't ever lied to me."
As for his next project, instead of diving into the fantasies of Basin City or Gotham, he's interested in the past. He wants to revisit history. He wants to talk about people who actually walked this earth instead of made-up heroes saving fake versions of the places we live.
"There are so many stories to tell," Mr. Miller said, nodding almost to reassure himself. "The world is full of them."