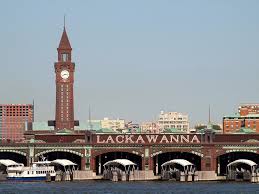 HOBOKEN – The scene inside Hoboken City Hall on Monday night could be well-described in one word: explosive.
Supporters and detractors of embattled Hoboken Housing Authority (HHA) Executive Director Carmelo Garcia verbally raged back and forth before Garcia was finally fired before the long night's end. Garcia's contract was terminated by a 5-2 vote at the special meeting of the HHA board of commissioners.
But while Garcia got cut from one job, he still has another: state Assemblyman. A Democrat, Garcia (D-33) was voted in last year as part of the slate of state Senator and Union City Mayor Brian Stack (D-33). After months of controversy, including concerns by members of the Hoboken Housing Authority that Garcia had allegedly awarded no-bid contracts to contractors who later contributed to his campaign fund, Garcia's career on the housing board came to a fiery close. Garcia's political future, however, remains on the front burner.
Garcia could not be immediately reached for comment. But PolitickerNJ talked to a few Hoboken players about what Garcia's future could mean for Hoboken's political future.
Any casual visitor to Hoboken over the past few decades can see the dramatic visual changes – from worn-down docks to gentrified boutiques. The demographic changes also continue, with Hoboken's traditional populations of Hispanics and white ethnic Catholics slowly giving way to young professionals who were not born and raised in the Mile Square City.
Dana Wefer, the HHA chairwoman who presided over Garcia's dramatic ouster, is well-aware of what could be at stake. Garcia filed a lawsuit last year against the administration of Hoboken Mayor Dawn Zimmer and the HHA board, asserting they were pursuing a policy of "ethnic cleansing" in Hoboken to remove ethnic minorities from powerful positions. After the lawsuit was dismissed, Garcia refiled it without the incendiary term. But Wefer notes that the demographic shifts in Hoboken leaves the landscape flecked with glowing embers.
"The situation would be so different if the Hudson County Democratic Organization [HCDO] exercised more control over who ends up in the Legislative seats," said Wefer, a Democrat who lives in Hoboken but grew up in Bergen County and ran for state Assembly in 2007 in Morris County. "The traditional choice for that seat is someone from Hoboken. I would hope that that we would still have a representative from Hoboken. I don't who the person would be to replace Carmelo. I think [former state Assemblyman] Ruben Ramos is more interested in the Hoboken mayoral seat at one point."
While Garcia's political fate in unknown, Wefer offered one possible alternative for one of the 33rd Legislative District's Assembly seats.
"There's a million things that could be done that would improve the quality of life and quality of governance in Hoboken. But it's kind of funny – what am I going to do, take it to my Assemblyman?" said Wefer, 32, alluding to the recent friction with Garcia. "Hoboken's demographics and needs are changing, particularly in light of Superstorm Sandy. There's been a real effort from the grassroots to bring reform to government and agencies in Hoboken. Maybe it is time that we have a legislator who shares are reflects the values that as a movement we've been able to get reflected in City Hall."
Councilman Michael Russo was born and raised in Hoboken. In his view, although the demographic status quo in the 33rd District will probably stay the same, there is a chance for change.
"Hoboken is changing, and changing pretty rapidly," said Russo, 39. "Within the district, you have to look at it as a whole, not just Hoboken, Union City, Weehawken and [parts of] Jersey City. I think there most certainly has to be a Hispanic representative on the slate, because the district is mostly Hispanic. That's going to play heavily in any decision that Mr. Stack and his running mates are going to make. But I think that we're also at an advanced state of being where our representatives don't necessarily have to be the same ethnic background as us as long as they represent our interests."
Perry Belfiore, another lifelong Hoboken resident, has served on the city's school board and housing authority board. A Hudson County political lifer, Belfiore feels that Garcia's political fate hinges less on ethnic identity or socioeconomic status. Rather, it depends on a simple, almost tribal quality that still means much to many in Hudson County politics.
"What happened Monday night at the Hoboken Housing Authority meeting is no way, shape or form impacts on the relationship between Brian Stack and Carmelo Garcia," Belfiore, 62, said. "If you respond when Brian needs you, that's big in Brian's book. Carmelo responds when Brian needs him. Brian could get Manny, Mo or Jack elected in whatever community Manny, Mo or Jack lives in. Brian's watchword is loyalty. It's the real mother's milk of politics. If Carmelo is loyal to Brian, that's what matters."