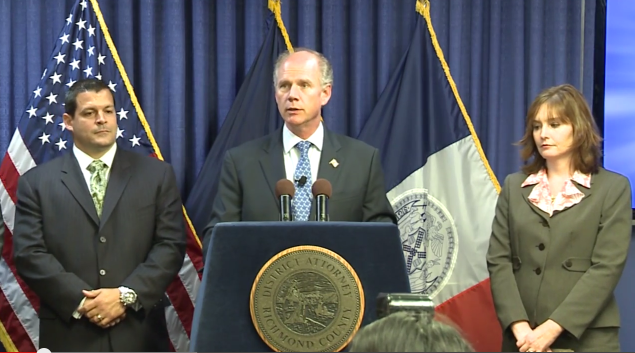 Ramon Jimenez–a Green Party challenger to Attorney General Eric Schneiderman–today argued that Republican Staten Island District Attorney Dan Donovan is too intimately tied to law enforcement to prosecute the officers involved in the chokehold homicide of Eric Garner.
Noting that Mr. Donovan has repeatedly received the endorsements of top cop unions and works with police in the prosecution of criminal offenses, the Harvard-educated Mr. Jimenez said that the Staten Island lawman cannot fairly bring justice in the case of Mr. Garner–who medical examiners determined last week died as a result of being placed in a throat restraint by undercover officers. Mr. Jimenez instead called for the appointment of a special prosecutor or for a federal indictment of the police involved.
"It certainly should be taken out of the hands of the Staten Island D.A.," Mr. Jimenez said. "Donovan is very close to the police in Staten Island, we don't know if there will be clarity."
Mr. Jimenez said the prosecution should be open-and-shut, arguing the video recording of the incident is sufficient evidence to convict–and that a prolonged investigation would merely squander public money.
"The film of the killing of Garner speaks for itself, you don't need a three-month investigation!" said Mr. Jimenez. "You put them on desk duty, you keep on paying them, what is there to investigate?"
Mr. Donovan's office did not immediately respond to requests for comment. The Staten Island district attorney is extremely popular in his borough and has received endorsements from both Democrats and Republicans during his decade in office.
Mayor Bill de Blasio last week pledged there would be a "fair and justified" outcome shortly after the medical examiner ruled Mr. Garner's death a homicide. Mr. Donovan's office will decide whether to launch a grand jury investigation and seek charges against the officers.
Asked late last month if he'd like to see the federal government take the lead in the case, the mayor said he respected the local authorities investigations.
"I think, I think right now we have the Staten Island district attorney and the internal affairs bureau investigating, and I respect both of those entities and believe that they will do their investigations effectively," Mr. de Blasio said. "If the federal government decides to get involved, we will absolutely cooperate. It is absolutely the right of the federal government to make that decision, and we would regard that as an appropriate act and work with them in every way."