Debut short story collections don't exactly sell themselves, as my dad likes to remind me. We might be sitting down to dinner, in our ancestral kitchen or more likely in our second adopted one: Vinny's Restaurant on Smith Street, our usual joint. He'd be mopping up the leftover sauce from the calamari appetizer (a family Vinny's favorite). I mean, who has time, he shrugs, by way of explanation. No offense, he kids.
The road to a published book is long and meandering and then, suddenly, reaches its destination, before you've had sufficient time to consider the consequences but, in truth, with far more time than you might want. Along the way there are meetings on publicity, strategy sessions, reassuring emails about pre-pub reviews. Finished books arrive unheralded in the mail. The only thing that's left for you is to see what the numbers look like during week one. See if anyone is paying attention. It's not easy, among all the noise, to get someone to take a look.
So my dad decided to take my matters into his own hands. He's an English teacher who's about to retire, and plus summer was almost upon us, all of which is to say that he was getting out of work by three o'clock. One weekday afternoon, between three and dinner, my father made a trip from Bishop Ford Central Catholic High School to the very nice Bay Ridge bookstore The BookMark Shoppe; he took off his sunglasses, went inside, and with the confidence born of many years educating Brooklyn's youth walked directly up to the kindly bookseller and asked her if she had a copy of Mark Chiusano's Marine Park.
This was a few months ago, and I can assure you that nobody had a copy of Marine Park back then because I still had some copyeditor queries to attend to. But the nice old lady was so happy to have a flesh-and-blood customer that she said, you just hold on one second dear, and typed Marine Park into her database, found the correct on-sale date (July 29th), and said that she could order it for the gentleman if he wished and she'd be in touch when he might pick it up. Wonderful, my dad said. Wonderful, the woman echoed. Can I get a name, she asked? Without skipping a beat, my dad said, it's Bob Panetta, which is his middle name (Robert) and his mother's maiden name (my grandmother always insisted that we were related to the Panetta, Leon himself—take a look at our noses, she might not be wrong. But that's a different story). Thank you Mr. Panetta, the nice old woman said. I'll certainly be in touch.
Flush with this victory, my father spent some time that night in Vinny's telling us about it. My mother was a bit more skeptical.
How about when the book comes in and they call the house and ask for Bob to come pick it up, she asked. Do we really need more books in the house? At the moment the ancestral home was a low-grade fire hazard.
We won't pick it up, my dad said. We don't need to. We'll just say, sorry, you have the wrong number.
My brother chimed in, chin-deep in a chicken parmigiana hero: Or, "sorry Bob has passed."
The point, my father said, regaining order, is that the book will be in the bookstore! Somebody else might buy it!
I'm not sure that's how it works, Dad, I said. Wasn't there some sort of stocking mechanism? But then again, I didn't really know. It felt nice to try an active role.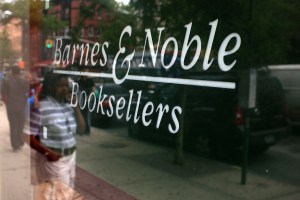 As the school year ended, and my father had more and more time on his hands (his retirement, turned out, was imminent: Bishop Ford closed its doors for the last time this June, 2014), he went to more and more bookstores. Always the same name, always the same song and dance. I'm talking The Strand, McNally Jackson, Community Books on 7th Avenue, PowerHouse, the Barnes and Noble on Court Street, the one by Battery Park. That Shakespeare and Co. with really nice art books. He hit them all. One time, the bookseller didn't even have to check. That book comes out in late July, she said. And he was so surprised that he forgot to place Bob's order. Did you hear that, he regaled us over entrees—it must be working! (She probably made a lucky guess, guessed my brother). Once he got caught—a Barnes and Noble employee asked for an email address, because they didn't use phones in their system. Famchius, he said, confidently. As the man typed it in he looked back at the name of the author of the book. You wrote this, he asked warily? No, my father said, and huffed out. (How about, BPanetta@gmail.com, my mother said?)
When he told us that his new scheme involved searching for the book at the reference computers at every Barnes and Noble, and leaving the screen (Marine Park: Stories, by Mark Chiusano) hanging up there for the next customer to navigate from, and, perhaps, pause over, I had to put my foot down. Dad, I said, a forkful of penne vodka paused before my mouth. It's going to be alright. But of course I couldn't know that, any more than he could. Who knows how things will happen. We try to reassure each other, without knowledge of what comes next.
About a month before pub day, the week after school ended for good for him, with the long summer and fall stretching out in front (it won't feel like retirement until September, he informed us. Then I won't have to feel those back to school jitters any more), we were driving back from dinner and dropping me off at my apartment. It's a right here, Dad, I reminded him, as we went shooting by Pacific Street. Well, the next right then, I said. But he pulled up in front of Bookcourt, which is my lovely neighborhood bookstore. Look, he gestured proudly, pointing at the shuttered window and barred door. It was after-hours, obviously. We've never had a quick family dinner. But as my mother and brother and I peered out the windows of the car, we followed my dad's hand to the bookstore window, where they hung pictures advertising future events. All the way on the end, for hopeful July, was my picture, for a reading of Marine Park: Stories. It was just an 8.5 x 11 piece of paper, clothespinned on the line. But the way my dad said it, the way he swept his arm towards it, the implication was that here, finally, was something physical—something real. There was no need anymore to order nonexistent hypothetical copies. There was evidence of existence, in the real world. Who could say in the end if it was a publicity department who'd made that paper happen, or the bookstore bookers, or some prayer or luck; or the more direct ministrations of my private one-man publicity team, walking endlessly and forcefully around the borough we call home.