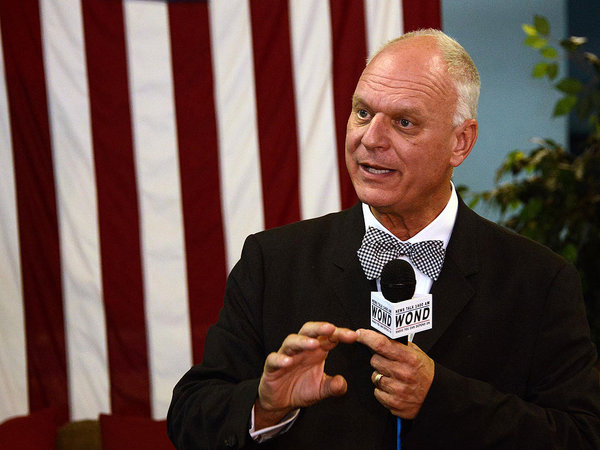 Atlantic City Mayor Don Guardian didn't try to paint a rosy picture, but insisted the city's doing everything it can to capitalize on the structures still standing – and open – in his embattled home town.
Guardian's losing three casinos next month: the Showboat Atlantic City Hotel and Casino (August 31, 2014), Revel (September 2, 2014) and Trump Plaza Hotel and Casino (September 16, 2014), all belly-up victims of a confluence of factors, including greater regional competition and a recession.
In a teleconference call this morning with reporters, Guardian, along with Casino Reinvestment Development Authority (CRDA) Executive Director John Palmieri and Atlantic City Alliance President Liza Cartmell, and Mark Giannantonio, President and CEO of Resorts Casino Hotel, today acknowledged that the coming weeks will be difficult for the employees and for the resort destination.
"We know that we still have some difficult waters to navigate, such as job replacement and retraining for our residents and the initial decrease in parking and luxury tax revenues," said Guardian said. "With all the changes, I'm here today to say that we're still hopeful about Atlantic City's future and hold firm to the fact that, as a city in transition, we are in a good position. The shift in our casino supply is indicative of a nationwide trend; virtually every other market with casino gaming has been impacted by competitive pressures."
The mayor noted that "all options are on the table" in terms of cost-cutting measures at City Hall to compensate for the loss of tax revenue from the dead casinos.
"We have to reduce our workforce 200-300 employees," Guardian said. "We cannot wait any longer for attrition to do that. We must trim $40 million over next the four years. We'll be shedding some departments and services."
He had no details at this time but said, "There's no one we're not considering."
In his remarks, the mayor drilled down on job training, announcing an inter-governmental program that includes gap assessment, employment training and job training in an effort to find alternative job placement for affected city residents. Continuing job training initiatives will also soon be available at Atlantic Cape Community College in the form of the $10 million Caesars Entertainment Wing for Hospitality and Gaming Studies, which will train up to 1,200 employees annually, he said.
Guardian said he anticipates 20-30% of casino workers to relocate to other casinos still in business. Roughly ten percent were about a year away from retiring anyway, he said.
In his remarks, he noted with gratitude the assistance of Gov. Chris Christie, Senate President Steve Sweeney (D-3) and U.S. Sen. Cory Booker (D-NJ).
He handed off to Palmieri on the economic development front.
"We have made great strides through the public-private partnership between the CRDA, ACA and MEET AC with the state of NJ, Atlantic County and the city," said the CRDA executive. "We are on track to drive $1 billion into the Tourism District within these first five years, which is all part of our plan that focuses on four key initiatives: attraction visitation, building the visitor experience, targeting meeting and conventions and investing in neighborhoods and job training."
To date, some $778 million worth of economic development projects are already completed, he noted, and there is an additional $475 million of development in process or already under construction, including the Bass Pro Shop, which will provide 86,000 square feet of destination retail and bring with it almost 300 full- and part-time jobs, and Harrah's Waterfront Conference Center, which will add more than 1,300 jobs.
There are also a significant number of pre-development concepts in the works, including the renovation of Tropicana and a new public market that will serve as an anchor attraction connecting Atlantic Avenue to the Boardwalk, Palmieri added. And in an effort to capture more of the critical mid-week meetings and conventions business Meet AC was created as a non-profit expected to add a potential 251,000 group room nights in the next 3-5 years.
"We are making progress. Non-gaming spending has grown even as gaming declined," Cartmell said, referring to efforts to recalibrate Atlantic City as a destination bigger than just gaming. "Net gaming and non-gaming revenue is $3.3 billion in 2013 with 71.5% coming from gaming and 28.5% in non-gaming cash sales."
Other figures of note that the officials cited include:
Cash sales at non-gaming outlets now account for 28.5 percent of visitor spending at casino properties, up from 22.3 percent two years ago.
Luxury tax receipts – particularly in such non-gaming activities as nightlife activities and shows – show strong gains across all seasons.
Retail and F&B establishments have expanded payrolls in recent years. For example, bars have increased wages and salaries by 37.8 percent since 2010.
Since

2001

, regional gaming revenue has only increased

0.7 percent annually

after adjusting for inflation, despite 14 casino openings in MD, NY, and PA.
Regional gaming revenue declined during the recession, and despite substantial new casino supply in MD, NY and PA, gaming revenue hasn't recovered to 2007 levels and now there are more players fighting for a piece of the pie.
Since

2001

, there are three additional states, almost twice as many casinos, almost 50 percent more slot positions, and inflation adjusted slot revenue increased only 8.8 percent
Since

2006

, there are twice as many casinos, 34,000 new slot positions, and inflation adjusted slot revenue actually decreased 2.9 percent
Between 2012-2013, other markets have declined more quickly than Atlantic City. Delaware, Indiana, Connecticut and now even Pennsylvania and Missouri are facing declining gaming revenues.
"We know that we are a tourism destination that has a huge amount of scale and enormous potential," Giannantonio said. "It's important to remember that there are still dozens of nightclubs, more than 100 restaurants, 15,000 hotel rooms, and a full roster of year-round headline entertainment for visitors to enjoy. We also boast one of the most successful outlet shopping centers on the East Coast.
Doing her part to boost the group's all-is-not-lost AC pitch, Liza Cartmell, president of the Atlantic City Alliance said, "We hosted more than 130,000 people in just two days of free beach concerts with Blake Shelton and Lady Antebellum. In September alone, we have special events planned every weekend, including the DO AC Boardwalk Wine Promenade, the DO AC Pro Beach Volleyball Invitational, the iconic Miss America Pageant, the Longboard Invitational Surfing Competition and more. And we still have eight thriving casinos for those looking to game."