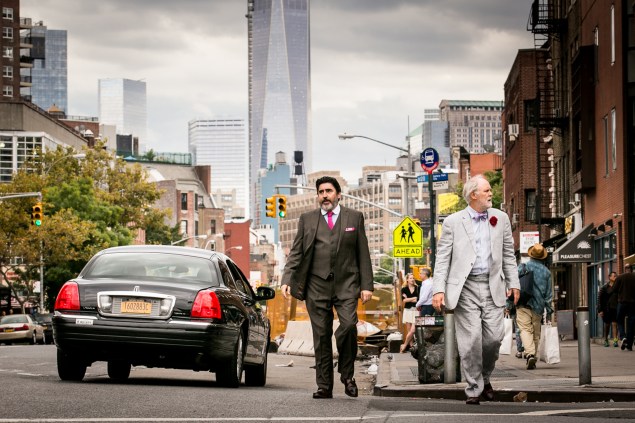 Love is strange, according to the title of Ira Sachs' winsome new feature—and, of course, the Mickey and Sylvia tune from 1956. But for this film about an elderly gay couple confronted with loss, the phrase is a bit of a misnomer. The most striking thing about the love between Ben and George, the two men the movie focuses on, is how natural it seems.
---

LOVE IS STRANGE ★★★
(3/4 stars)

Written by: Ira Sachs and Mauricio Zacharias
Directed by: Ira Sachs
Starring: John Lithgow, Alfred Molina and Marisa Tomei
Running time: 94 min.

---
That is a credit to Mr. Sachs' unobtrusive style—the film wasn't rehearsed—and a sweet script he co-wrote with Mauricio Zacharias, his writing partner on his previous endeavor, Keep the Lights On. But mostly it is due to John Lithgow and Alfred Molina, who play the leading couple, partners of 39 years.
The film begins, basically, in medias res, as Ben (Mr. Lithgow) and George (Mr. Molina) scramble about their New York apartment, making their way to their own wedding. There is an air of merriment as Ben's niece, Kate (Marisa Tomei), gives a heartfelt toast. But things quickly go wrong. George, who works as a music instructor at a Catholic school, is summarily fired when word gets out about his marriage. He and Ben are then forced to give up their co-op, which they can no longer afford.
While they look for a new home, Ben moves in with Kate and her family in their Brooklyn apartment, and George crashes with a pair of gay male police friends (he calls them the "policewomen"). Initially this feels gimmicky: Ben, a painter who often looks as if he's crawled out of bed, constantly distracts Kate, a novelist, as she's working at her computer. "I can't really work if there's someone else around," he says, obliviously. And George suffers through a number of rowdy parties he is too old to enjoy.
But Mr. Sachs thankfully shirks the schtick, settling instead on a more mellow and meandering narrative, with pockets of humor and heartbreak, giving Love Is Strange its casual, welcoming feel. Although the circumstances in which Ben and George find themselves certainly test their endurance, it becomes clear their commitment is unbreakable.
An obvious precedent for Love Is Strange, whose delicate score features a series of contemplative Chopin études, is Amour, Michael Haneke's beautiful yet devastating take on the prospect of death in old age. But if Mr. Haneke's 2012 film, which followed the slow and painful degeneration of a stroke victim, drained you of hope, Love Is Strange will leave you in no such condition, even if its outcome is not what you may have wished for and a melancholic undercurrent runs through it.
Not much happens in the film, which seems to be the point. If love is strange, it isn't because it's action-packed. As much as the movie is a tender portrait of lasting commitment, it is also a lovingly unembellished snapshot of New York that Nora Ephron would be proud of. A Metro newspaper box sitting idly on a city corner. A shot of the Waverly Diner, its green and orange neon lights illuminated at night. A rooftop view of the Manhattan skyline from Brooklyn. Ben and George attempting to hail a cab at a busy intersection. All of these moments conspire to give Love Is Strange its weirdly authentic aura.