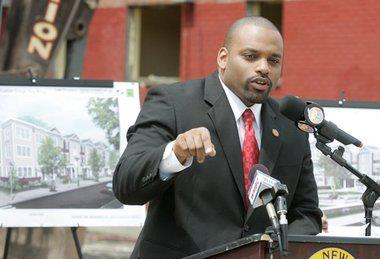 WEST ORANGE – When Ali Mohammed Brown shot and killed a 19-year-old Livingston college student on a warm night in West Orange earlier this summer, many at the time, including Essex County authorities, called it a "random act of violence." Some suspected something more criminal, a robbery turned violent or a drug deal gone bad.
Now, however, prosecutors say there was a much more menacing motive at work — retribution for U.S. military intervention in the Middle East, and specifically violence against Muslims. One mayoral candidate in the city thinks the case should serve as a lesson for local lawmakers and law enforcement authorities: that international events can have a local impact.
"This is where mayors and municipal leaders need to think about where the local stage intersects with that internationally," said former Orange mayor Eldridge Hawkins, who called the event a "travesty." Hawkins is challenging West Orange incumbent mayor Robert Parisi in the November election.
After being caught at his makeshift campsite in the Watchung Mountains of West Orange last month, Brown, 29, is being held on bail in Newark for the murder of three innocent victims, all shot multiple time in isolate areas late at night. Two of those victims were gunned down outside Seattle at the beginning of June, where Brown had traveled from before arriving in New Jersey.
The other victim was Brendan Tevlin, a student at the University of Richmond, who was shot 10 times by Brown while parked at a red light in West Orange at the corner of Walker Road and Northfield Avenue three weeks later. Authorities linked the killings to Brown through shell casings found at both crime scenes.
A devout Muslim with a history of violent crime, Brown allegedly told prosecutors last week that Tevlin's killing — which he's since confessed to — was an act of "vengeance" for the loss of innocent lives in places like Iraq, Syria, and Afghanistan.
The news brings added controversy to the West Orange race, where Hawkins, Parisis, and one other candidate — West Orange councilman Joe Krakoviak, who could not be reached for comment — are hoping to win over a majority of residents in the 46,000-person township. It also comes at a time when, internationally, conflict and violence in the Islamic world continues to rage.
The latest instance of that violence surfaced last week in a video capturing the beheading of American journalist James Foley by members of ISIS, the terror group that continues to make headlines for its military movements in northern Iraq.
Hawkins sees a connection between the ongoing conflict in the Middle East and the recent killings at home, which he said seem to have been fueled by "quasi-terror motivations." He said Brown's murders should make local authorities mindful of the chain-reactions that decisions made by national and international leaders might cause, and that that chain might ultimately lead to local communities.
It's international conflict writ small.
"We must do what is necessary to protect our residents," Hawkins told PolitickerNJ, "and that means remembering that a lot of things internationally and nationally can have a local impact. We can't just sit here and not pay attention."
After serving as mayor in neighboring Orange from 2008 to 2012, Hawkins, 35, announced his bid for the seat in West Orange earlier this year, surprising some who recall his time serving as mayor the first time around. During his tenure in Orange, Hawkins earned attention for his controverial leadership and administrative style, perceived by many as out-of-touch after he tried to raise his salary and employ friends and relatives to top administrative positions.
A former West Orange cop, Hawkins also recently lost a discrimination lawsuit against his former employer, following almost seven years of litigation.
But Hawkins is confident he could do a better job leading West Orange than its current administration, and he pointed to recent independent polling that found 63 percent of voters "would pick someone other than Parisi" as evidence of his chances. He said that administration has "clearly … dropped the ball" on issues like taxes and crime in the city, which is the seventh highest-taxed community in Essex and, during Parisi's first year in office, saw burglaries increase 52 percent.
He said those numbers are telling, especially when it comes to catching killers like Brown.
"How do we expect them to protect us from home grown terrorism when they can't prevent common burglaries?," he asked.
When Tevlin's death first made headlines, some wondered whether the incident was drug-related, but Hawkins condemned that characterization. He said he "takes offense" to the Parisi administration's "attempt to shift blame on this young man," which he said had begun to explore the possibility that the murder might have been the result of a bad drug deal.
Most importantly, Hawkins said Brown's arrest "if anything, will allow the family to take a small measure of solace in the fact that we now know beyond a shadow of a doubt that Telvin was a innocent victim."
Parisi, who announced his bid for re-election in May, is seeking his second term as the city's mayor. For his part, he refused to speculate on Brown's motivations, or the impact the case may have on the mayoral race.
"It was a human tragedy of unfathomable sadness, regardless of politics," he said.
He also sees little likelihood of repeat-instances of terror-related homicides, despite what's going on overseas, and referred to the murders as "isolated incidencts."
"This psychopath came from Seattle with three homicides behind him there and for some reason chose West Orange to hid in," Parisi said. "I'm just glad to see him in custody."