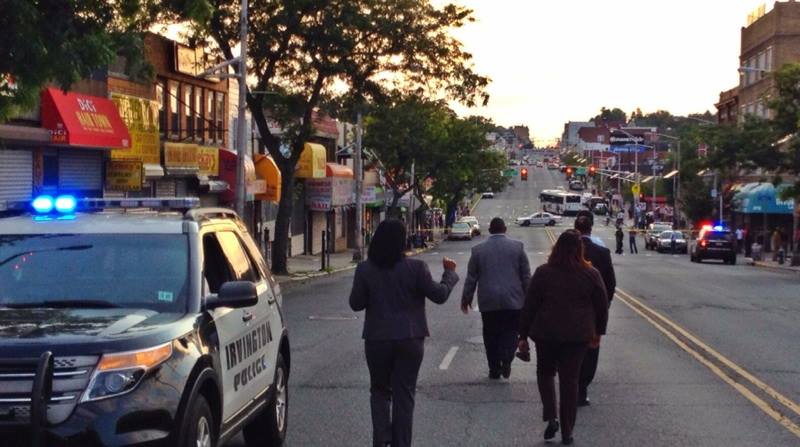 IRVINGTON – At this point, Mayor Tony Vauss says he doesn't have any political ambitions.
His focus?
"Potholes," he told PolitickerNJ this morning in his paneled office in Town Hall.
In the mayor's chair since July 1st after turning out longtime incumbent Wayne Smith, the lifelong political organizer and former school board president has undertaken an aggressive "Clean and Safe" campaign to try to take back the streets of his home town, making high visibility a top priority.
"We're not going to use the excuse of the poor condition of abandoned properties to do nothing," he said. "We're going in there with a state of emergency approach."
Backed by code enforcement, he's routinely going house by house on foot, identifying garbage-laden, weed-overgrown alleyways and derelict homes, and finding the property owners responsible.
"I want the town to take a sense of pride," said Vauss, who makes $80,000 per year as mayor. "Everyone's involved and we are engaged."
Five-hundred city employees pack the payroll as part of a $100 million budget in this Essex County town abutting the western rim of Newark.
The place has a crime problem and an image problem, aided by the fact that the police chief making $150,000 per year sat at home for two years while in litigation with Irvington.
Vauss put Chief Michael Chase back to work.
"People are excited to see the brass walking the street," said the mayor.
"We're going to make Irvington a better place to live," he added. "I'm focused so hard on cleaning up Irvington."
Vauss hasn't yet met with Gov. Chris Christie, but has a sit-down scheduled next week with powerful Essex County Executive Joe DiVincenzo and Sheriff Armando Fontoura.
"Tony is very well organized and has shown such commitment," said Assemblyman Ralph Caputo (D-28). "He had a great transition team and they did a great job hitting the ground running."
Vauss' Town Hall team:
Musa Abdul Malik, esq., Business Administrator
Althea Headley, Assistant Business Administrator
Faheem RaOof, Director of Revenue and Finance
Tracy Bowers, Police Director
Ted R. Green, Housing Director
Jamel C. Holley, Public Works Director
Stephanie R. Bush-Baskette, Health Director and Aide to the Mayor
Ramon Rivera, Esq., Township Attorney
Wayne Bradley, Community Development and Planning Director
John Brown, Fire Director
Michael Chase, Police Chief
Gary Shumlich, Acting Fire Chief and Office of Emergency Management
Deborah Simpkins, Irvington Neighborhood Improvement Corporation (INIC) Executive Director
D. Bilal Beasley, Confidential Aide to the Mayor