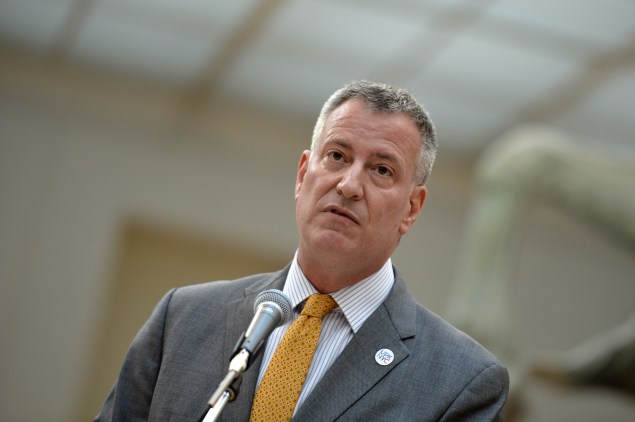 A pack of administration officials and allied pols joined Mayor Bill de Blasio today to aggressively dismiss a scathing analysis of the mayor's prekindergarten program.
Mr. de Blasio, along with prominent administration and elected officials like Public Advocate Letitia James and Manhattan Borough President Gale Brewer, took turns rejecting the entire premise of Comptroller Scott Stringer's analysis, which tarred the mayor's Department of Education for not submitting for review more than 70 percent of the city's contracts with pre-K providers.
The analysis, to Mr. de Blasio's chagrin, also noted yesterday that one former employee of a vendor was charged with conspiracy to commit child pornography, and another vendor had six violations for failing to screen employees through the New York State Central Register of Child Abuse and Mistreatment.
"Show us where there's a specific problem," Mr. de Blasio said at a press conference in Brooklyn today, pointing out that both issues had been addressed already. "So the fact is we don't have an example that's been provided us by the comptroller's office, something where there's a specific danger that we have to address."
"I don't know what to make of it," the mayor said of the analysis. "If the question is health and safety, I think it's quite evident we're focused and we've got a lot of serious professionals on it."
More curtly, the mayor later added: "I don't know why any public official would want to leave parents with a misimpression that there's a danger when there isn't any."
Ms. James, a Democrat like Mr. de Blasio and Mr. Stringer, offered a ringing defense of the mayor.
"The person with the child pornography charge immediately terminated that employee. That was basically old news," Ms. James declared.  "All of this obviously was acknowledged and the individual who is the author of that report obviously was informed of all that and that's why I stand with this administration because I know they are dedicated to excellence: nothing less, nothing more than pure excellence."
The press conference, held at a Vinegar Hill public school to announce that the city had registered more than 50,000 children for Mr. de Blasio's pre-K expansion this September, was remarkable for its deeply personal nature. Many of the comments from the mayor and his administration appeared aimed at Mr. Stringer: even the selection of Ms. Brewer as a speaker seemed to serve as a shot across the bow at the comptroller, a former Manhattan Borough president and Upper West Side assemblyman. Earlier today, Mr. de Blasio singled out an Upper West Side councilwoman, Helen Rosenthal, to send out a statement to affirm that the city's pre-K roll-out was exemplary.
But Mr. Stringer, in an interview yesterday with the Observer, characterized Mr. de Blasio's rapid pre-K expansion as an admirable but flawed exercise.
"I am a huge supporter of UPK [universal prekindergarten], and I praise this mayor for taking on the initiative. This has an amazing potential to transform the educations of so many kids," Mr. Stringer said. "And UPK is that historic opportunity, which is why I think the Department of Education has not lived up to the mayor's expectations."
Administration officials argued Mr. Stringer had mischaracterized the extent to which contracts have been submitted, pointing to the almost 100 percent of contracts that had been sent from the Administration for Children's Services. Mr. de Blasio also said it wasn't unprecedented for contracts to be registered after a program is underway, leaning on a statement from Peter Madonia, the former chief of staff to Mr. de Blasio's predecessor, Michael Bloomberg.
"This issue of contracts not being signed by the beginning of school has traditionally always been an issue and as deputy chancellor under the former administration, I can tell you that we certainly started school with a large percentage of contracts that we knew were going to be signed off ultimately, but we not signed off at that time," said Schools Chancellor Carmen Fariña. "This is not new, it's not news."
This story originally and incorrectly referred to Mr. Stringer's analysis as an audit.