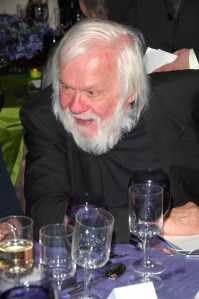 Upon leafing through the mammoth, ad-swollen September issue of Town & Country last night on the subway, we were surprised to find not the normal fare—say, a long, detailed list of the world's top socialite-slash-DJs—but instead a quite lovely package on Los Angeles, with a special focus on that city's arts scene. There's LACMA director Michael Govan standing in front of Chris Burden's installation Urban Light, and a page over you'll find Regen Projects owner Shaun Caley Regen with one of her artists, Catherine Opie. Three more gallerists (Hannah Hoffman of Hannah Hoffman Gallery, Maggie Kayne of Kayne Griffin Corcoran, Michelle Joan Papillion of Papillion Arts) and shot with empty frames flanking their shoulders. And then Rosson Crow dances in some frilly Miu Miu dress.
The best part of having a society magazine devote so much space to LA's art scene is that John Baldessari gets to be involved. There's a huge spread of him wearing a Saint Laurent jacket outside his studio in Venice, two pages devoted to his Hitch-hiker (Splattered Blue), and a very charming interview, which we've excerpted below:
What kept you here?
"Climate and convenience—I'm near the airport. And the Mexican food. It's the best outside of Mexico."
Classic film?
"Kiss Me Deadly."
Best L.A. party?
"When cocaine was in fashion. It's not anymore."
Greatest Angeleno, dead or alive?
"I hope to be it when I'm dead."
If that ever happens, he'll get our vote, too.