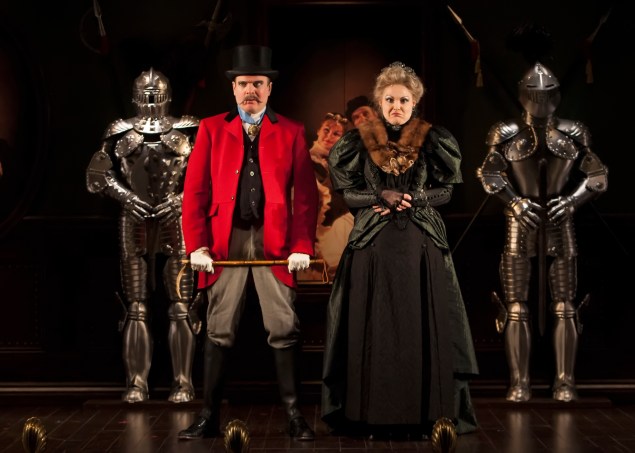 A perennial first-nighter, Joseph Sirola is easy to spot at Broadway openings. He sports a broad smile, a distinguished mane of wavy gray hair and his own personal signature: a homegrown rose popping out of his boutonniere.
Figuratively, everything is coming up roses for Mr. Sirola. He's still basking in the two-month-old glow of being a new Tony winner in town. And, when he reflects on his long and colorfully checkered career, he's a bit surprised at what he got it for.
He's been a Broadway song-and-dance man, soap-opera regular, business executive, drinking buddy to Richard Burton (a job in itself!), voiceover artist, TV sidekick, movie villain, Shakespearean actor, and a few other things. But Mr. Sirola also turns out to be among the producers that Joey Parnes brought together to back A Gentleman's Guide to Love & Murder, which made off with four Tonys, including the one for Best Musical of 2014. 
Last year, he also put his money where Cicely Tyson's Tony-winning work was (The Trip to Bountiful). In his only three years of producing, he money-bagged John Leguizamo's Drama Desk Award-winning Ghetto Klown and Tony-nominated stuff in Rodgers and Hammerstein's Cinderella, The Motherf**ker with the Hat and Time Stands Still.
This late-blooming profession completes a logical cycle of sorts for Mr. Sirola, who graduated with a B.A. in Business from Columbia and became an executive with Kimberly-Clark Corporation. At 28, he made a sharp U-turn: "I said goodbye to that great salary, the expense account, the secretary, the office at 250 Park Avenue, the automobile, the works," he remembered without a tremor. "I wanted to be an actor."
Reality was quick to set in. He debuted Off Broadway to the tune of $15 a week, but he couldn't have been happier. "I made $3,200 a year in 1966—that's $55 a week on unemployment—and a girlfriend of mine said, 'You ought to do voiceovers.' 'What the hell's a voiceover?' I said. I didn't even know what it was. 'Well, it's a lot of money,' she said."
How right she was! Mr. Sirola took to the medium like the proverbial duck to water. Most commercial announcements at the time were in a formal, avuncular voice, just short of R-rolling. He relaxed into it and aced his very first audition. "I was the first guy who started talking to the mic instead of at the mic, and I went from $3,200 a year to … a million."
Mr. Sirola is not a household name, but he is a household voice. You know him from iconic shills for Vicks Formula 44, Boar's Head Meats, GE ("It's a Better Idea"), Club Med ("The Antidote for Civilization"), Mobile ("The Cleaner Gasoline") and "Let Hertz Put You in the Driver's Seat."
The loot he made from voiceovers allowed him the luxury of visible legitimacy like Broadway. Bar owner roles were a specialty, starting with his debut as Christmas Morgan, proprietor of Saddle Rock Saloon, the bar that the boys bellied up to in The Unsinkable Molly Brown. Not only did he audition for this Meredith Willson musical, he did it with the composer's "76 Trombones." Midway through, he says, a man ran down the aisle to the stage. "It was Meredith Willson. He said, 'Let's take it from the top,' and we sang the whole thing in harmony. I got the part."
This still left his days free to do a soap. On The Brighter Day, he was Peter Nino, a racetrack restaurateur who got involved with a minister's daughter. Nino was to be killed off in six months, but fan mail gave him a reprieve. Frank Costello, the crime czar, once came up to Mr. Sirola in a restaurant and offered his character some advice, "The girl is gold. Marry her."
His daytime fans included the illustrious as well as the lawless: "When Valerie Harper was preparing her show on Tallulah, she called and said, 'Joe, I didn't know you were Tallulah's favorite actor.' In her book, she wrote that, in her contracts, from 3 to 3:30, she had to have off from rehearsal so she could see" the soap opera. 
When Mr. Sirola does anecdotes, he does the voices that go with them. Bankhead was a Southern foghorn: "Her father was a senator," who advised the actress: "'You mustn't go out with boys, and you mustn't drink,' so I went out with girls and took the needle."
For Richard Burton, he affects a glass-shattering, well-enunciated preciseness. "After an Actors Fund performance of Camelot, I wrote him a long letter and sent some flowers, and he wrote me back …'Thank you for the lovely roses. They've been much commented upon, and my status has improved visibly.' "
A friendship was born. "I came down at 10:15 in Molly Brown, he at 11 in Camelot, so I'd run over, and we'd go out drinking. He already had [had] two bottles—one during the day and one during the performance. The drunker he got, the more articulate he became. But Robert Coote, Pellinore in Camelot, was a British vaudeville guy who could keep up. There's a scene where they go into Morgan le Fey's forest, and she's gone. 'She's not here, Pelli. I'll wait here in this tiny spot. Bring some food'—that's the way the line was. He goes, 'She's not here, Pelli. I'll wait here in this tiny, miniscule, diminutive, small spot. Bring some food.' Coote says, 'Those are lovely words, Arthur.' 'Yes. You'll find them in the dictionary.' Coote replies, 'I know I won't find them in the script.' "
Mr. Sirola was still very much the bar owner his last times on Broadway in Golden Rainbow and Pal Joey, but his secret career as an uncredited huckster borders on royalty. After more than 10,000 voiceovers and 25 International Television Commercial Awards ("the Clios"), he is considered the undisputed "King of the Voiceovers."
And the beauty of it all is that he doesn't have to believe the copy. "As an actor, you just do it. You just say, 'I want to make a lot of money.' That's my motivation."