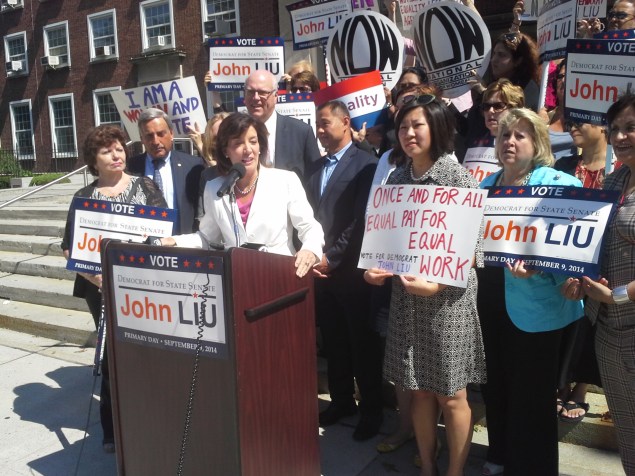 Does Kathy Hochul speaking at a campaign rally for John Liu constitute an endorsement? Does this mean, in turn, that the governor wants to drive State Senator Tony Avella from office?
Not quite.
Ms. Hochul, the Democratic candidate for lieutenant governor, appeared at a "women's equality rally" at Queens Borough Hall today to boost Mr. Liu, but the former congresswoman stopped short of outright endorsing Mr. Liu's bid.
"I am out here going all across the state of New York supporting candidates and standing with them, standing with candidates who have embraced the women's equality agenda and that's what I'm here doing today," Ms. Hochul told the Observer.
Pressed on whether she would also appear at any rallies for Mr. Avella–a socially liberal lawmaker who won his 2010 senate race against a Republican with the overwhelming support of women's groups–Ms. Hochul dodged the question, insisting her endorsement doesn't mean much.
"I gotta tell you, I don't think my endorsement at this point means a lot to anybody. I'm just here standing with people who have stepped up early, agreed to make it happen," Ms. Hochul said, later adding that she has had no conversations with Mr. Avella about appearing with him on the campaign trail.
For Ms. Hochul, the event was yet another stop on a statewide tour to bolster her progressive credentials. She is facing a left-leaning primary challenger in Tim Wu; though holding a massive fund-raising advantage over Mr. Wu, a law professor, Ms. Hochul is a relative unknown downstate. Some liberals have attacked her more moderate record as a Buffalo area lawmaker.
Ms. Hochul's appearance in Queens was also rife with political intrigue. Ms. Hochul and other Queens Democrats criticized the State Senate–governed by the Republican Party and a coalition of breakaway Democrats that includes Mr. Avella–for not passing the Women's Equality Act, a ten point bill intended to strengthen the state's laws against sexual harassment, human trafficking, domestic violence and salary discrimination. But Mr. Avella's Independent Democratic Conference agreed this year to break their alliance with the GOP and govern with the mainline Democrats after the fall elections, a deal that was brokered in part by Gov. Andrew Cuomo.
Mr. Avella, assailed for selling out Democrats for a taste of power, now has the endorsements of Mayor Bill de Blasio, a proud liberal, and Congressman Steve Israel, the chair of the Democratic Congressional Campaign Committee. None of this stopped Mr. Liu from wielding some of his harshest rhetoric to date against Mr. Avella, accusing the eastern Queens lawmaker of doing the bidding of the Conservative Party.
"Passage of the governor's ten point women's equality agenda has been delayed and denied thanks to Senate Republicans and the so-called few independent Democrats who empowered them," Mr. Liu, a former city comptroller, declared. "It seems like they were more concerned to do the bidding of the Conservative Party than stay true to the Democratic values and protect a women's freedom of choice."
"Action speaks louder than words and the only action we've seen from you is inaction," he continued, speaking of Mr. Avella. "We need a true Democrat who will stand up and protect women's healthcare rights and decisions and not sell out to Republicans for more perks and personal power."
Congresswoman Grace Meng–who along with Queens Borough President Melinda Katz, Congressman Joseph Crowley, Assemblyman David Weprin and Assemblywoman Nily Rozic spoke in support of Mr. Liu–equated Mr. Avella's decision to join the IDC to a congressional Democrat defecting to the Tea Party.
"Siding with the Republicans in the State Senate would be equivalent of me, Joe or Kathy siding with Tea Party Republicans in Congress and saying we did it under the guise of helping women, children and families," Ms. Meng said. "That would never accepted throughout the country and it's not acceptable in New York State."
Mr. Avella's campaign spokesman Jason Elan hit back, slamming the Queens Democratic establishment backing Mr. Liu and calling the idea that Ms. Hochul would want Mr. Liu in office "shocking."
"It's unfortunate that the Queens Democratic Party bosses, who supported corrupt ex-Senator Hiram Monserrate for years, once again are shamefully distorting SenatorAvella's 100% pro-choice and pro-Women's Equality Agenda voting record. Their only mission appears to be sending back to Albany another party-picked disgraced politician in that of John Liu," Mr. Elan said in a statement.
He continued, "Senator Avella looks forward to working with our next Democratic Lieutenant Governor Kathy Hochul as she presides over the State Senate.  It would be shocking given her impeccable record that she would be pleased to preside over the chamber with another ethically challenged member."
This story has been updated with comments from Mr. Avella's campaign.