Leaping lizards.
Oliver Koppell is throwing some slime at State Senator Jeffrey Klein, accusing the majority leader of being a "cold-blooded reptile" in scathing new campaign literature. The mailer, to drive the point home, features what appears to be an iguana photo-shopped over an image of the state capitol building
"Do we really want a coldblooded political reptile representing us in Albany?" the front side of the mailer, paid for by Mr. Koppell's campaign, asks.
On the back, it cites several negative news stories about Mr. Klein, the leader of a breakaway group of Democrats that govern the senate with the Republican Party. The mailer features a glowering image of Mr. Klein with superimposed scales.
"Say no to Jeff Klein," the mailer reads. "Vote to end corruption in Albany!"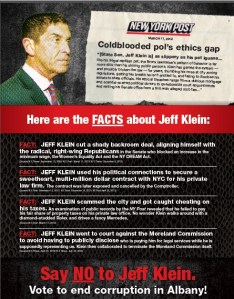 Mr. Koppell launched his bid because of Mr. Klein's association with the GOP, arguing to voters that Mr. Klein betrayed the Democratic Party by keeping them in the minority. The rationale for his campaign took a hit, however, when the Independent Democratic Conference agreed to govern the senate with the Democratic Party after the fall elections. Mayor Bill de Blasio, a liberal Democrat, endorsed Mr. Klein, along with many labor unions. The Bronx political establishment is also firmly in Mr. Klein's corner.
Mr. Klein's camp, in response to the mailer, bashed Mr. Koppell for authoring the bill to temporarily repeal a city term limits law, an unpopular move citywide.
"The voters of the 34th State Senate District deserve better. Oliver Koppell spent 12 years taking up space in the City Council," said Candice Giove, a spokeswoman for Mr. Klein. "His only claim to fame is his legislation to repeal term limits after the voters made it abundantly clear in two referendum that they favored term limits."