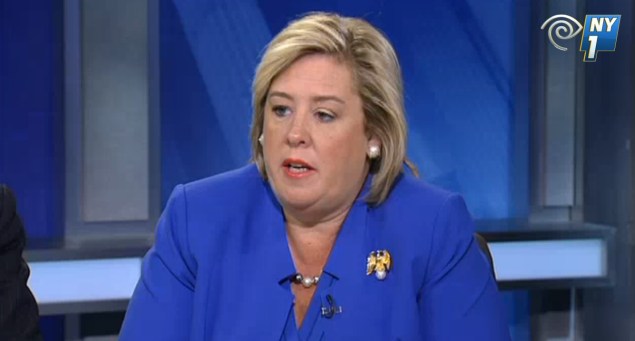 She may have the endorsements of just about every influential labor union in New York City, but one Democratic Assembly candidate said she was ready to support a law that observers say is crippling unions nationwide.
Rebecca Seawright, an attorney and front-runner for an Upper East Side and Roosevelt Island-based seat, insisted in a televised debate on Friday that she would support making New York a "right to work" state, though it was not immediately clear if Ms. Seawright understood that the law bars union contracts from requiring non-union members to pay fees for representation.
"I think [New York] should be a 'right to work' state and I would totally support that," Ms. Seawright said in a response to a question from rival David Menegon.
Errol Louis, the host of the debate on NY1, pressed Ms. Seawright to explain her position.
"I think it helps the economic base of the city and I think that the unions backing me would agree," Ms. Seawright replied. Mr. Menegon shot back: "I think the unions would not support right-to-work legislation."
"Well, I think you have to look at the legislation and see what it says. And the legislation that I would sponsor would definitely be right to work, and it would be something that the unions who support me would support or I wouldn't sponsor it," Ms. Seawright said. "And I'm very happy with the support that I've gotten from the Working [sic] Family Party, from 1199, 32BJ, and I would sponsor legislation that they would sign off on."
There are currently 24 "right to work" states, mostly in the south and west. Pro-business groups like the U.S. Chamber of Commerce aggressively lobbied for the legislation, which cuts into the ability of unions to raise money and recruit membership. The American Federation of Labor and Congress of Industrial Organizations lambastes "right to work" laws as the product of "extremist groups, right-wing politicians and their corporate backers" that seek to weaken organized labor and undermine "the basic rights of workers."
Ms. Seawright's comments were particularly eyebrow-raising because she is running in a Democratic primary with the support of the labor-backed Working Families Party and the overwhelmingly pro-union political establishment. She has the backing of every elected official in the district.
R.J. Jordan, the campaign manager for Ms. Seawright, insisted after the debate that Ms. Seawright is in fact not supportive of "right to work" legislation.
"She is pro-worker, pro-union. She didn't understand his question. She believes strongly that so-called Right to Work Laws should never and will never come to NY," Mr. Jordan said in an email.
But one of Ms. Seawright's opponents blasted the position she took during the debate.
"A gaffe is an unintentional blunder, a slip of the tongue. This was no gaffe. Rebecca Seawright's comments demonstrate that she lacks even a rudimentary understanding of the issues," said Austin Finan, a spokesman for Gus Christensen, one of Ms. Seawright's three rivals. "But she 'earned' all of her labor and elected official endorsements, right? Give me a break."
Mr. Menegon again underscored his position as a pro-labor candidate. "I've always been a strong proponent of workers right to organize and in Albany I will fight to make sure New York will never become a "right to work" state," he said after the debate.
Also running in the race is former City Council candidate Ed Hartzog. The incumbent, Assemblyman Micah Kellner, is not seeking re-election after he admitted last year to having what he called an "inappropriate" relationship with a former staffer.
The story has been updated to reflect that Mr. Kellner admitted to having an "inappropriate" relationship–and not sexual harassing–a former staffer.