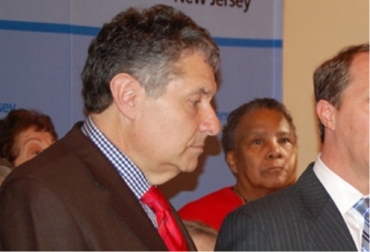 The Ocean County town of Lakewood is in a state of heightened expectation right now as the family of Aaron Sofer makes contact with Israeli authorities to try to determine the whereabouts of the missing 23-year old student.
"When an American is missing abroad, we as a country take this as a very important matter," said state Sen. Bob Singer (R-30), who first talked to Sofer's uncle on Saturday night.
The Sofer Family is well-known and well-respected in Sofer's hometown of Lakewood.
Last Friday, "Aaron was hiking with a friend and took a different route to the top, there was an 8-hour delay before he was reported," said the veteran Singer, who hails from Lakewood.
To date, no terrorist group has laid claim to being responsible for Sofer's disappearance.
But the senator can relate to the Sofers' worries about a child's well-being in Israel, as his daughter was in a bus bombing in the Middle Eastern country over a decade ago.
Sarri Singer is now trying to help locate Sofer.
"I reached out to her to use her connections over there," the senator said. "It's important that the family see everything is being done."
Hundreds of people are on foot searching the area near Jerusalem where the Lakewood student went missing.
U.S. Rep. Chris Smith (R-4) assisted Mrs. Sofer in obtaining an up-to-date passport so that she and her husband could travel to Israel to look for their son, Singer said.
U.S. Senator Robert Menendez (D-NJ), Chairman of the Senate Foreign Relations Committee, issued the following statement regarding Sofer:
"I am deeply concerned over the disappearance of New Jersey student Aaron Sofer in Israel and I stand in solidarity with his family. My thoughts are with them and the Lakewood community during this trying time. By all accounts, Aaron is a devout and dedicated student, who travelled to Israel to enhance his knowledge and deepen his understanding of sacred Jewish texts. For yeshiva students like Aaron, there is no greater pursuit than to live and study in Jerusalem, while worshipping at Judaism's holiest sites.
"Ever since I was notified that Aaron went missing in Israel, my office has worked very closely with the State Department, U.S. Embassy and Consular officials in Israel, and the Israeli Embassy in Washington, D.C. While investigators are pursuing every lead, we keep Aaron and his family in our thoughts and prayers."
Intimately involved in the incident, Smith also issued a statement.
"I learned about Aaron Sofer over the weekend and became very concerned for his well-being. I immediately sent a letter to Secretary of State John Kerry Monday urging that the State Department take every action to help in the effort to locate Aaron," said Smith, a senior member of the House of Representatives Foreign Affairs Committee. "Today [Monday], in response, Secretary Kerry's chief of staff, David Wade, assured me that the Department 'was totally committed to assisting Aharon and his family,'" Smith said.
Smith and his staff have spoken to Sofer's father and uncle both of whom are in Israel to assist and advance the search for Sofer in and around the forest in Jerusalem where he was last seen hiking on Friday.
"I hold to hope that Aaron will be located and returned to his family safely," Smith said. "Until that day comes, he and his family are in our prayers, and I will work with the State Department to use all resources available to find him and bring him to safety."