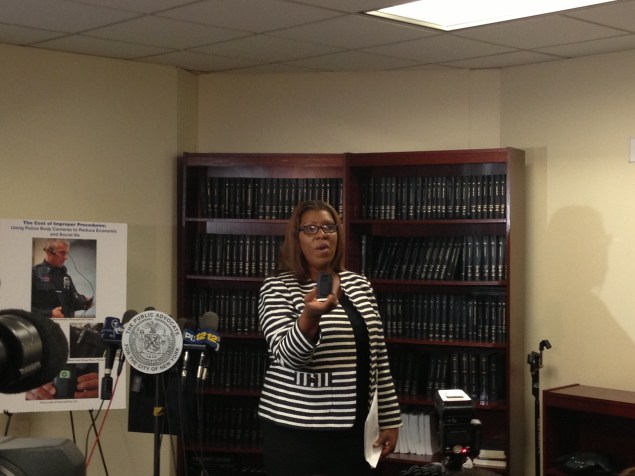 Public Advocate Letitia James called on the city to fit police with wearable cameras in a pilot program broader than the one a federal judge has ordered — and said the $5 million effort would actually save taxpayers money.
"If we were to do, to implement body cameras on 15 percent of our police force in New York City, it would only cost taxpayers $5 million. Currently, we are spaying out $152 million annually to claims, individuals who are charging police officers with police misconduct," she said a press conference in her offices.
Ms. James said she believed having cameras on cops would reduce those police misconduct claims — recently outlined in Comptroller Scott Stringer's ClaimStat report — covering the cost of the cameras and then some. She based those projections, she said, on the results in other cities using cameras — the Rialto, California, police department saw claims against police drop by 88 percent after introducing body cameras, Ms. James said.
"Clearly it will save taxpayer dollars, and it's a win-win for police and community," she said.
The public advocate first issued a call for body cameras in the wake of Eric Garner's death in NYPD custody on Staten Island, which was only caught on camera because a passerby shot cellphone video. Since then she has reiterated her call; today she offered a more concrete proposal and demonstrated one of the small cameras in a packed room of reporters.
Federal Judge Shira Scheindlin called for the precinct in each borough with the highest number of recorded stops to use body cameras as part of a decision ruling the city's use of stop and frisk unconstitutional. But though Mayor Bill de Blasio dropped an appeal filed by his predecessor, the city has yet to implement that ruling, which is still under appeal from other groups.
"We want to focus primarily on precincts where there's a high rate of crime and a high rate of police misconduct — that's much broader than the recommendations from Judge Scheindlin," Ms. James said.
Videotaping interactions between police and community protect both officers and those they stop, and said she believed the removal of the "hearsay" involved in many complaints is why cameras so drastically reduced claims in other cities.
"In cases where police officers are falsely accused of police misconduct, it will exonerate them, because it will provide an objective record of what happened as opposed to hearsay," she said.
There's another potential benefit for the NYPD, she added — the city could use the money it saves by reducing claims to provide the NYPD with new technology or spruce up its notoriously out-of-date stationhouses.
The pilot alone would cost $5 million in taxpayer dollars; to expand it to the entire force would cost about $32 million, Ms. James said, pointing out that was still well below the cost of settling claims. The cameras — she held up a device about the size of a pager — can be worn on the lapel or the belt, depending on an officer's height.
So far, many key players — Mayor Bill de Blasio, Police Commissioner Bill Bratton and the Patrolmen's Benevolent Association among them — have yet to commit to any body camera program. But she said she has an upcoming meeting with PBA President Patrick Lynch, and recently met with Mr. de Blasio on the issue. And she pointed out Mr. Bratton is not unfamiliar with cameras: a pilot program is underway in Los Angeles, where Mr. Bratton has formerly served as commissioner. 
"We had a meeting about it. [Mr. de Blasio] said he's reviewing the proposal, he's looking at other jurisdictions, he's studying the data. He's not made a decision, and he's reserved his decision with regards to whether or not we should implement cameras," Ms. James said. "But clearly, in the past, Police Commissioner Bratton has supported this initiative."
In between his jobs in California and New York, Mr. Bratton told the New York Times he would want his officers to wear cameras if he were to lead a force again.
And while some of the same people now calling for police cameras have often been wary about violations of civil liberties presented by other types of surveillance, Ms. James said cameras were simply a part of life in the city today.
"The reality is that we're in a culture where video cameras are all around New York City, so it's something that all of us are living with," Ms. James said.
As a councilwoman, she allocated funds for cameras in housing projects in her district to reduce crime, she added.
"I've embraced cameras, I have embraced technology. I recognize that it's just really part of our culture and part of keeping New York City safe," she said.
Correction: This story has been updated to correct the amount of money Ms. James said the city spends each year on claims. It is $152 million.