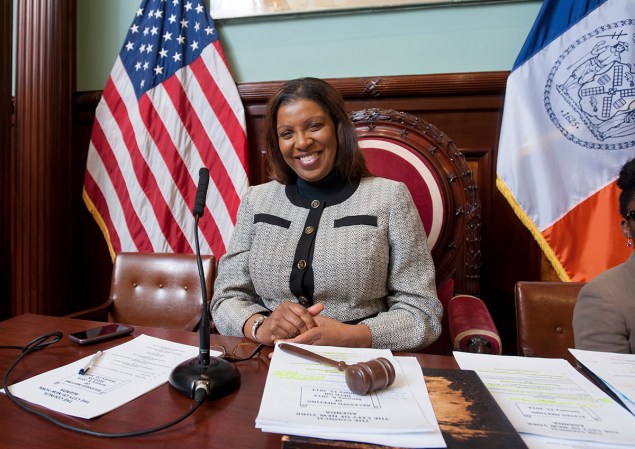 Public Advocate Letitia James is calling on lawyers to help represent unaccompanied children pro bono in federal immigration cases — and said she'd join them.
"As the public advocate and an attorney, previously worked of the Legal Aid Society, I will also serve as an attorney in this capacity, pro bono," Ms. James said at a press conference on the City Hall steps Tuesday.
A coalition of groups joined Ms. James to announce monthly clinics to train attorneys who would like to volunteer to represent children in federal immigration court, and set up a "help desk" in federal court to provide the children with resources and representation. The need has grown more urgent, Ms. James and activists said, as the federal government has decided to prioritize the cases of the unaccompanied children and adults with children in what is being called a "surge docket."
"Imagine my horror, our horror when we found out the federal government had ordered the court just down the street to expedite the cases of the most vulnerable children — those fleeing horrific conditions in Central America on their own, crossing the border on their own," Eve Stotland, director of legal services at The Door, a youth services organization providing legal help.
Ms. Stotland called the sped-up process a "deportation conveyer belt for children."
More and more young children have been illegally entering the country alone as they flee violence in their home countries, sparking controversy here about how to handle their arrival. The federal government has run out of space to house the children; many who arrive in New York — second only to Texas in the number of children arriving, Ms. James said — are placed in the care of relatives pending court appearances, but others end up in the custody of Homeless Services. Speaker Melissa Mark-Viverito and others have called on the city to identify other locations the children can be housed.
"In my mind, this situation is a humanitarian and refugee issue — not an immigration issue," Ms. James said.
Councilman Carlos Menchaca, chair of the Immigration Committee, compared the flood of unaccompanied children into the country to Hurricane Sandy.
"We're gonna come with every force we can — this is a true humanitarian crisis, the city has experienced before," Mr. Menchaca said. "And we want to make sure we have that same caliber response we did with Sandy. This is the kind of crisis we're in today."
Ms. James said she did not know when might represent a child in court — she will attend one of the planned trainings first, to brush up on the necessary aspects of immigration and family law.
Children and others in court for immigration charges do not have a right to an attorney — so if they cannot afford one or do not have family to help them find one, they go unrepresented in their hearings. Appearing in court with a lawyer gives a child a significantly higher chance of being able to stay in the country, Ms. James and advocates said, typically by proving they face a threat to their safety in their home country.
Correction: This story has been updated to correct the title of Eve Stotland.