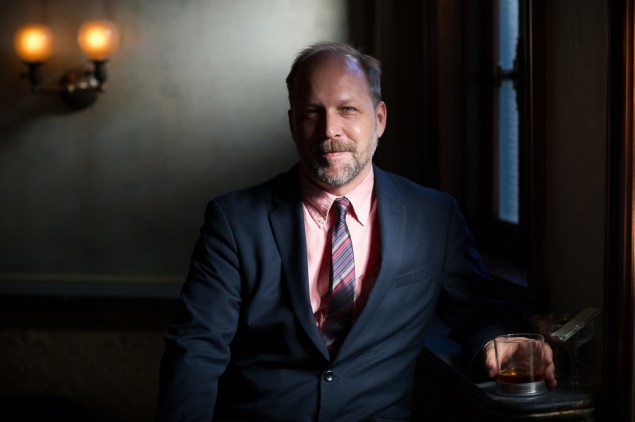 When Robert Simonson walked into The Long Island Bar on a recent Friday afternoon, he did so with a tote bag full of goodies. Inside that bag? A galley of the forthcoming Death & Co cocktail book, as well as a bottle of Batavia Arrack, which the Atlantic Avenue drinking establishment does not stock. "This is probably totally illegal," said Mr. Simonson, as we slid into a back booth. The idea was to have Phil Ward—the former Death & Co head bartender and current co-owner of Mayahuel, who still takes a regular shift at The Long Island Bar—whip up one of his original creations called the Shattered Glasser. Of course, bringing the cocktail book was unnecessary; Mr. Ward remembers all of his specs.
And besides, we were here to talk about a different book all together, one penned by Mr. Simonson. The Old-Fashioned: The Story of the World's First Classic Cocktail, which came out earlier this year, is a beautiful hardcover tome, with lush photographs, deeply researched lore and a whole mess of recipes. Mr. Simonson, who writes about all things bar and cocktail for The New York Times, picked out one such recipe for me to try: the tequila-based Oaxaca Old-Fashioned, another Phil Ward creation. Having recently returned from New Orleans' Tales of the Cocktail, where he gave a presentation on his favorite drink, Mr. Simonson wasn't sure he could stomach another Old-Fashioned. I pledged to drink for two.
***
Let's talk about the history of the Old-Fashioned. Where does the name come from?
The full name is the Old-Fashioned Whiskey Cocktail. It started out as the Whiskey Cocktail, and that was served up and not on ice. Then around the 1870s, bartenders started putting other things in it, like maraschino liqueur and absinthe, to make it exciting and racy. Some people thought it tasted pretty good, but the old-timers didn't, so they started asking for an old-fashioned Whiskey Cocktail.
The Old-Fashioned was your mother's drink.
Yes. In retrospect, she didn't make them very well. It was pretty much whiskey in a glass, adulterated a little bit, but she never wavered. Drinkers today don't really have their drink. There's something very cool about a guy who always orders the same thing, especially if it's a good thing, and he knows exactly how he wants it.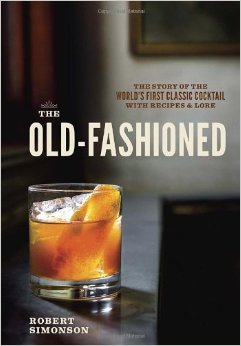 Both Chicago and New York City lay claim to the Old-Fashioned. Who's right?
That argument is just theoretical, because no one knows who invented it. The Pendennis Club did not invent it. Nobody invented it. It probably evolved very organically at several places at once. Now that's the Whiskey Cocktail. As far as the Old-Fashioned Whiskey Cocktail, there are a lot of things pointing to Chicago. I'm not going to say it was invented there, but it was probably extremely popular.
The Old-Fashioned suffered through prohibition and then a fruity revival post-World War II. What is it about certain drinks that allows them to survive?
It has to be simple. Of course, that's not always true. But during prohibition, people had to be able to make it at home. Then even during the '70s, '80s, '90s, when cocktails weren't cool or popular among young people, the people who liked them still had to be able to make them at home. It's gotta taste damn good, too. And it certainly helps if a celebrity likes them. Hemingway didn't do any damage to the Daiquiri.
So who is the patron saint of the Old-Fashioned? Is it Don Draper?
You know, there isn't one. I mean, until recently there was no famous fictional character or non-fictional character who just talked about Old-Fashioneds all the time. It's kind of funny. Usually there is one you can attach to almost every drink. It would be great if there were a James Bond, wouldn't it? Let's face it, no one would care about the Vesper at all if it weren't for James Bond. It would be a totally forgotten drink.
What's the easiest way to screw up an Old-Fashioned?
Bad ice. It seems like a fussy thing to go to the bother of, but it doesn't take a lot of effort to make a better cube. You can get these ice trays that make a bigger cube, which helps in two ways. The drink doesn't dilute as quickly, so it evolves as you drink it, and also it looks beautiful. I'm a big fan of aesthetics where drinks are concerned.
There are loads of modern variations on the Old-Fashioned. How does that change the experience of the drink?
I like to think of the Old-Fashioned in two ways. In one way, it's one drink—just one drink—a whiskey drink. In another way, it's the template for the original cocktail, and that blueprint is kind of rock solid. You can put in any spirit, play around with the bitters and the sweetener, and you usually end up with a good drink. That's what we're dealing with here [with the Oaxaca Old-Fashioned]. I don't know how to express it—in structure, it just tastes like an Old-Fashioned.
***
HOW TO MAKE IT: OAXACA OLD-FASHIONED
(created by Phil Ward, at Death & Co)
Ingredients:
1.5 oz. El Toso reposado tequila
.5 oz. Del Maguey single village mezcal (Chichicapa or San Luis del Rio)
2 dashes Angostura bitters
1 barspoon agave nectar
Method:
1) Combine all ingredients in an Old-Fashioned glass filled with one large ice cube.
2) Stir until chilled (about 30 seconds).
3) Garnish with an orange twist.