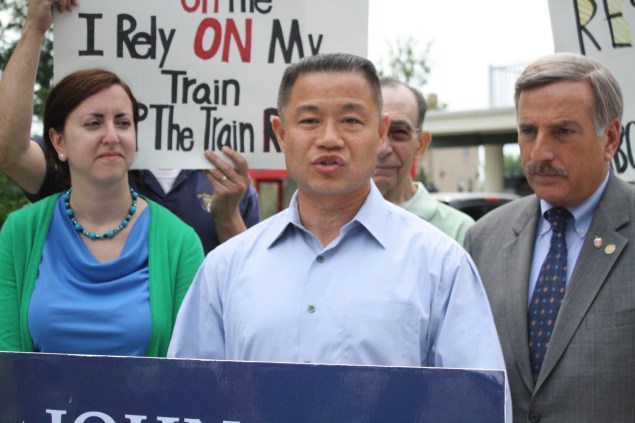 John Liu is ready for a Queens mud bath.
The former city comptroller said today he expects his race with State Senator Tony Avella to remain nasty until primary Election Day in September–and he is apparently willing to launch a few more barbs Mr. Avella's way. Mr. Liu, who lodged a complaint with the Joint Commission on Public Ethics after Mr. Avella said he would introduce legislation to compel the city law department to collect campaign fines related to Mr. Liu's 2009 comptroller bid, reiterated that he believed Mr. Avella's senate office misused taxpayer dollars for a blatantly political end.
"The state legislature is not in session any longer. There is no Assembly bill. So this like many of Avella's introductions have no chance of seeing the light of day," Mr. Liu tersely said at a press conference today. "I think these are serious ethical lapses."
Mr. Liu was in Whitestone, Queens to unveil a lengthy transportation platform. A chair of the transportation committee when he served in the City Council, Mr. Liu is hoping his call to expand bus service, introduce a gas tax holiday and upgrade Access-A-Ride will woo voters in the suburban, eastern Queens district. Mr. Avella, despite badly trailing Mr. Liu in the fund-raising race, remains popular with many of the constituents that Mr. Liu is hoping he can win over.
Mr. Liu ran in part to punish Mr. Avella for joining a breakaway group of Democrats who govern the State Senate with the Republican Party, a fact he alluded to today.
"Listen, it's a heated campaign. There are lots of passions on the issues: the issues of women's equality or the lack thereof, partially enabled by my opponent. The issues of the need for an increase in minimum wage, which we don't have in part due to the actions of my opponent and a whole host of other issues that this district and the people of New York are lacking due to the actions of my opponent," Mr. Liu charged.
"So, look, at the end of the day we are four-and-a-half weeks away from the election and I'm sure my opponent is going to throw more and more mud but that's okay, I understand, this is politics," he added.
Mr. Liu lost much of the labor support he had secured when the Independent Democratic Conference agreed a few months ago to govern the senate with the mainline Democrats after the fall elections. He is still running with the support of most Queens elected officials, while Mr. Avella has the backing of large labor unions like 1199 SEIU and Mayor Bill de Blasio.
Mr. Avella lashed out at Mr. Liu through a spokesman, recalling the former city comptroller's legal issues over his campaign finances.
"Senator Avella will continue to propose good government legislation to correct any wrongs with the sole intent of protecting taxpayers," said spokesman Jason Elan. "The shamelessness and utter audacity of John Liu to even make such a suggestion in the wake of his own campaign treasurer, Jenny Hou, and fundraiser, Oliver Pan, going to jail for gaming the campaign finance system is incredible. Voters do not forget real corruption."
Updated to include comment from Mr. Avella's camp.