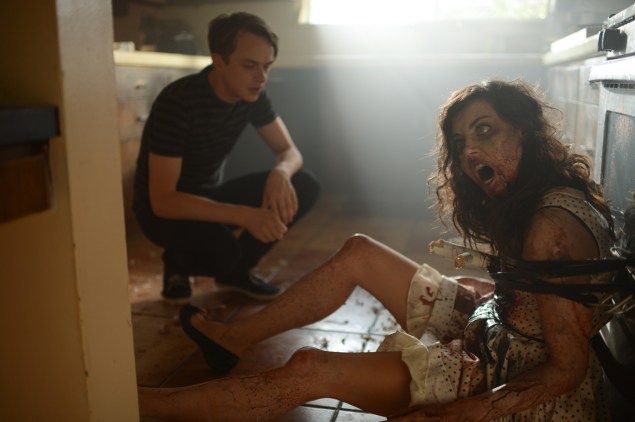 Jeff Baena wrote this zombie comedy in 2003, right around the time that the walking dead were rearing their icky heads in popular culture, panting and squealing and limping awkwardly into films and graphic novels and TV series. Life After Beth, Mr. Baena's debut feature—whose script, with the help of his girlfriend, Aubrey Plaza, who stars as the undead title character, he exhumed from some drawer or digital folder after a decade or so of dormancy—is a send-up of apocalyptic tropes in the vein of Shaun of the Dead. At the same time, it's a genuine stab at romantic comedy that stumbles more than it strides.
---

LIFE AFTER BETH ★★
(2/4 stars)

Written and directed by: Jeff Baena
Starring: Aubrey Plaza, Dane DeHaan and John C. O'Reilly
Running time: 91 min.

---
The plot is simple enough, if also nonsensical. Ms. Plaza, as Beth, dies from a snakebite and returns as a walking corpse—benevolent and relatively clear-minded at first but cannibalistic and insane later. Her parents (John C. Reilly and Molly Shannon, both mildly funny) are so happy to see her that they chalk the whole thing up to a Biblical sort of resurrection, ignoring that she dug herself out of her grave. But Beth's boyfriend Zach (Dane DeHaan) is skeptical. Where there's one zombie, there's probably more on the way.
Still, Beth has no memory of the fact that she broke up with Zach before she died, so he takes advantage of her amnesia (she wears the same black and white, polka-dot dress every day), and the two of them get along swimmingly, for a short time. In one surreal scene, they have sex in a playground in broad daylight, which, I guess, makes Zach a necrophiliac, or whatever you might call a man who penetrates zombies with something other than a silver stake. As Beth begins to decay, other zombies start coming back—the mailman, Zach's grandpa, the short-order cook—and then she eats her dad.
Life After Beth has some of the absurd, slapstick humor to be found in I ♥ Huckabees, which Mr. Baena co-wrote with the director David O. Russell. The only thing that puts Beth at ease, for instance, is smooth jazz, which is probably the movie's funniest and most redeeming detail. Her eyes gloss over at the sound of a syrupy saxophone line as she slips into a narcoleptic haze. And Ms. Plaza does a convincing job pretending to have been dead, mumbling and wheezing and clumsily sashaying, zombie-style, through town, her body deteriorating with every movement. (Mr. DeHaan's sulky character, on the other hand, is kind of insufferable.)
Life After Beth may be the mellowest zombie movie in recent memory, mostly because the action is seen through Zach's eyes, and he's usually away from it, except when he runs over Beth with his Saab. (No harm, no foul.) If Mr. Baena had released this film when he'd written it, he might have come across as a prescient director. But even if Life After Beth is a unique entry in the zombie canon, it still registers as overkill. One gets the sense that Mr. Baena should have let this one die.