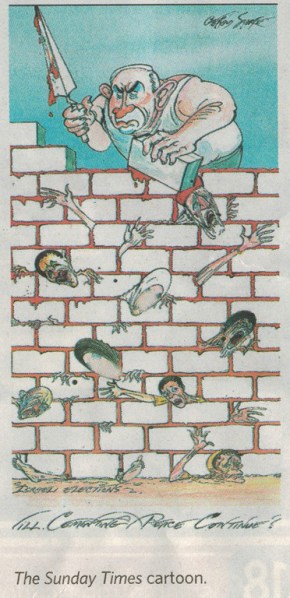 Yesterday, the Observer exclusively reported that The London Times, the U.K.'s paper of record, refused to publish an advertisement written by Nobel laureate Elie Wiesel.
The $30,000 advertisement, sponsored by Rabbi Shmuley Boteach and the Jewish Values Network, opposed Hamas' child sacrifice, and has already been published in The New York Times, The Wall Street Journal, Washington Post and The New York Observer, among others, without incident.
In declining the ad, a London Times representative cited reader sensitivity as its reasoning for the rejection. A Times representative told the media buyer for Jewish Values, "In brief, [The Times] [feels] that the opinion being expressed is too strong and too forcefully made and will cause concern amongst a significant number of Times readers." When asked whether the ad could be revised to meet the standards of The Times, the buyer was informed "The editorial decision not to accept The World ad is not open for a negotiation regarding the content of the ad. So, I don't want to waste your time with possible revisions. Many thanks for thinking of The Times to begin with."
Meanwhile, the Comment is Free Watch blog has noted that The Times wasn't as concerned about those sensitivities when publishing other recent controversial material.
On January 27, 2013, Britain's Holocaust Memorial Day, the Sunday Times published a cartoon depicting a demonic Prime Minister Benjamin Netanyahu constructing a cinder block wall in which the dying bodies of Palestinians are trapped. The Commentator asked, "Why can't cartoonists seem to criticize Israel without the use of big noses and blood libels? And why do the mainstream papers still publish this stuff?"
The Times later apologized for the cartoon but did not retract it.
More recently, in July, the Sunday Times published a paid advertisement by Save the Children, which essentially accuses Israel of intentionally killing Palestinian children. The graphic ad shows a father cradling the bloody head of a child and reads, "A child is dying every hour in Gaza. How many more must die?"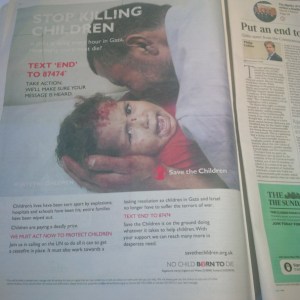 That is, perhaps, a legitimate appropriate message to bring to people, but certainly as shocking, if not more, as the advertisement provided by Mr. Wiesel.
Reached by the Observer, Rabbi Shmuley—who was named "Preacher of the Year" by The London Times in 1999—blasted the rejection of the ad. "The fact that The London Times published ads maligning Israel for killing children and would not allow a response by a Nobel Peace Prize laureate who is the foremost moral voice on the subject of genocide is an act of undeniable bigotry and prejudice that has no place in a world-class newspaper. We are demanding The Times honor what we in the U.S. value—freedom of expression and freedom of the press."