Word of an up-and-coming campaign for a pen that would scan and instantly reproduce colors excited crowdfunding fans and artists alike earlier this summer.
After numerous delays, the Scribble campaign finally launched earlier this week, only to be pulled by its creators two days later after both backers and Kickstarter began raising questions. After all, it wasn't clear exactly how the pen was taking colors from objects in the environment and changing the pen's ink.
Anticipation and pre-launch coverage by more than two dozen sites helped the campaign reach its $100,000 goal in only a few hours, but it wasn't long before the page's comment section was flooded with an influx of requests for a better demonstration of the product. Backers were concerned that the two short video clips of the pen didn't demonstrate its capabilities. Additionally, there was no specific information regarding how long the pen takes to change color and how much ink it wold use in the process.
Almost 2,000 backers raised $366,566 before the campaign was unexpectedly pulled by its authors without an explanation. Later, the authors posted the following update on the project's page to explain the sudden cancellation:
A quick read of the comments section shows that the cancellation raised even more doubts about the project's legitimacy. Since creating a new video is definitely more favorable than cancelling a campaign that grossed more than $350,00, backers are now wondering if the authors really have the working prototype they touted. They want to know what's happening with their money, and although the authors claim they'll relaunch, backers are saying they're not interested in the next campaign.
The authors posted several comments this morning in an attempt to ease backers' concerns.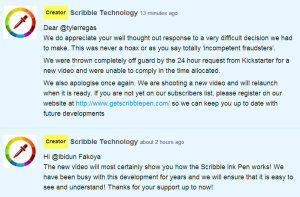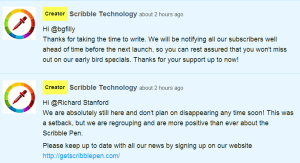 The site's FAQ states that "Kickstarter does not guarantee projects or investigate a creator's ability to complete their project." It also explains that creators are legally required to fulfill the promises of their campaign and should refund backers if they can't. However, transactions are strictly between creators and their backers, meaning Kickstarter cannot refund any money.
No matter the results of the pulled campaign, it's good to see that Kickstarter is taking action and protecting backers. It'd be shame to see Kickstarter and other sites such as Indigogo — which helped launch numerous successful products — become a place for scams and false promises.
(h/t Drop-Kicker)