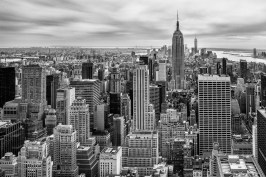 For most, getting lost in Midtown is the stuff of nightmares. But for one nine-year-old, it was a day straight out of Home Alone 2.
Chris Villavicencio from Union City, New Jersey, was visiting the Central Park Zoo on Saturday with his family when he got separated from them around 4:30 p.m. Ambling out onto E. 64th Street, Chris made his way through Times Square, covering about a mile on his Kevin McCallister-esque adventure. But it wasn't all fun and games for Chris: He told New York Daily News that he was searching for landmarks and high ground in an attempt to find his parents.
Chris' mother and father filed a police report at 5:20 p.m. and Port Authority officials found him an hour later when he wandered into a bus terminal near W. 40th Street. Cops brought the child's family to the terminal to claim him and then drove them back to Central Park.
While Chris' parents were surely experiencing ultimate relief at being reunited with their child, Chris was still riding out a wave of excitement from his Manhattan jaunt.
"This was the greatest day of my life, because this was the first day I was at the police station!" he exclaimed.
Oh, to be young again.