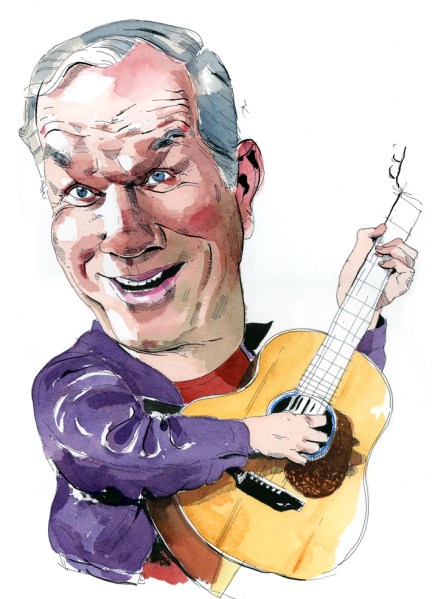 According to Judd Apatow, Loudon Wainwright III feels like "somebody you want to know. He's insightful, brutally honest, and not afraid to be hilarious, vulnerable and emotional." All of those qualities are on display on Haven't Got the Blues (Yet), Mr. Wainright's 22nd studio album.
Thanks so much for chatting. It's O.K., I love talking about myself.
You sing pretty candidly about depression. Is songwriting cathartic for you? It's not cathartic for me, necessarily, besides that it provides me with something to write about. But hopefully it's cathartic for other people. That's my job.
On the new album there's a parody song you wrote in response to the Newtown tragedy called, "I'll Be Killing You This Christmas" (which has lyrics like "What's wrong with a handgun / when everybody has one?"). Take me through your thinking about that track. Well, I watched that terrible thing on television, and everybody was talking about the gun thing, pro and con. I wrote the song and tried to perform it near Aurora, Colorado, and someone came up to me afterwards and said he didn't like it, so I thought maybe I shouldn't sing it anymore. A few months later, I found myself in Blacksburg, Virginia, near the site of the Virginia Tech shooting. I performed it that night, and people came up and thanked me. People are gonna either like it or not like it, but I wanted to put it on the record, and I'm glad I did.
How many of your songs are rooted in truth and how many are pure fiction? It's usually 80/20, truth to fiction. Some of the songs I write to order. For example, five years ago the television show Justified was about to start, and I heard they were looking for a song. I Googled Harlan County, Kentucky [where Justified takes place] and read about how it was dry except for one city [Cumberland], and wrote the song. They rejected it, of course, which happens all the time. But it wound up on this new album.
Your first acting credit was as the "Singing Surgeon" on M*A*S*H. How did you get involved in the show? Larry Gelbart happened to see me performing about 40 years ago at the Troubadour in Los Angeles. He liked what I was doing with my funny songs, so he got in touch with my then-manager and pitched this idea of me being the singing surgeon. I did three episodes of M*A*S*H, and at the time it was a big deal, since it was the most popular show on television. It will be in the first paragraph of my obituary, for sure: "The singing surgeon from M*A*S*H dies!"
You have the distinction of being the musical guest on the fifth-ever episode of Saturday Night Live, with Robert Klein as host. Do you know who the other musical guest was? In those days there were two musical guests, and ABBA had just won the Eurovision song contest, and nobody in America had heard of them. I remember standing at the side of the stage with John Belushi during their performance, and he was kind of slathering over one of them—the blonde, I think. Well, we both were. I had met Chevy Chase and John Belushi before, because I'm an old friend of Christopher Guest, who worked with them on National Lampoon's Lemmings or the Radio Hour. I also remember that during the after-party, we were sitting in somebody's apartment and Lorne Michaels was excited about the ratings, and I remember him saying about the show, "This might work."