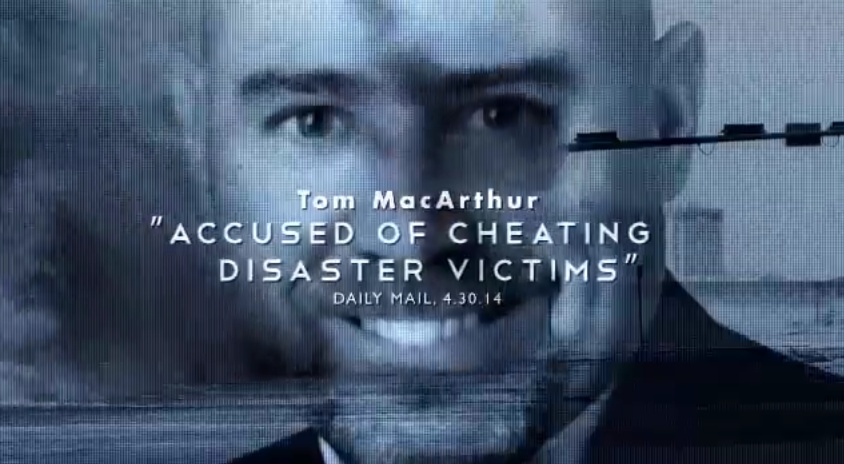 A Democratic Congressional Campaign Committee-sponsored television ad targeting the Republican nominee in CD3 — one of two cable ads the committee released today in the lead up to the November election — has the dueling campaigns of Tom McArthur and Democratic hopeful Aimee Belgard at it again.
Responding to the ad, which draws a bead on MacArthur's work as an insurance executive, the Republican's campaign bit back today, issuing a press release that called the video "not only … completely deceptive" but "stunning for both it's irony and hypocrisy." They condemned the publication the ad used to source its claims — which among other things, accused MacArthur of profiting off victims of natural disasters to the tune of $39 million — as "bogus," and turned the attention on Belgard, currently serving as a Burlington County Freeholder.
According to MacArthur spokesperson Chris Russell, the ad is "Ironic in that the DCCC sources their attack ad with a bogus and previously discredited 'news' story planted by a controversial opposition researcher who works for tea party-backed candidates," and "Hypocritical in that it attacks a Republican candidate for his career in the insurance business, in order to help bolster the campaign of a Democratic candidate who spent her career as a trial attorney specializing in helping insurance companies defend and deny claims to policyholders, some of whom suffered catastrophic injuries and property damages."
MacArthur himself weighed in, calling the Belgards campaign's attempt to "link me to the devastation of Hurricane Sandy" — the video features images of the wreckage of the iconic Jet Star roller coaster laying in the surf off Seaside Heights after that storm — a "disgusting tactic."
"Aimee Belgard's negative campaign has consisted of ducking debates, hiding from the press and refusing to discuss issues important to voters, all while launching personal attacks against me," he said, claiming that he allowed a local family to stay in his home "for months" after Sandy. "Belgard should be ashamed. The voters in the Third Congressional District deserve much, much better."
MacArthur urged Belgard to "disavow this repulsive ad" and to take it down "immediately."
But the Belgard campaign, which faces the somewhat daunting task of edging out the widely-supported, well-funded former Randolph mayor — McArthur is currently outspending Belgard almost 3-to-1 — didn't pass up the opportunity to chime in with their own fiery rhetoric. In an email, Belgard For Congress campaign manager Hannah Ledford called the Republican competitor "out of touch."
"The fact that Tom MacArthur thinks that Aimee's employment as an attorney somehow compares to the way he made his fortune as the President and CEO of a company known for delaying and denying claims to disaster victims only proves how out of touch he is with hardworking middle-class families," Ledford said. "He was President and CEO. He was in charge. And he made tens of millions of dollars while his company was repeatedly sued for denying claims to people in their time of need. He's made thousands more off shady investments in state-owned Russian oil companies and the Chinese National Offshore Oil Corporation, which has done billions of dollars in business with Iran. Voters are going to hold him accountable for all of that, despite the negative smear campaign he's running."
The ad campaign, the DCCC's first of the midterms, is running districtwide at more than $100,000 per week and $1.3 million between now and the November election.