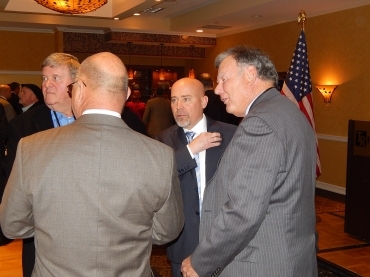 Tom MacArthur, the Republican hopeful in New Jersey's congressional district 3, is continuing to call on his competition, Democrat Aimee Belgard, to renounce a negative "attack" ad he argues misleads voters in the lead-up to their November election.
Titled "Deny" — but since re-released under the name "Cheat" — the Democratic Congressional Campaign Committee-sponsored ad began airing over a week ago but quickly became the subject of controversy after the non-partisan, University of Pennsylvania-affiliated FactCheck.org called it's implication that the former insurance executive was "accused of cheating disaster victims" a "pattern of deception."
It was actually MacArthur's company, York Risk Services Group, that stood accused — not MacArthur himself.
After the MacArthur campaign brought the complaints to the attention of Comcast, the cable provider that's been airing video in the Burlington and Ocean County-constituted district, the DCCC re-released a corrected version of the ad. But MacArthur, according to comments made today, still isn't happy.
"Following complaints from my campaign and harsh criticism from independent fact checkers, the Democratic Congressional Campaign Committee (DCCC) was forced to take down their original attack ad against me due to its false and deceptive content," MacArthur said today. "Sadly, their new ad still contains vile and negative attacks that were harshly criticized by FactCheck.org, a non-partisan project of the respected Annenberg Public Policy Center of the University of Pennsylvania."
Among other issues, MacArthur said he still condemns the video's use of imagery of Hurricane Sandy damage along the Jersey shore, saying he had "nothing whatsoever to do with insurance claims that arose from" that storm. He also criticized the ad's conflation of his insurance work to his opposition of the Affordable Care Act.
FactCheck.org's original review pointed out that the ad's statement that "MacArthur wants to help insurance companies jack up rates and deny people coverage" if elected to Congress, is actually "referring to MacArthur's opposition to the Affordable Care Act…the federal health care law has nothing to do with the disaster relief insurance claims that are the subject of the ad."
Though Belgard's name is not mentioned in the ad, the candidate did support its message in an interview with Philly.com earlier this week, saying "I do think that it raises valid concerns about Tom MacArthur's past as a CEO of York insurance."
Today, MacArthur demanded that Belgard, a Burlington County Freeholder and trial attorney, apologize for that defense.
"Defending and promoting this false and defamatory ad runs directly counter to your obligations under the Rules of Professional Conduct for attorneys," he said. "Since the DCCC's new ad still contains many of the same deceptions and false attacks contained in their original ad, I am challenging you today to fulfill your obligations as an Officer of the Court by disavowing this ad."
But the Belgard campaign fired back, noting that MacArthur and his company remain focus of numerous ongoing lawsuits — over 120 by current and former employees, according to a Belgard For Congress press release earlier this week.
"For Tom MacArthur to attack Aimee's integrity is appalling and utterly hypocritical. We're talking about a guy whose company was sued for delaying and denying claims to disaster victims and whose company is currently being sued for refusing to pay overtime to workers on his watch," Hannah Ledford, campaign manager for Belgard For Congress, said. "He'll put profits ahead of people any chance he gets — when it comes to integrity he has no legs to stand on."
"Tom MacArthur made millions while hardworking people suffered and how he's trying to use that money to buy himself a Congressional seat in a district he's not even from. Aimee Belgard is a mother, an award winning advocate for cancer research, a community leader and longtime district resident. She has dedicated her life to giving back to others in their time of need. It seems like Tom MacArthur sees someone struggling and starts counting dollar signs. I don't think voters are going to have a tough time choosing between the two this November," she added.
Belgard and MacArthur are vying to replace retiring U.S. Rep. John Runyan (R-3) in CD3.