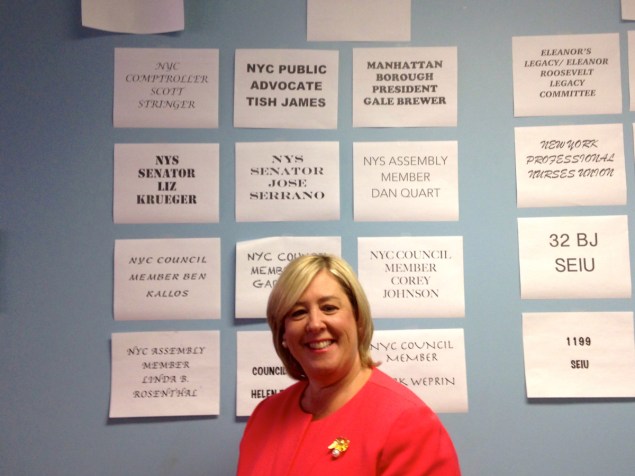 Rebecca Seawright, an attorney running for the Upper East Side and Roosevelt Island-based seat that Assemblyman Micah Kellner is vacating, scored the endorsement of Congresswoman Carolyn Maloney today.
The Manhattan lawmaker is the latest in a long list of elected officials to back Ms. Seawright in her race against several contenders.
"Rebecca Seawright has the record, skill-set and tenacity to be an excellent legislator, and I am proud to endorse her for State Assembly in Manhattan's District 76," Ms. Maloney said in a statement to the Observer. "I look forward to partnering with her to advance all ten points of the women's equality agenda in Albany. I strongly support her focus on improving childhood education, expanding services for seniors and reforming the Capitol by passing campaign finance reform."
Comptroller Scott Stringer, Manhattan Borough President Gale Brewer, State Senator Liz Krueger and Council members Daniel Garodnick and Ben Kallos have all backed Ms. Seawright already. Ms. Maloney, a representative of the area for two decades, was perhaps the most sought-after endorsement in the Democratic primary. Her backing of Ms. Seawright was not a surprise to most political observers.
"I am extremely proud to receive the endorsement of Carolyn Maloney," Ms. Seawright said. "Congresswoman Carolyn Maloney is a golden name on the Upper East Side and Roosevelt Island because of her unbeatable record on women's equality, gun safety, and expanding access to childhood education."
Ms. Seawright is facing investment banker Gus Christensen, Xerox marketing executive David Menegon and former City Council candidate Ed Hartzog. The seat became open after Mr. Kellner, the incumbent, chose not to seek re-election following revelations last year that he sexually harassed a former staffer.