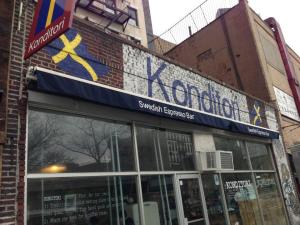 Like countless crotchety old men before him, Louis Segna, 53, blamed his shortcomings on those dagnabbed young people. Or more specifically, hipsters. Yes, that's right. In court he more or less pled that the hipster made him do it.
Mr. Segna was convicted of making four false emergency 911 calls, including reports of a subway explosion, the Daily News reports. His lawyer blamed Williamsburg's Konditori coffee shop, newly opened in his client's building, for driving him to make the phony calls (though it is beyond comprehension how viewing waxed facial hair and bow ties on a regular basis can drive someone to such acts.)
The four false reports over which he was found guilty were just a drop in the bucket–Mr. Segna made about 400 emergency calls in total, all fake. Mr. Segna rented out the first floor of his building to the Swedish-themed espresso bar and claims that they forced him to sign an ambiguous lease and refused to pay rent. He claims that the 911 calls were to get the cops attention about his noise complaints.
Mr. Segna will be sentenced on Sept. 5 and could face up to seven years in prison over this, which must be pretty worrying for him. 911 is standing by for the calls.