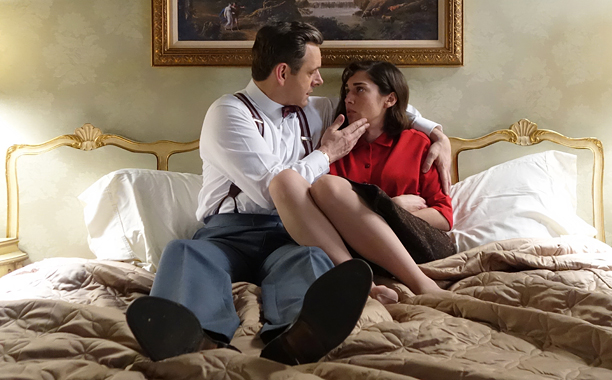 Poor Bill Masters. All he wants to do is kiss Virginia Johnson on the mouth and run a sex study out of Buelle Green hospital. Is that too much for him to ask? Kissing is a big no-no for our leads — the second those lips lock, they admit that they're not so much boning for study as boning for love. And so "Blackbird," the astonishingly-timely sixth episode of Masters of Sex opens with another Bill and Virginia "experiment." .
Things aren't going very well for the sex study, either. We learned last week that Hendricks has been tearing down the pair's fliers, and for good reason. He's not crazy about the message it sends for his black hospital to allow two white researchers to watch black people have sex for science. Hendricks reminds Bill and Virginia about the long, horrible history of medical testing on African-Americans, about white America's fear and abuse of black bodies, particularly sexualized black bodies. He is right.
Bill and Virginia argue that one of the ways to fight against this misconception is to find the truth. Also sort of true.
For her part, Libby the Racist is ready to completely believe everything she's ever heard about black men, as she creepily eyes Robert, who she believes to be Coral's boyfriend, as he picks up Coral from work. It's so creepy that even Bill picks up on it, calling her a "peeping Tom," which, pot, kettle, etc. He's right, though. She's obsessed with their relationship and has gone so far to do a background check on Robert, who has a criminal record because the police in St. Louis are racist. Libby uses his as an excuse to tell Coral that Robert isn't allowed to pick her up from work. She shrugs it off and says her aunt will pick her up instead, but as Coral leaves for work, Libby followers her, leaving baby Johnny in the house. There's Robert, hugging Coral, and Libby, who is apparently the fastest person alive, grabs the baby, gets in her car, and follows them to their building.
As Libby rifles through strangers mail to find their apartment. Robert catches her. Coral lied. Robert is Coral's brother, not her boyfriend. Libby looks torn. Robert sees that she's cut her leg in her speedy travels, and he bends over to help her. Touching her is enough to drive the affection-starved Libby completely mad, so she tells Robert Coral is fired, and throws her severance on the ground in her attempt to run away. She ends up hyperventilating in her car.
This isn't Libby's first sexualizing encounter black man — last season she had something in passing with the handyman who ended up driving her to the hospital (Buelle Green) to have her baby, but this time it's not two people connecting over a dance in the living room, it's her buying in to a racist myth and making Robert, and definitely Coral, suffer for it.
Betty has stopped suffering since the return of Sarah Silverman's amazing Helen. She's become quite the rich person, trying to get Helen an apartment so she can see her "all the time," or rather "a lot of the time." Helen's a whole lot smarter than that. She wants a food product king to call her own. Helen proposes to Al, and when they stop by the Pretzel Kingdom right before the great Pretzel Gala to share the good news, Betty freaks out, refuses to go out to dinner with them, and starts hyperventilating in her living room.
Betty announces she never wants to see Al and Helen again, and that she hates Al, and especially Helen, and Gene takes this like the champ he is (earlier in the episode he told Betty that she was all he needed in life). But when he tries to tell Al that they can't spend any more time together, Al's confused. He's seen Betty and Helen kissing on the mouth! How can they not like each other!
Gene puts the pieces together.
He confronts Betty, who tries to deny it, and restructure it, and tell him that there are lots of different kinds of love, but it seems like Gene has reached his breaking point. "You want to sell yourself, go ahead. You're the pro at it. But I am not going to sell myself this cheap."
DePaul, too, has had enough. She feels hopeless. An early shot, a contrast between Virginia and Bill's sex scene, features her being told not to move by her radiologist. She's itchy from radiation burns, loosing her ability to think clearly, feels weak. Virginia is pushy as ever, trying to reschedule appointments — successfully, because of that nurse she got hooked on diet pills — but we have more of the Virginia Who Doesn't' Take No For an Answer. DePaul is ready to say no. She talks to the radiologist, who confirms that the best she can hope for is to die a bit more slowly. She's going to quit treatment. Virginia's heart is broken.
Virginia has realized that DePaul is her friend. Probably her only friend. She didn't expect Lillian to "break through the wall," the same way Austin described Virginia and Bill. "It's because she's a woman," Bill said. She describes DePaul — a whole list – she's rigid, demanding, a complete know-it-all, she's not even that much fun — and that she's alone, but she's her friend. That could easily describe Bill, which, judging by his weird strained face motions, he knows. "She knows me," Virginia says. "I know you," says Bill and then he kisses her on the mouth. Oops.
With all this swirling around, Virginia and Bill are also trying to play a very smart woman working on a story for the St. Louis Chronicle. The report shows up in Masters' section of the still-segregated waiting room — "Like it's Jim Crow in here," which Bill swears is the idea of a black daughter. They're trying to butter her up to force Hendricks hand. They want her to see the story as sort of a revolution, not really, but kind of, because they're sort of probably going to dispel all kinds of myths by letting the facts speak for themselves. Great! says the journalist. Great! say Bill and Virginia!
Then the journalist comes back. She asks about Bill's history — his sickly childhood, his many talents in college, and if he is in medicine because he has a God complex. She brings up the whole fire-extinguisher-through-the-window thing, the various violent outbursts. This is something our readers will understand, she tells him! You're a revolutionary! You've been alienated by white society! Bill knows this is very bad, and tries to get her to not write the article. "This is my study," he says. "This is my story," she says.
Bill hates taking no for an answer, too. He heads to the editor's office, presumably to remind us all he's actually a terrible guy. He threatens to publish is "results," confirmation of every myth about African-Americans he can think of, white-splaining how bad that would be. The editor calls bullshit, and then Bill, channeling his worst self, says he's delivered the children of all the important people — and newspapermen– in the city. He asks "Who do you think they'll believe."
As he walks out of the editor's office, he sees an "I AM A MAN" print in the hallway. He maybe, just maybe, looks a little appropriately disgusted with himself.
He talks to Hendricks. It's unclear who called the meeting, but Masters says he's never falsified results before. Hendricks says he understands. And then Bill either quits or is fired, depending on how you look at it. He's not going to practice medicine anymore … he just has to find a way to continue the study.
Meanwhile, Virginia has spent time connecting with DePaul. She'd stopped by to run errands, but the only task Depaul had is to deliver a note to her family: she wants her body donated to science. They spend a fun night together talking about their lives: how Depaul's nickname was giraffe, because she wasn't just tall, she was spotted. How she'd never really been loved a man. We see how alone she has always been. She says that Bill clearly loves Virginia. Virginia says he doesn't say it, but she seems pretty happy about it. They spend the evening like regular friends do.
Virginia tucks DePaul in, kisses her goodnight, and leaves … but she forgot the envelop. She goes back.
Depaul's bedroom door is open. Virginia goes in. She sees a glass of wine, a bottle of sleeping pills,and she calls 911, but after she tells them about the sleeping pills, she slowly hangs up before giving them the address.
Virginia climbs into bed with DePaul and curls up next to her.
Which is where she is when Bill goes to tell her about quitting Buelle Green. A strange man — the same guy we saw at the end of "Fight," Bill and Virginia's most intimate night together — answers the door.
He's Virginia's "beau."
They've been dating this whole time.
As Bill leaves, he starts hyperventilating.
He goes home. He sits down next to his wife. Poor Johnny is swinging by himself.
This has been a very sad evening.