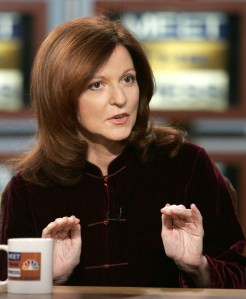 Times Op-Ed columnist and pot chocolate bar survivor Maureen Dowd is joining The New York Times Magazine as a staff writer, the paper announced this morning. The announcement is the first in a series of changes for the magazine after Jake Silverstein took over as editor-in-chief in May. The magazine's long anticipated redesign is now slated for early 2015.
"Maureen is one of The Times's signature writers. Period. And as we work toward a redesign that will put new emphasis on stylish, long-form narratives, she'll be a brilliant addition to our team," Mr. Silverstein said in the announcement. "While I can't disclose any specific assignments yet, I can reveal that Maureen's subject matter for the magazine will range far afield from her current bailiwick of politics, foreign affairs, Hollywood, and edible marijuana."
Mr. Silverstein teased the announcement this morning on Twitter, and the tweeted the news of Ms. Dowd's new position minutes before the Times issued a press release:
Ms. Dowd started at the Times as a metro reporter in 1983 and, after covering Washington and the White House, became an Op-Ed columnist in 1995, just in time to weigh in on the Clinton administration and his affair with Monica Lewinsky.
Despite the new assignment, Ms. Dowd will continue to write her weekly Sunday opinion column.
"Maureen's influence on our Op-Ed page can't be overstated and I'm very happy that our readers will continue to hear her timely take on whatever the hot issue of the moment happens to be,"editorial page editor Andy Rosenthal said. "This new adventure in her illustrious career at The Times will only enhance that voice and I'm personally delighted that we will continue our long and valued collaboration."