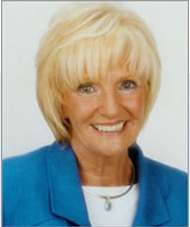 Post-mortem examinations conducted today by Deputy Morris County Medical Examiner Carlos Fonseca confirmed retired Morris County Clerk Joan Bramhall and her husband, John Bramhall, as deceased in a murder-suicide.
In addition, the post-mortem examinations revealed that Joan Bramhall's manner of death was listed as homicide caused by a gunshot wound inflicted upon her. John Bramhall's manner of death was listed as a suicide caused by a self-inflicted gunshot wound.
On the morning of Thursday, August 7, Denville Police went to the Arden Road residence on the report of a family member reporting the discovery of a deceased person in the residence, according to the prosecutor. Responding officers found a second deceased individual located in the residence.
The ensuing investigation, conducted by the Major Crimes Unit of the Morris County Prosecutor's Office, the Denville Police Department and the Criminal Investigations Section of the Morris County Sheriff's Office, did not reveal any evidence of outside intrusion into the residence.
State Sen. Joe Pennacchio (R-26) described Joan Bramhall as a "sweet, sweet lady."
A dentist by trade, Pennacchio said Ms. Bramhall was one of his patients.
"As a clerk she was really perked up by conducting marriages," the senator told PolitickerNJ. "It's just a shock. We didn't have a chance to brace ourselves. There are a lot of sad people in Morris County."
Ms. Bramhall retired as clerk on Dec. 31st of last year.
"The Clerks are in disbelief," said Hunterdon County Clerk Mary Melfi. "She was a vital member of COANJ and a friend to us all. Truly very well liked. She was so looking forward to retirement. Our thoughts and prayers go out to her family."
Essex County Clerk Chris Durkin issued a statement in response to Ms. Bramhall's death.
"Joan Bramhall's smile radiated so much warmth and love and comfort," Durkin said. "She embodied all of life's greatest qualities with intelligence, honesty and a passion for people. Sadly, we cannot afford to lose the New Jersey treasure that was Joan Bramhall."
A source close to the Bramhalls said there were "health issues for both parties."