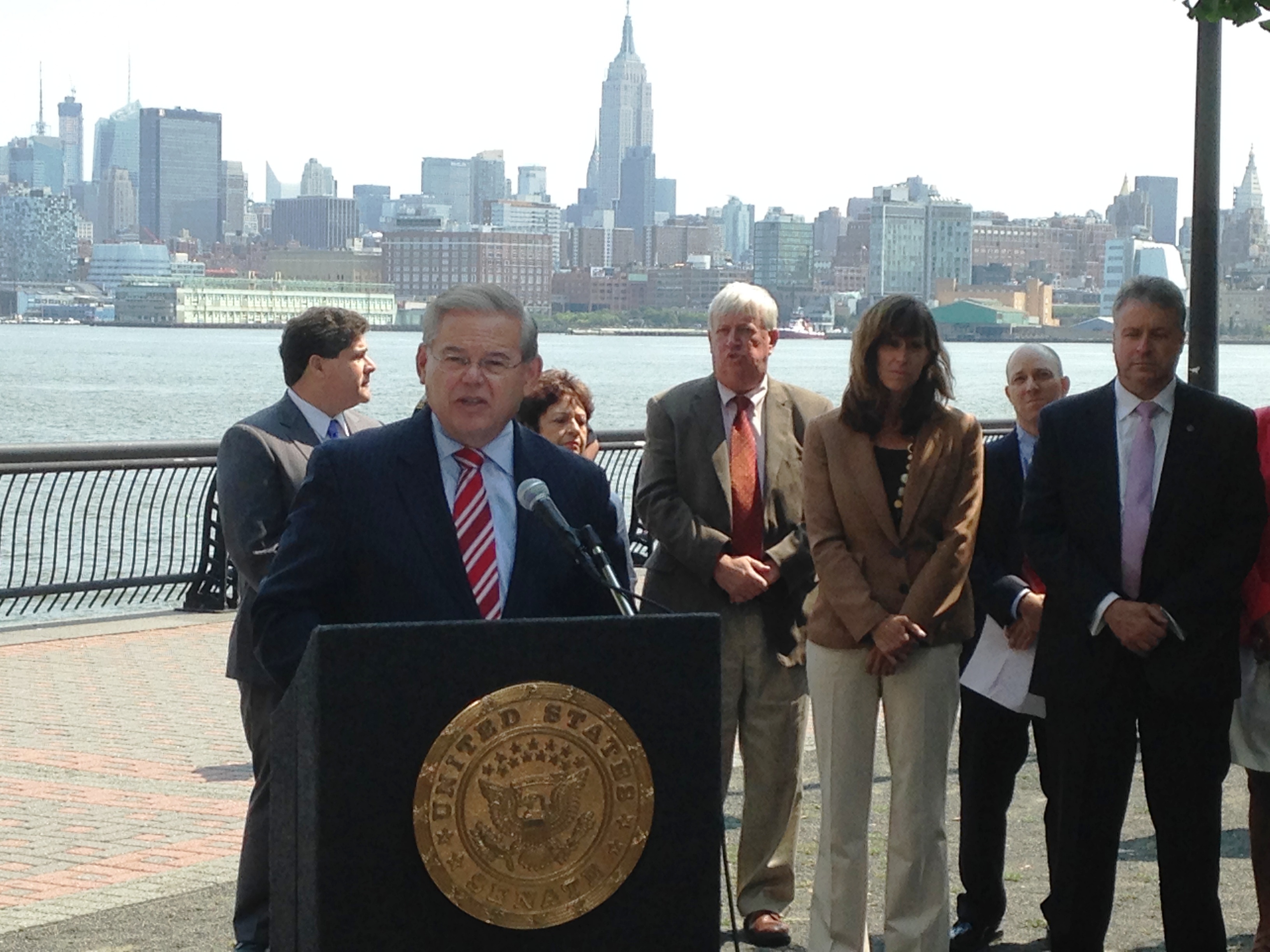 U.S. Senator Robert Menendez (D-NJ) today joined local residents and officials to decry the proliferation of helicopter traffic over the Hudson River and call for an outright ban of tourist choppers threatening the quality of life and public safety of residents living along the waterfront. The coalition of electeds fighting for a ban includes members of Congress, state, county and local officials representing New Jersey and New York.
"For months, we've been talking with stakeholders, convening roundtable discussions, and trying to take steps towards a rational way to deal with these helicopters, but the time for talk is long over," said Menendez. "It is time for the FAA to use any-and-every tool they have to shut down these helicopters and put an end to this problem, and if they don't have the tools they need, then we will do all we can to make sure they have them."
"All over this area, helicopter flights have increased to the point that this is a safety issue," U.S. Rep. Albio Sires (D-8) said. "We have all these tourist helicopters coming over until almost until midnight. The safety issue and quality-of-life issue is paramount. If tourists want to see the skyline of New York let them drive over here. This is the most beautiful view in the country."
In a letter sent today to the heads of the Federal Aviation Administration (FAA) and New Jersey Department of Transportation, Menendez and U.S. Sen. Cory Booker (D-NJ) and Sires asked the FAA to "provide guidance on additional authority needed to implement and enforce a ban on tour helicopters that present public nuisance and safety concerns."
"Given the number of stakeholders involved in this matter, it is our hope that the FAA can bring leadership to bear in finding a solution—whether using current agency authority, or whether this entails Congress providing your agency with additional tools or resources," they added.
Jeff Smith, Vice president of the Eastern Regional Helicopter Council, panned the proposal.
"As a recent NYU study definitively proved, the helicopter industry is a critical contributor to our local economy and – as we witnessed after Superstorm Sandy – to our region's emergency response services," Smith said in a statement. "The report found that the helicopter tourism industry generates more than $33 million in economic activity each year and, as all tour operators are based in New Jersey, supports hundreds of local NY and NJ jobs.
"The changes being proposed would significantly alter the federally regulated National Airspace system and harm the local New Jersey economy," he added. "Our helicopter owners remain committed to working collaboratively with local officials to find reasonable solutions that don't strip New York and New Jersey of hundreds of jobs, millions of dollars in revenue and vital emergency response services."
But in a show of solidarity with Menendez, U.S. Rep. Jerrold Nadler (NY-10) also led a letter sent to Mayor Bill de Blasio that was signed by 20 other leading New York elected officials. The letter called on the Mayor to ban tourist flights from the downtown heliport owned by New York City.
"We stand united with our New Jersey colleagues in our deep concern for the unregulated tourist helicopter flights in our airspace. They are a serious safety threat and deeply impact the quality of life in both New York and New Jersey," said Nadler. "Sadly, much of our airspace seems more like the Wild West than the airspace befitting our great cities and states. We will continue to ensure that our government – at the city, state, and federal levels – are doing all that they can do to end these unnecessary tourist helicopter flights."
Sen. Menendez was joined at a news conference overlooking the Hudson River by several Hudson County elected officials, including: Hoboken Mayor Dawn Zimmer; Weehawken Mayor Richard Turner; Bayonne Mayor Jimmy Davis; North Bergen Mayor and State Senator Nicholas Sacco; Guttenberg Mayor Gerald Dracheff; West New York Mayor Felix Roque; Hudson County Executive Thomas DeGise; Hudson County Freeholder Anthony Romano; District Director Robert M. Gottheim on behalf of Rep. Nadler; and Deputy Chief of Staff Mark Albeiz on behalf of Jersey City Mayor Steven Fulop; as well as Brian Wagner from the advocacy group 'Stop the Chop'.
"Helicopter tourism benefits a select few at the expense of everyone who calls this area home," said Mayor Zimmer. "Plus, you don't need a helicopter for a great view of Manhattan – we've got the best views right here along our waterfront."
"I want to thank Senator Menendez and Congressman Sires for leading this effort to protect the residents of Weehawken and improve their quality of life," Mayor Turner said. "Those tourist helicopters buzz overhead day and night destroying the comfort we all expect in our own homes."
Mayor Steven Fulop said: "I applaud Senator Menendez's and Congressman Sires's efforts to end what has become a quality of life nuisance for Jersey City residents and I am pleased to join with so many other elected officials in supporting this critical issue."
"I want to thank Senator Menendez and Congressman Sires for taking leadership on this issue," Mayor Davis added. "Additionally, I would like to thank all of my colleagues for lending their voices to this rallying cry. For us in Bayonne, the time has come to ban tourist helicopters. From the noise and congestion in the sky to the very real public safety issues on the ground, these joy rides in the sky need to be grounded."