As a part of the new lifestyle channel launched last month, Estée Edit, beauty giant Estée Lauder has commissioned rising star Christina Tosi of Momofuku Milk Bar to whip up the cookie version of Ms. Lauder's personal perfume, "Private Collection."
The celebrated perfume is a green floral scent with undertones of honeysuckle, orange flower and sandalwood, according to the Daily News. The name stems from the fact that the scent was a protected secret worn only by Ms. Lauder herself–when friends asked what she was wearing, she'd only ever say that it was a "private collection." The perfume became available to the public in 1973 to runaway success.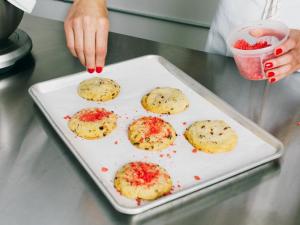 In turn, Milk Bar has exploded in its own right to be one of the most popular bakeries in New York. The partnership is all too fitting for two organizations that pride themselves in their distinctive, revolutionary approaches to what they do. "At Milk Bar our mission is to create delicious food thats personal, relatable, clever and one-of-a-kind. We challenge and inspire through our baked goods and dessert and I think that shines through and makes what we do unique," Ms. Tosi told the Observer. "It's quite an honor to have what you do, what you create be so well received and so highly regarded."
The recipe in question has been posted–Ms. Tosi uses rose extract and freeze-dried strawberries to achieve the emulative scent. But, just to be clear, using actual perfume as an accompanying beverage is by no means recommended. Stick to milk, guys.