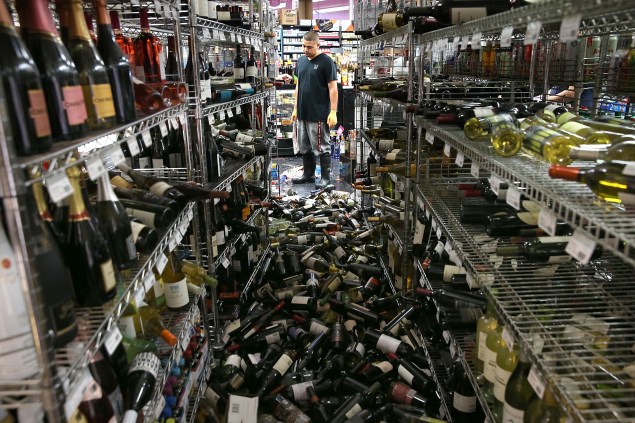 MARIN COUNTY — Sunday morning's 3:20 a.m. earthquake was a wakeup call, literally. Only my dog appears to have slept through it. Thank God it didn't happen during the day.
Late August heralds the wine country's harvest season and also the most beautiful weather the Bay Area experiences all year, so right now Napa is naturally packed with tourists. If the quake had happened Saturday afternoon at 1:00 p.m., this would be a very different story. As is, about 200 people were injured, and it seems no one died.
Expectedly the buildings most heavily quake-damaged are in the charming old downtown where visitors dine, shop, taste wine and stroll along the Napa River. Many historic buildings from the Gold Rush days have been "red-tagged" and are likely unsalvageable, to be torn down and replaced with the Tuscan-modern boxes that have recently marred the charm of Main Street. Painfully ironic is the damage to the 113-year-old Goodman Library building, home to the city's historical society and landmark commission.
But building codes exist, change happens and bricks are not a sound idea in earthquake country. Try locating a post 1906 unreinforced brick building in San Francisco. The survivors learned. There aren't any.
As the clean-up continues and the roads are fixed, the salvage begins, and thoughts turn to the economic repercussions of this disaster, as it has now been declared by the state. Experts say the damage and lost revenue could reach into the billions of dollars. And having been caused by an earthquake, most of the losses will be out of pocket and will not be covered by insurance. Hardly anyone I know carries earthquake insurance — which is very expensive if you can get a policy written at all.
Reports of small wineries losing much of their inventory came across the morning news. This will be devastating for those wineries and the people who work for them throughout the supply chain. Most small producers lack adequate insurance and aren't eligible for agriculture subsidies. These boutique wineries are in real danger of shutting their doors unless we support them. My partner of 4 years sells his fruit (oenophiles don't call them grapes) to star winemakers and bottles a few hundred cases with his own Melanson Vineyard label. His winemaker was on Fox this morning talking about their devastating losses. Whenever I brought up the aura surrounding vineyards and winemaking, he has always answered, "It's just farming." And it is. Subject to pests, blight and the constant worry of drought, vineyards face the same perils as other crops. But unlike other crops, the fruit is not the final product. The winemakers have the "secret sauce." They too worry about vineyard conditions, but the last variable they worried about was an earthquake, which is why so many were woefully unprepared. In wineries and warehouses, barrels are moved around, cases are shuffled; it's impractical to secure them to the point of being earthquake-proof.
Tied to the wine industry is Napa's tourism. People come to here to drink wine. We don't know yet how much remains of the pre-2012 vintages sitting in cases, but we do know many winemakers lost, down the drain, much if not all of their 2012 and 2013 vintages which were still stacked high in unsecured oak barrels. Small and large producers alike will face a two gap in inventory, driving up Napa appellation prices as collectors stockpile for the next few years. On a personal note it is stomach turning to me as I know the 2013 cabernet harvest was one of the best in memory. The clusters were full, the yield heavier than it had been in years, and the sugar content was off the chart, of the refractometer scale, literally. If any 2013 survived, it will be amazing (and expensive) wine.
Also tied to the Napa wine industry is the livelihood of thousands of locals and legal migrant workers who do the hard jobs and heavy lifting in the vineyards, wineries, hotels and restaurants. Napa is not the Falcon Crest of snobby CEOs. It's a diverse community of recent immigrants, founding families and entrepreneurs like Dario Sattui who turned a small sandwich stand into what is now Castello di Amorosa and V. Sattui, producing more than 90 different kinds of wine each year.
Napa will recover. Residents are right now banding together to clean up the mess and carry on. This morning I called one of my favorite Napa restaurants, Angele, located one block from several of the destroyed buildings, and they are re-opening tonight. Morimoto (almost next door) is open too, and I imagine other restaurants are doing their best to get back to "normal." I'm headed the 40 miles up there for dinner to support them.
While the fallout may impact the wine market, and the town's landscape may change, Napa is still Napa – a magical, romantic place unlike any other – even Tuscany in my opinion. Please support the people of Napa by ordering a Napa wine tonight and planning a trip to the Napa Valley this fall or winter. All your favorite places are still there and there are so many boutique wines to discover – and they need your business.
Heather Flick is an attorney, entrepreneur and sailing enthusiast in San Francisco.