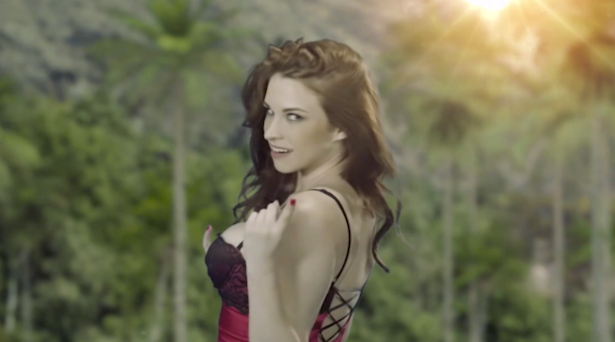 Quick: what do you think is the top adult entertainment brand in the world? Playboy? Hustler? PornHub? Turns out, it's none of the above. That throne belongs to Jasmin.com, a lesser-known camming site that has grown to pull in nearly a million dollars in revenue every day.
That little known fact could remain a secret as long as major cable networks have anything to say about it. Jasmin.com has been denied from running a relatively tame advertisement during the upcoming Emmy Awards. Megan Morahan of NBC Universal's ad sales team told them:
I ran your spot by our standards group, and unfortunately we cannot accept advertising for Jasmin.com.
PornHub, which is notorious for its viral publicity stunts, gained notoriety for running a similar play when they applied for a Super Bowl ad spot. But Jasmin.com Vice President Jerry Jardene says that their petition for air time isn't just a stunt to get headlines.
"PornHub's commercials are terrible, and they were put out there to just to be rejected.," Mr. Jardene told Betabeat. "We actually want these commercials to go to television, and we're confident they will eventually."
And why shouldn't they? After all, Playboy produces a reality show for E! called "Girls Next Door" that is essentially a giant infomercial for an adult entertainment brand. GoDaddy.com ads have had bikini models in body paint and a semi-nude Danica Patrick getting a striptease from a masseuse after being told how "tight" she is, and those ads get to run in the Super Bowl.
[youtube https://www.youtube.com/watch?v=TdZdkINqjR4]
The big push to get on TV are a part of Jasmin's recent rebranding efforts. Jasmin.com, formerly LiveJasmin, is based in Luxemburg, and even though they've had enormous success in the United States, they haven't marketed enough for people to really recognize their name.
"We're like a generic brand of soda," Mr. Jardene said. "People drink it, but they don't love and recognize the brand."
But Mr. Jardene doesn't want Jasmin.com to be RC or Kirkland Brand. He wants it to be Coca Cola.
"Jasmin is good for the economy, the country and all of our models," he said, "We're promoting an opportunity for women all over the world to make a living from their home."
But don't call Jasmin.com porn. Mr. Jardene insists that Jasmin is a "lifestyle brand," or "adult entertainment," but with the emphasis on "entertainment," not "adult."
"The idea of being able to chat with someone who's attractive is what brings in the cash," Mr. Jardene said. "We don't require nudity from any of the models."
It may sound a little absurd, but to be fair, the allure of camming comes from much more than horny guys wanting to see a peep show. As we've examined in Betabeat's sex column, there's a huge demographic that flocks to camming to stave off the isolatory effects of the Internet.
"Everyone thinks that people are just masturbating," CammingCon founder Clinton Cox told Betabeat. "There is a percentage of people that get on there and they're gone in three and a half minutes, [but] there's a whole other percentage of people that want companionship."
In fact, there are plenty of girls on Jasmin.com who don't do nude modeling at all, though even Mr. Jardene is willing to admit that showing a little skin is where the money is for cam girls, who can rake in millions from doing it full-time.
Even if you don't buy the claim that Jasmin.com is a "lifestyle brand," Mr. Jardene's efforts are sincere. He simply believes that if virtually everyone is looking at porn, it makes no sense to let the old guard of cable television decide that Jasmin.com can't be a part of mainstream culture.
After all, it's just hypocritical to say it's fine that "sex sells," as long as what you're selling isn't sex.