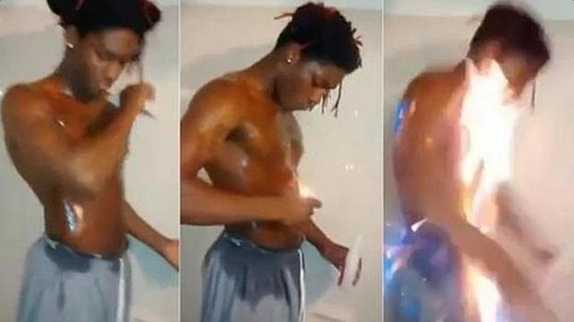 Good work, teens. Besides saving helpless people from burning buildings, firefighters now have to devote their energy to worrying about your dumb, dangerous social media trend.
The New Jersey Division of Fire Safety recently released a statewide emergency bulletin warning firefighters and fire officials about the "Fire Challenge" craze, wherein teens are covering themselves in flammable liquid, lighting themselves on fire, and then documenting it on social media.
William Kramer, Jr., New Jersey Division of Fire Safety acting Director and State Fire Marshal explained in the statement how the challenge could produce fatal results:
"The most serious and possibly fatal result of the stunt is that the person, by the very act of breathing, will inevitably inhale the burning fluid deep within the lungs, causing serious and debilitating injury and in one documented case in New York State, death."
While it seems that the story of the New York State death might have been a hoax, the craze has had some very real, injurious results — like in the case of 14-year-old Arkansas resident Monica Hamilton, who sustained second-degree burns on a third of her body after attempting the challenge.
"We wanted our first responders to be aware of what they may be called on to deal with," Mr. Kramer concluded.